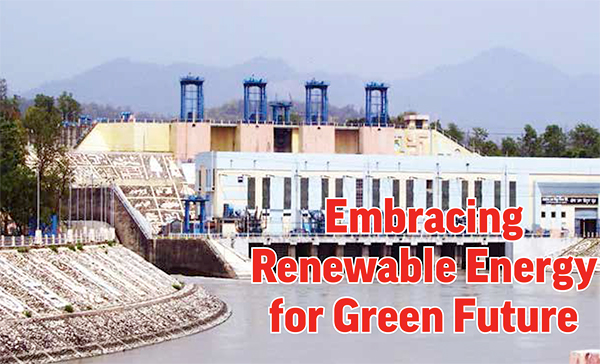 The Indian power sector is undergoing a significant change that has redefined the industry outlook. Sustained economic growth continues to drive electricity demand in India and the Government of India has been focusing on attaining 'power for all' by accelerating capacity addition in the country. At the same time, the competitive intensity is increasing at both the market and supply sides (fuel, logistics, finances, and manpower). Government of India's renewable energy target of 175 GW by 2022 has also contributed significantly to the transformation of energy sector in the country.
The last four years have been path-breaking if you compare it to the rate of progress in the 48 years before 2014. Earlier, the pace of capacity addition in the power generation sector was about 4,800 MW a year. However, in the last 48 months the pace of capacity addition reached a whopping 24,000 MW a year, which was 4.8 times more than the capacity addition in the years prior to 2014.
in India stood at 344.78 Gigawatt (GW) as of August 2018, of which 70 GW was from renewable energy.
Power Driving India's Growth
Energy is an important input for economic development and power sector is an indispensible infrastructure in any economy for which the electrification of energy demand in all regions and sectors is of prime importance. Providing adequate and affordable electric power is essential for economic development. To meet the demand of power in the country, particularly in rural Indian, from sustainable energy resources in a reliable manner, the hybrid combination of conventional and non-conventional resources in off-grid and grid-connected mode is a potent solution.
Government of India's Renewable Energy target of 175 GW by 2022 is a game changer which has contributed to the rapid growth in the installed power capacity with environment sustainability.
Alos Read: TSREDCO launches Energy Conservation campaign on Energy Efficiency in 2nd National Power Summit
The government has undertaken a two-pronged approach to cater to the energy demand of its citizens while ensuring minimum growth in CO2 emissions, so that the global emissions do not lead to an irreversible damage to the environment. On one hand, the government is promoting greater use of renewable in the energy mix, mainly through solar and wind, but on the other hand it is moving towards supercritical technologies for coal-based power plants. Efforts are being made to efficiently use the energy in the demand side through various innovative policy measures under the overall ambit of Energy Conservation Act.
Wind Power
Wind Energy is a renewable, non- polluting and affordable source directly avoids dependency of fuel and transport, can lead to green and clean electricity. The generation of power using the Wind Electric Generators is gaining importance as it has several advantages like low gestation period, no raw material cost etc. The capacity of Wind Electric Generator available in the country ranges between 250 KW to 2.10 MW as of day.
India has proven capabilities in wind energy. The country's offshore wind power generation capacity is expected to be climbing to 30 GW by 2030, on par with China.
Also Read: India Leads New Energy Surge
India's Intended Nationally Determined Contribution (INDC) aims to base 40 percent of total installed power generation capacity on non-fossil fuel resources by 2030 with international support on technology transfer and financing. This includes Government of India's ambitious target of achieving 175 GW of renewable energy by 2022, of which 60 GW will come from wind alone. It also aims to reduce the emissions intensity of GDP by 33 to 35 percent from 2005 levels by 2030.
Presently, the installed capacity of wind is 34.29 GW as on September 30, 2018. But we still need to add 25.71 GW till 2022 itself. Hence in the coming days, wind energy has a very critical role to play in India's energy sector.
The Central and state government's wind policy has been supportive, and more recently, a wider set of actions— incentives, infrastructure and investment promotions were taken up. Technology development, larger-scale projects and the learning effect has allowed the use of efficient designs and have pushed down costs. This makes wind energy attractive to power utilities that are contracting new long-term capacity, and in addition, this avoids them the burden of take-or-pay contracts and fuel risk.
Also Read: Telangana Making Mark In New Energy Sector
The resource potential of India is now recognised as substantially higher than earlier. Recent studies suggest that wind potential of 40-65 times higher is possible with new scale and technologies. Furthermore, new initiatives exploring offshore wind power has led the wind energy tariffs to come down.
The wind power potential identified in Telangana State is mostly in erstwhile Rangareddy, Medak, Mahabubnagar and Nalgonda Districts. As the potential is existing in the backward regions in the State, the promotion of wind power projects will contribute for development of these areas due to creation of direct and indirect employment opportunities. Wind monitoring studies are being conducted in the State in Govt./ private sector as per MNRE guidelines.
As per the study of NIWE, the wind potential (in MW) in Telangana State as follows and mostly spread in undivided districts of Mahabubnagar, Rangareddy, Nalgonda and Medak.
The suitable land features have been grouped into three ranks (Rank I: Wasteland, Rank II: Cultivable Land and Rank III: Forest Land) and considerable weightage of 80 percent to Rank I, 30 percent to Rank II and five percent to Rank III has been assumed for the estimation.
As a datacumulative of 128.10 MW Capacity of Wind Power Project is commissioned at Nazeerabad, Rangareddy and Zaheerabad, Sangareddy districts.
Solar Power
Nearly 40 percent of all new power capacity in India this year is solar. The major attempt at transforming the energy mix—with a goal of 175 GW of renewable energy by 2022 is under way. In today's solar market in India, almost every passing tender has promised to deliver cheaper electricity. The solar industry is entering a period of cost efficiency thanks to advances in technology and competitive bidding. Solar power tariffs in India plunged to a record low of Rs 2.44 per unit in July 2018.
Government of Telangana has contracted around 3.5 GW of solar energy as on July 30, 2018, which is 24 percent of the total installed capacity of the state. This was made possible with the best in place Solar Policy of the Telangana Government with proper incentives and promotional benefits. Moreover, the duration of constructing solar energy projects is very less as compared to other resources. Plans are afoot to add more solar energy in the next two years.
The power sector is the core engine of growth in any economy and more so in the newly-formed state of Telangana. Providing quality and reliable power at an affordable cost are critical towards fulfilling the high growth aspirations of the farmers in the respective state. There will be a vast potential in solar powered irrigation as this not only support the farmers but also governments in getting rid of the subsidies towards free power for agricultural sector.
Also Read: Clean Energy Changing Power Scenario in India
With an aim to promote use of solar power among farmers, the government is all set to launch The KUSUM (Kisan Urja Suraksha Evam Utthaan Mahaabhiyan). Under this scheme, farmers would be provided with grid-tied solar water pumps. This will enable the farmers to generate and consume the energy generated and during off season the energy will be supplied to the grid to enable farmers earn revenue during non-agriculture seasons.
The major demand of energy is from the agricultural sector, hence solar powered irrigation will have a vast potential.
Biomass /Industrial/MSW Based Power Projects
Biomass is one of the important renewable energy sources for power generation. The agriculture residues like paddy husk, cotton, maize, sunflower, chilly stalks, ground nutshells, forest residues, agro industrial residues, biomass from energy plantations etc. come under the category of biomass. So far 60.1 MW capacity Biomass Power Projects have been set up in the Telangana State. Further, 14.50 MW capacity Biomass Co-generation (Non-Bagassee) Power Projects have been set up to meet the captive power requirement in the industries.
The Bagasse based Co-Generation Power Projects are being promoted in the Sugar mills to meet the captive power requirements and to export surplus power to the grid. So far 137.93 MW capacity Bagassee based CoGeneration Power Projects have been installed in the State.
The Power Projects based on Industrial Waste such as palm oil, starch waste etc and Power projects based on Municipal solid waste are also promoted in the State.
So far 22.50 MW Industrial Waste based power projects and 18.60 MW capacity MSW based power projects have been commissioned in the State. Further 57.4 MW MSW based power projects are under construction in the state.
Small Hydro
The Water at a height contains potential Energy and when it is flowing from higher to lower level, the potential Energy is converted into Kinetic Energy. When running water is allowed to pass through the Hydraulic turbine, the turbine rotates and develops mechanical energy which in turn drives a generator through a Gearbox and Electrical Energy is produced. The head and the discharge and the period of Water discharge determine the Power Potential and Energy generation at any location. A minimum 3 Mt head is desirable for installation of a Low head Hydel power Station. These Projects can be installed on canal drops, dam toes, waterfalls, streams and rivers. The Power project essentially comprises of a diversion weir/regulator an intake canal, powerhouse, tailrace pool and tailrace channel.
The Mini Hydel Power Projects are classified as follows:
Up to 100 KW – Micro Hydel
Above 100 KW to 2.0 MW – Mini Hydel
Above 2.0 MW to 25.0 MW – Small Hydro
So far 40.605 MW capacity Hydro based Power Projects have been installed in the State.