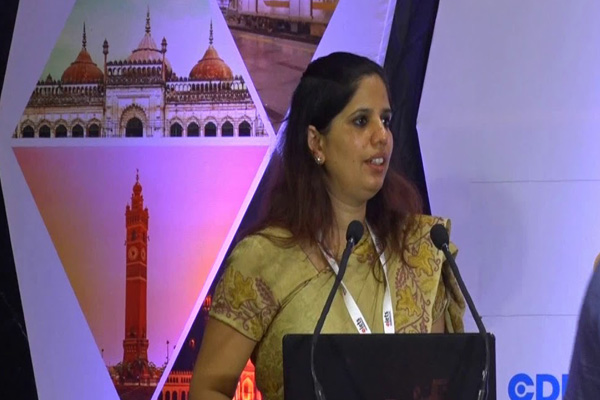 India is being appreciated worldwide for its efforts in combating COVID-19 pandemic. Where big developed countries of the world have faced huge losses, India is still in a better position. One of the known facts about the virus is its transmission and social distancing is one of the key preventive measures which the country has been implementing with all its might. Local governments had played a crucial role in ensuring that the practice of social distancing is being followed. Talking on the efforts of the Urban Local Bodies (ULBs) in fighting the pandemic, Dr Kajal, Director, ULBs, Government of Uttar Pradesh joined in a live webinar hosted by Dr Ravi Gupta, Founder and CEO, Elets Technomedia.
COVID-19 situation and the way forward
Dr Kajal raised some essential points during the webinar describing the whole COVID-19 situation and how India is gearing up to fight the pandemic. She said, "I feel even the biggest of the biggest countries have been affected with the pandemic massively. But India has stayed in a better position. Lockdown was a difficult decision but the Government has done it for a greater good." "There is no harm in being overprepared and we are doing it and we should be doing it. Putting India under lockdown has given us time to prepare for things coming our way", she added.
Talking about the viral pandemic and efforts by the medical research groups and organisations worldwide, Dr Kajal said, "This is a novel virus and not much is known about it. It is only inferred that breaking the transmission chain, preventing the infection is the best practice." "Testing is the key. And, we have to break the chain to prevent further infection by isolating people infected. Most cases are asymptomatic and it makes it more difficult", she added.
On responsiveness of the affected areas, she said, "Those areas, state or countries that have earlier experience pandemics have responded quickly to the situation as they have lessons from their past. "We should also be learning from it and preparing ourselves in a better manner to avoid any more damage in future in such cases", she added.
Also Read: 'Future Cities Virtual Conclave' ended on a high note
Talking on the exit strategy considering the lockdowns she said, "There are a lot of guidelines regarding how social distancing must be practised in the office, what actions must be taken if an employee is found positive of COVID-19, and more, that need to be given to employers and the employees to be followed once the lockdown is over. Therefore, things are being worked upon."
Role of ULBs in times of COVID-19
Dr Kajal highlighted the efforts of ULBs in different cities of Uttar Pradesh citing the examples like telemedicine service in Aligarh; use of Integrated Command and Control Centre (ICCC) in Agra for monitoring lockdown, public movement, public places, logistics of essential commodities and more.
Highlighting the challenges faced by the ULBs she said, "The biggest challenge that the ULBs are facing is in helping stranded labourer. Providing them with enough food, shelter, getting their regular health checkups done to ensure their safety is not an easy task."
Elaborating on the role of ULBs she said, the pandemic has also posed as an opportunity for the civic bodies to get their systems in a better place to provide better service once things are back to normal. Cleaning of drains in crowded areas is being during the lockdown time as otherwise, it would have been really difficult. Moreover, she said, "We can focus on other duties of the ULBs but primarily we should be concerned about sanitization."
Detailing on the workers and their role Dr Kajal said, the workers have been provided with appropriate gears and PPEs before they begin sanitisation work. Also, the health of the workers is being taken care of.
When questioned about decision making and issuance of guidelines in times of the pandemic, Dr Kajal answered, " District Magistrates have a responsibility to constitute appropriate guidelines and a set of protocols to be followed in times of crisis. The major guidelines are issued from the ministry but its implementation varies depending on the situation, to what extent it is required and considering the local angle DMs constitute the line of action or protocols for their area of jurisdiction."
Furthermore, Dr Kajal also highlighted the importance of enhancing healthcare systems and infrastructure. Answering to one of the questions asked during the webinar she said, "Betterment of healthcare infrastructure has always been one of the most significant works under the ULBs. It is not because of the COVID-19 that systems are being geared up, however, the pandemic has made us improve healthcare facilities on a war footing."
Smart City Mission to rescue 
Dr Kajal was optimistic about the smart projects that were taken under the smart city missions in the cities. She said, "Many cities are using of technology-powered developments made in the cities under the smart city mission." Smart city components are being used for monitoring lockdown, tracking patients and people under quarantine, streets, markets, public places, logistics of essential goods and more, she added.
Elaborating on technology as a boon in this time of crisis she said, "One common thing I observed in government offices is that the work has shifted from pen-paper mode to online modes and e-offices has been implemented in almost every office. People are adapting to the situation."
Dr Kajal, describing the situation in her office, she said, " Only 33 percent of the staff is called only if they are really needed. Also, the staff members are asked to wear masks and thermal scanners are used to screen people. However, most of our work is going through video calls and we are utilising the time to put our system in a better position to deliver better once things are back to normalcy."
When asked about if the Government must invest more in technology domain, she said, "Personally, I feel that more investments must be made in technology domain as it will help us in being prepared for any future mishaps and it will also empower our systems ensuring enhanced functioning."