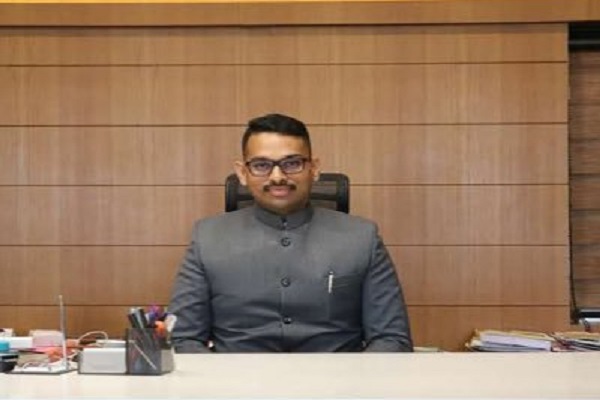 Since the onset of the Coronavirus pandemic, the local governments in India have been on their toes to curb the menace. Talking about efforts of one such district Surendranagar, Gujarat, Rajesh Kankipati, IAS, District Magistrate and Collector, Surendranagar addressed a webinar organised by Elets Technomedia.   
Initiatives Taken

Addressing the theme of the webinar, Kankipati said, "States like Gujarat, Uttar Pradesh, Madhya Pradesh have taken a lead in creating a beneficial environment for small businesses to resume. For this, the labour laws have been amended. The Gujarat government has said that for the first 1200 days after the commencement of production, as many as 35 contract laws are not applicable. The focus will only be at minimum wages act, maternity benefits, safety norms at the workplace, and issue to prevent fatalities", he added.
"People have been great support for the authorities. I was amazed that during all the three phases of the lockdown, the shopkeepers' associations were very cooperative and kept all the shops closed", he said.
Kankipati added, "Quarantine in India has been a successful approach as many people had recovered and in many areas, the spread was effectively controlled."   
Challenges
Answering a question on challenges faced, Kankipati talked about migrant labour issue saying "In my districts, we have about 50,000 to lakh labourers and we provided them with a ration kit on a weekly basis." The State government's relief fund was utilised to serve the purpose, he added. "The NGOs also came forward to help", he said.
Also Read: NIC strengthening India's e-governance amidst corona crisis
Considering PPE kits he said, "Initially, we faced a heavy shortage of PPE kits and similarly for N95 masks. But there were many manufacturers who came up and started manufacturing the PPE Kits, N95 masks, ventilators at the reduction 50-60 percent rates. Hence, the government has now procured these in large quantities and there are no more shortages."
Healthcare facilities and preparation
Kankipati said that following the announcement of the lockdown, the Government of Gujarat took a significant step and designated COVID-specific hospitals in every district on the advice of the Chief Minister.
"We informed the local Indian Medical Association chapters that if any flu symptoms are found, the patient should be immediately referred to our flu OPD in the government hospital", he added.
Also Read: COVID-19 Pandemic: A Lesson on Importance of Local Governments
"When we realized that there can be a spike in the cases in June and July, we have created COVID care centres at the block level which have 20-bed hospitals either in a community health centre or in a private health centre facility. At the sub-districts, we have created 50-bed care centres and at the district-level, we had the 100-bed hospitals", told Kankipati. 
Concluding his address Kankipati said, "We are a resilient nation and the proactiveness with which we rapidly geared up to control the pandemic is evident of our readiness, preparedness and resilience."
Also Read: Jhansi COVID-19 Action Plan: A Wade Into The Pandemic