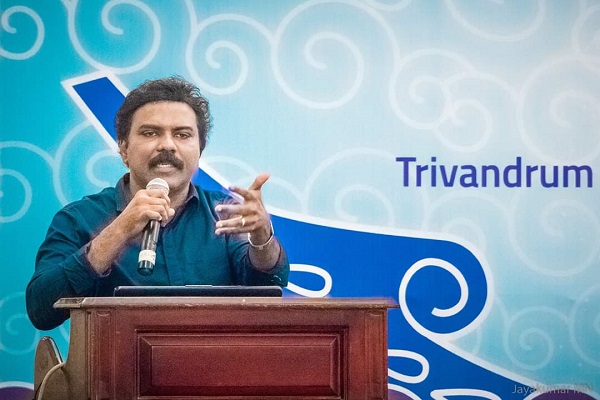 In this time of crisis when the whole nation is in a lockdown state, advance technological measures are the solution to keep operations ongoing. Be it work from home, monitoring of quarantined cases, online education, or more, everything that comes to aid during this time of COVID19 crisis is powered by technology. And, there is a need to mandate digital interventions and technological methods of functioning by the Government of India, says Dr Santhosh Babu, former Principal Secretary IT to the Government of Tamil Nadu and CMD of Poompuhar, in a live webinar with Elets Technomedia hosted by Dr Ravi Gupta, Founder and CEO, Elets Technomedia.
Dr Babu, during the webinar, emphasised on the significance of technology, especially at this hour of crisis. He said that technology has given a makeover to our government systems which earlier used function on the basis of physical file movements that made the process slow and tedious. Also, the level of productivity was way less compared to the present day.

While addressing the webinar, Dr Babu said that almost all the functions in a government office can be made online, leaving out a few. He further said that the government had also realised the fact and has been regularly putting in efforts to revamp the existing systems using the new technologies. The Centre and the State have invested huge sums of money to upgrade the existing infrastructure to improve governance. Today, we have new software, applications, more bandwidth, and apt technology and we need to implement it to all the offices and systems for enhancing our functioning. And, I am quite confident that post COVID19, the government will be upgrading to better systems and technology, he added.
e-Governance in Tamil Nadu and the state's Handicraft department
Talking about the governance in Tamil Nadu, Dr Babu said, we have almost every office tech-enabled. Taking the example of the Tamil Nadu Handicrafts Development Corporation popularly known by its brand name Poompuhar, he said that we won the National Award for e-Governance in 2018, he added. Detailing the implementation of the technological solution at Poompuhar, he said that all four pillars – administration, marketing, design, and production were targetted and digitised. This led to every aspect of governance within Poompuhar becoming online.
Working from home concept should not be just because of the COVID19 crisis but the government must focus on such models otherwise as well, said Dr Babu when asked about work from home model implemented during the lockdown. Further, Dr Babu highlighted the transformation of Tamil Nadu Handicrafts Development Corporation Limited saying that the office used work in a traditional pen-paper manner which was time-consuming and tedious. A simple process of taking permissions and approvals used to take 30 to 40 days. This was because the files were used to be couriered and then sent back with the approval. After shifting the same process online, the time was reduced to a few hours or sometimes only a few minutes, added Dr Babu.
Moreover, talking about further developments he said, they introduced websites and software applications for the handicraft showrooms which further streamlined the work. The move resulted in connecting all the 24 centres we have in India. Dr Babu also told the attendees that to tackle the pilferage, which was happening more often, over 100 CCTV cameras were installed and all the centres were monitored. Today, there are no pilferages.
Dr Babu highlighted that conducting reviews of the showrooms and production centres was another issue which used to take a lot of time. To resolve it, 25 iPads were provided to the officials at different centres and through video conferencing reviews are being done. This saves time, money and energy, added Dr Babu. Also, to help the accounting staff, Tally was introduced to minimise the manual preparation of balance sheets and other accounting records.
We also tied up with e-commerce websites for improving sales of the handicraft products. Also, an initiative, www.tnartisaan.com was launched to provide a platform for all the artisans to upload their creations on the website for selling online, said Dr Babu. Adding on to the upgrades he said, "We have also launched a Design Research & Development Centre ( DRDC) that uses for 3D design and printing technology, virtual reality and augmented reality etc. We are about to launch India's first virtual reality handicrafts showroom.
Emerging technologies for eGov
Talking about the emerging technologies Dr Babu said, the Chief Minister of Tamil Nadu introduced Centre for Excellence for Emerging Technologies at the Tamil Nadu e-Governance Agency (TNeGA )for which the government also hired domain experts and is also collaborating with startups for technological requirements of various departments. Additionally, the government has also sanctioned a Blockchain Backbone for Tamil Nadu which is a Rs 40 cr project, he added.
Dr Babu said that a system is being created where a common database is being prepared wherein a specific number ( Citizen Number ) will be given to every individual and all the related information about that individual will be integrated with that specific number. This will enable "Predictive governance" where all documents and certificates that a citizen requires as per his life cycle will be transmitted to the 'Citizen Vault', the moment a departmental database invoked the citizen number.
The state Family database will capture 7-8 parameters to identify the right person ranging from the individual's name's spelling, to names associated like mother's name father's name and more.
Detailing on the resourcefulness of the database, he said, all departments can only add on to this database, and not create a new basic entry of a citizen. This will enable departments to add further data about the individual, this integrating all documents of different departments at the citizen vault. Therefore, every individual will be having a digital space to keep all their essential documents be it government IDs or certificates, degrees and more, he added.
"For instance, when a baby is born, a citizen number will be generated and the birth certificate will be added to the vault by the healthcare facility. After six months when the baby will be eligible for vaccination, an automated SMS will be sent to the parents notifying them about the same and a google map plink displaying nearby 5-10 healthcare centre having the vaccination facility", Dr Babu explained.
He said such databases will shun the need for citizens' to go to government offices for regular work or for getting permissions, licenses and more. Services will be available online just a click away. Another example of the emerging technology for e-Governance could be drones as they are very useful in surveillance work, delivery, public announcements, mapping and more.
India's shift to tech-enabled governance in the past 15 years and the way forward
Personally, I feel, there is a massive transformation from 1995. Although in the past 25 years a lot of developments have taken place as the national eGov plan came in, Digital India, IT infrastructure like the SDC, SWAN, SSDGs, State Portal etc are in place. However, we need to proactively move with the technology so that we are updated, said Dr Babu.
Further, he said, on software, we are moving but in case of hardware, it takes time. We also need to look at what other big countries are using and such hardware can be implemented for better productivity, Dr Babu added. Moreover, he said, there is a need to work on the concept of single 'sign on' so that a citizen should 'sign in' to a single government portal and then can move to any department as required.
Government of India is introducing e-office everywhere but it is not mandated as of yet, therefore people have a choice and many of them opt for traditional methods which seems convenient as they are used to it but are very slow and less on productivity, Dr Babu said.
Role of IT in fighting COVID19
There are a lot of people who are moving out either for serving in emergency services or the exempted services or are in need to leave the city as someone at their homes in hometown is not well. So, for such cases, Tamil Nadu has introduced e-passes, Dr Babu said. Moreover, the availability of PPE must be known to all already instead of going shop to shop. Therefore, IT can come as an aid here, he added.
Further elaborating on the topic he said, for education also digital platform can help in the continuation of studies and skill development during this time of lockdown. Also, the government can use technology to help monitor the inventory of healthcare stuff, monitor compliance of lockdown, movement of commodities, supply chain monitoring of medical instruments, medicines, PPEs and more.
Considering the lockdown situation today, the digital systems in the government offices had made it possible for us to serve the people. Therefore, "I certainly believe that the Government of India should mandate the use of technology and digital interventions", said Dr Babu. However, the mandate should not be because of the COVID19 situation but otherwise, as it is the way forward to a faster and more productive future of the governance.