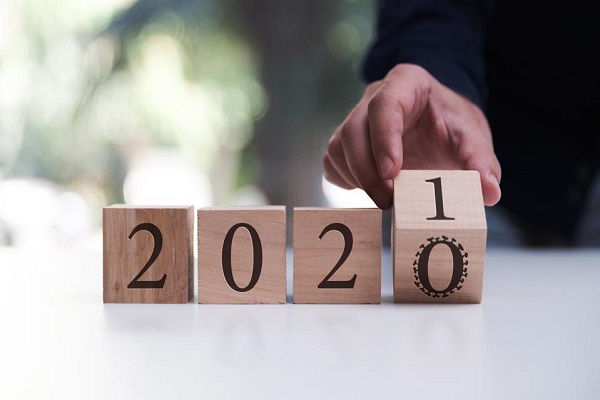 The most unprecedented year 2020 that witnessed the wrath of the deadly COVID-19 pandemic but wrote a new chapter of digital transformation in the history of humanity has finally come to an end. However, as we all await the advent of the new year 2021, let us have a brief look back before we pay our adieu to 2020.
Throwback 2020
Since the onset of the COVID pandemic, humanity has taken the digital route. As social distancing became a mandate to prevent the disease from further spreading people started interacting on social media and video calls more than ever before. The educational institution started online classes, office goers had a new meeting room with applications like zoom, even the doctors started consulting and prescribing through video calling applications. India witnessed rapid digital transformation as the government operations shifted to digital platforms and services evolved into e-services. Henceforth, it will not be wrong to say that the year 2020 has been pivotal in making the people future-ready.
The year we are leaving behind brought one of the worst economic crisis globally impacting the government, businesses and the citizens. The effect on Elets Technomedia and the eGov Magazine was no different. Nonetheless, this opened for us a whole new vertical to explore and this is where we took the route to digitisation. The nationwide lockdown imposed to break the chain of Coronavirus infection resulted in setting new normal like virtual conferences, remote working, online education, telemedicine, and so on.
As digitisation became our resort for relief from the COVID effect, we must not forget the impact the pandemic caused not only on India but worldwide. The COVID pandemic shook governments across the globe and claimed millions of lives. And, complete lockdown was India's answer to break the chain of COVID infection. Due to lockdown, all economic activities suspended suddenly and this resulted in a major slump in the Indian economy. Also, the impact on economy affected businesses, which was followed by a series of lay-offs that started shortly following the lockdown announcement. A significant number of people lost their jobs that resulted in a drop in the purchasing power of the people. This weighed on to the already dire condition of the nation's economy. Following the historic decision of imposing lockdown by the Government of India in March 2020, the World Bank, in October 2020, released a statement that India's GDP is expected to contract by 9.6 per cent this financial year.
Hence, to resolve the atrocity, the Government of India took some historic decisions that will surely take place for the year 2020 to go in the pages of history. Decisions like Aatmanirbhar Bharat Abhiyan was launched, new Farm laws came in existence, "vocal for the local" a call to make India self-reliant, one district one product scheme, one nation one ration card scheme, and many more such revolutionary steps were taken by the Centre and the state governments.
In an effort to motivate the spirit of Indians, Prime Minister of India, Narendra Modi, inspired the citizens of India to unite and fight against the COVID pandemic. In one of his addresses to the nation he said, "COVID-19 does not see race, religion, colour, caste, creed or language or border before striking. Our response and conduct, therefore, should attach primacy to unity and brotherhood."
Also Read: COVID-19 Crisis: An Opportunity for Urban & Rural Local Self-Governments
What 2021 might hold?
It is not rocket science to guess that 2021 can be a year that will see a complete transformation of processes and service delivery mechanisms to digital operations in government and private sectors. As the governments and industry is heading towards strengthening their digital infrastructure by adopting newer technologies cybersecurity is becoming a major concern. Hence, work on safeguarding cyberspace is ongoing. Private companies, startups, student innovators, and technology experts are working out permutations and combinations of codes and APIs to develop security systems that can benefit not only the industry but governments and individuals as well.
Addressing the fact on growing digital use and threat to data security during the inaugural session of CyFy conference, Ravi Shanker Prasad, Minister for IT & Electronics, Communication and Law & Justice, said, "We want India to be a big centre of data refinement, data cleaning, data processing, which we collectively call data refining. But it has to be by prescribed norms. And most importantly, India shall not countenance any compromise on the security and safety of the data of Indians and out data sovereignty."
Also Read: New Milestones of Progress being set up by the IT & Electronics Department in Uttar Pradesh
Speaking at 'Digital Governance Cloud & AI Summit' on the adoption of emerging technologies like AI & Cloud in India and enhancing safety of cyberspace, Ajay Prakash Sawhney, Secretary, Ministry of Electronics and IT, said, "We are working on hyper-scale data policy for India. We will also impose the cloud-first principle… Further, we are looking forward to identifying and providing more opportunities to startups in the cybersecurity domain."
Laying out six upcoming technology trends affecting security sector in 2021, Johan Paulsson, CTO, Axis Communications, says, "Highlights to look out for 2021 are:
Customers and end users are demanding transparency around how tech is used and how data is managed, especially with increased surveillance. This, together with the need to maintain privacy, will be a key challenge.

Intelligent applications and services will be deployed across all three instances – server, cloud and edge – employing the best capabilities of each, improving solution performance and efficiency. The next year will see momentum towards horizontal integration between environments. This will lead to increased speed while reducing bandwidth energy and cost.

The move to zero trust networks will therefore accelerate, where the security profile for each device and application is independently evaluated.

Security experts can move to a proactive, event-based way of working, rather than continuous manual monitoring.

The positive impact of AI can be outweighed by the attention given to specific failures.

Surveillance solutions with people-counting capabilities will become the norm, to ensure adherence to social distancing regulations.

It is expected that in 2021 sustainability regains its position as a primary area of concern."
Addressing the growing technological trends, Srividya Kannan, Founder and Director, Avaali Solutions Pvt Ltd. tells about how Avaali group has heavily invested in its own framework branded 'Velocious™, a set of ready to deploy solutions that leverages various technologies such as AI Chatbot, OCR, Workflow, RPA and content management solutions talking to transactional applications at the back-end. Further, she added, "Avaali works with large enterprises to bring down their procurement costs via digital technologies. We have enabled over 120 large enterprises to bring down their costs by as much as 15 to 20 per cent in addition to bringing down their process cycle time between 35 to 50 per cent."
Also Read: Ministry of Finance to go 'paperless' for Budget 2021
Similarly, Diwakar Nigam, Managing Director of Newgen Software Technologies listed the upcoming focus areas of the firm in 2021. He mentioned Low Code, Artificial Intelligence, Forrester Leadership, Large Government orders, Safe Banking, Robotics process automation, Mobility, Customer experience, Banking–Retail lending, customer experience, customer on-boarding, Cloud,  Analytics, Digital India,  Digitization,  DMS,  BPM,  ECM, Content services will be the upcoming areas of work.
As the private sector aims to make use of emerging technologies to develop efficient, effective, agile, and secure systems for government, public and private operations, it can be simply summarised that 2021 is going to be a technology-driven year. Supporting the fact, the way forward should be a concerted and collaborative push towards the next phase of this transformational journey wherein the government needs to future proof their functioning and build capacities of their workforce and bolster government-industry collaboration to drive a new era of digital breakthroughs to benefit the nation.
A Happy New Year and a Happy New Decade from EGov Magazine