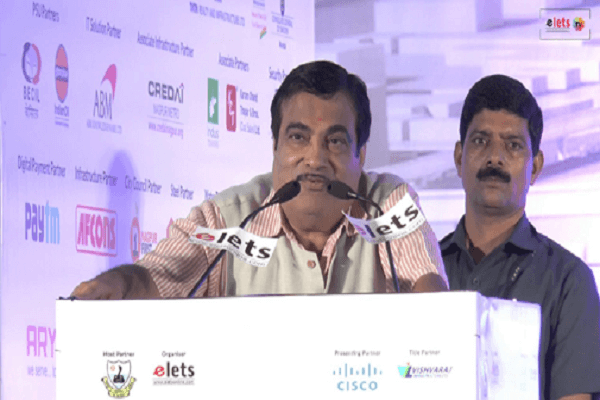 Nitin Jairam Gadkari, the Minister for Road Transport and Highways and for Micro, Small and Medium Enterprises (MSMEs) graced the virtual India Transformation Summit with his presence as a Chief Guest. The three-day summit was organised by Elets Technomedia from July 10 to July 12.
The nationwide lockdown induced by the Government of India came in tough for the MSMEs and big businesses causing huge losses and layoffs. However, the Government launched in Aatma Nirbhar Bharat Abhiyan under which a fund of Rs 20,000 crore was allocated to kickstart the drooping economy and aid businesses. Mr Gadkari, in his Chief Guest address, briefed how the Aatma Nirbhar Bharat Abhiyan Fund will be benefitting MSMEs majorly.

Mr Gadkari, citing Aatma Nirbhar Abhiyan Funds, said, "We are providing financial support to MSMEs in this time of crisis… We are trying to create marketplaces like Alibaba to create digital procurement and selling space for MSMEs."  Further, 11 crore jobs have been created in MSMEs as of yet and it is our target to achieve five crore more jobs in the coming year, he added.
Also Read: PM SVANidhi scheme: With 6.5L registrations UP tops in PM SVANidhi implementation
Mentioning it a revolutionary move, Mr Gadkari said, "We have also changed the definition of MSMEs which is again a significant step." Adding on to the significant measures taken, he said, "We are looking forward to increasing import. Also, many countries are taking out business from China and we are looking forward to creating better technologies and systems to grab business opportunities coming our way."
Further, on MSMEs, Mr Gadkari, "We are also trying to fetch more foreign investments and public-private investment in the MSMEs sector."
Also Read: MSMEs & Transport Striding Towards Growth : Nitin Gadkari
The Minister mentioned during his address that the focus of the government is more on to strengthen the agricultural, rural and tribal areas. Also, the aim of making India self-reliant will not become a dream come true if the local trade, craft and products do not gain investment to be taken to a bigger platform. From biofuel to fishing to agriculture and to tribal economy are areas where we can tap the further potential, he added.
Backing his words on government's approach focussing on the local trade, Mr Gadkari said, "We are very much urban-centric. We need to focus more on the rural and tribal sector and develop these areas. We need to build smart villages, smart cities and industry clusters."
Also Read: Defence Minister Rajnath Singh unveils India's First Indigenously Designed & Developed Driverless Metro Car
Mr Gadkari also presented the perspective of the Ministry of Road Transport and Highways and talked about the initiatives taken towards shifting to biofuels.
Elaborating on developments on biofuel to reduce vehicular pollution levels, the Minister said, "We are using sugar molasses to create ethanol which will further be used to create aviation fuel and will be added in petrol."
Also Read: GeM posing a boon for MSMEs: Talleen Kumar
Further, he said, "We are also creating green highways… I want that farmers should produce CNG. From five tonnes stubble one ton CNG is produced. We are looking forward to using ethanol which is a green fuel."