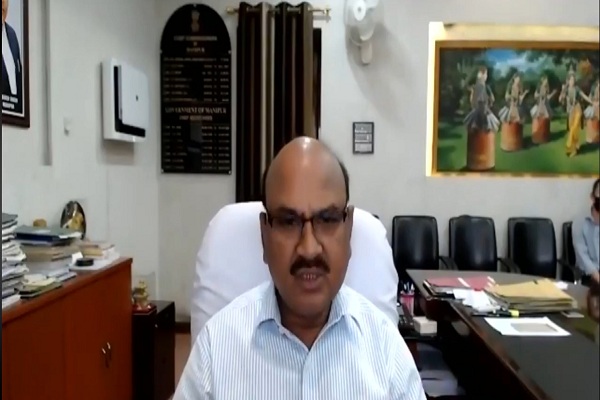 In the past few weeks, India has seen a sudden rise in the number of Coronavirus positive cases. And, major cities like Mumbai, Ahmedabad, Delhi are struggling the most. However, looking at the Indian scenario, the North-Eastern part of India is the least affected of the 28 states. Manipur is one such state where proactive measures and stringent follow up by the people has resulted in a far better situation than many bigger states. As of June 8, there are a total of 172 confirmed Corona positive cases, of which 52 have recovered and 120 are still active. The good news though is there are zero deaths recorded in the state. To know more on Manipur's effective strategies to tackle the COVID menace, Elets Technomedia organised a webinar to interact with Dr J Suresh Babu, IAS, Chief Secretary, Government of Manipur.
Effective Initiatives
Addressing the webinar's core theme, Dr Babu said, "We are doing the real Reverse Transcriptase – Polymerase Chain Reaction (RT-PCR) test and not just antibody test." Manipur is heading to 100 percent testing, he added.
In addition, Dr Babu said, "We have mandated that anybody who is entering the state has to undergo the RT-PCR test."
While speaking on the migrant labour issue he said, "We opened a website on which we have around 80,000 registrations. And, we have nearly 40,000 people who want to come back." Among the North-Eastern states, Manipur is the first state which took the decision to get back those stranded in other states. So far, 16,000 have already returned and many have arrived by road. Trains are being arranged for these people and those people arriving in the state are quarantined as a precautionary measure, Dr Babu added.
Elaborating on the migrant labour issue, he said, "Today I know how many people of the state are staying outside. We have a website where people have registered with us. Based on people's occupational profile we are creating a database and developing a plan where I want to put them under skill development programmes as per their background. And then the government can act as a mediator to get them better jobs and also enhance their skillset." There is a reorientation of people's movement across the country. So a time will come when the industries will again need people and by that time the state should be in a position to provide better individuals, he added.
Role of Citizens
Talking on the role of citizens, Dr Babu said that local clubs and women groups are managing community quarantine centres. There is a mass movement which is going in and the entire community is actively participating and displaying exceptional efforts so that the people under quarantine do not feel left out.
Adding on to the people's participation, Dr Babu told the attendees, "We have seen a sudden rise in cases in the last 10 days. Every village is sealed by its own people and people are not allowing anybody from outside to enter. So to this extent, people are following social distancing and lockdown." Moreover, people are not allowing those under home quarantine to move out in open unles tested negative, Dr Babu added.
Highlighting the contribution and help from the citizens, Dr Babu said, "Villages are donating vegetables, eatables to other villages in need and many communities, independent groups, clubs and more are helping these villages in distribution. The government is also actively helping the villagers in distributing food and other essentials."
Emphasizing on the note that many government leaders, experts and people across the country have accepted that the Coronavirus is going to stay and they need to learn to live with it, Dr Babu said that here in Manipur people do not accept to live with COVID and are strictly following the lockdown norms, social distancing and other measures.
Furthermore, people in villages are highly cautious and are not allowing entry to the village only after testing and found negative. "They are not in a mood to accept that we have to live with the virus", Dr Babu added.
Effect of COVID on Education System
Speaking on how the Coronavirus pandemic has affected the education sector, Dr Babu said, "Education sector is the worst affected as it is not known when it will come back to normalcy or anywhere near to that."
Detailing on the existing education system and a need for change, he said, "In the higher education sector, we need to have a changing trend and we need to reform the curriculum looking at the perspective jobs and industrial requirement. We need to develop students into professionals."
Effect of COVID on Tourism
When asked about the effect of the Corona pandemic on the tourism sector, Dr Babu said, "Tourism will take years to come back on track. However, this is the time tourism should be reoriented and it will flourish in the long run."
Considering the long term aspect, there is a need to link the North-Eastern states together by the tour operators while creating packages. The tour operators should include three to four states in one package to lure more tourists as not all are nature lovers and many people would not stay in a single state for more than three to four days.
As a concluding note, he said that the proactive approach of the state government and district authorities have been crucial in controlling the outbreak. Moreover, the active participation of people has led Manipur to a better position.
"Exciting news! Elets eGov is now on WhatsApp Channels 🚀 Subscribe today by clicking the link and stay updated with the latest insights!"
Click here!