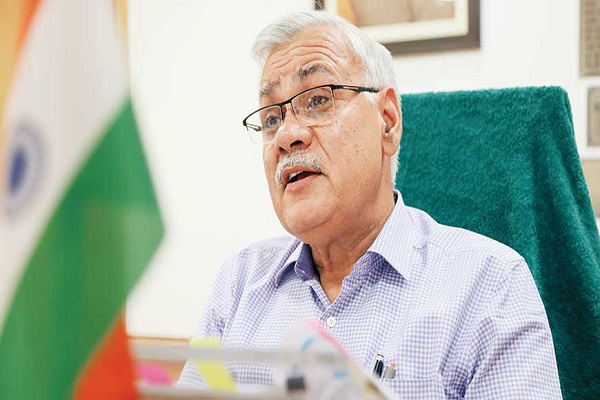 Smart Cities interventions have posed as an enabler for various civic bodies in India in battling the COVID crisis. The technology has proven its worth, especially Integrated Command and Control Centres (ICCCs) built under the Centre's Smart City Mission. The ICCCs have been functioning as the COVID-19 war rooms for civic bodies and have enabled the authorities in monitoring, tracking, collecting data, processing requests, queries, managing the supply of essential goods, responding in record times to eventualities or emergencies, and more. Discussing the Smart city interventions in the country, the future of smart city mission, majorly how it has helped the cities to fight the COVID pandemic, Durga Shanker Mishra, Secretary, Ministry of Housing and Urban Affairs (MoHUA), Government of India addressed a webinar organised by Elets Technomedia.
Mishra, briefing on the Smart Cities Mission said, "We have selected 100 smart cities across the nation initially. However, the Smart City Mission was divided into two levels the country level and the state level. Therefore, there also cities which are select by the states to be developed under the Centre's mission." The last city selected was Shillong in Meghalaya in June 2018. Post that, the smart cities have come a long path and as much as projects worth Rs 30,000 crore have been completed, he added.

Smart City tech to rescue amidst COVID outbreak
Mishra further talked about how the technologies implemented under the Smart Cities Mission has been of great help to the cities in responding to the pandemic. He said, "45 ICCCs have been operational across the nation. And, these played a major role in tackling COVID and strengthening the local government's response against the COVID-19.
He said that major learning from the COVID crisis is that how we can make more effective use of various technologies for improving not only making cities more resilient but also prepared to sustain and sail through tough times. Social distancing has become a part of our lives now. Doing things electronically will be seen more and more in the coming days. Post-COVID era will be very different, he added. He highlighted examples like telehealth services, drone monitoring and more.
Smart Cities Mission and the way forward  
Mishra while describing the significance of smart cities in developing the urban areas in India, he said, "100 smart cities are like catalysts. These smart cities will pose as a lighthouse for other cities to learn from and develop. The learning from these can be carried in other cities, though not copying the same plan but by modifying it in accordance with the city implementing it." All cities need to be smart, he added.
Talking on the role of MoHUA, he said, "We are providing policies and platforms for cities to learn from one another. Tools like liveability index, smart city rankings, and more are a medium to promote best practices carried in top-ranking cities."
Speaking on water conservation and its effective management, Mishra said, "1.39 crore taps are needed to be installed in houses or nearby so that all can get access to water. However, there are challenges like in a few places laying water pipeline will be a herculean task." These infrastructural works and these take time. With time things will be in a better position, he added.
Adding on the topic he said, "Our next focus area is the 'Jal Jeevan Mission' and we will be working on to conserve every drop of water and we will make sure that whatever water is available will be used in the most optimum manner."
Addressing the topic of affordable housing, he said, "Nearly 64 lakhs houses are being conducted under Housing For All." He further added that the Ministry was looking forward to including better and advanced technological measures to aid the affordable housing section. To serve the cause, "We launched a Global Housing Technology Challenge. Also, we are funding various institutions to boost indigenous technology and innovation for the urban sector."
Speaking on the way forward, Mishra said, "How resilient are smart cities on climate change? we are working on that"
Elaborating on the way forward, he added, "Public health & sanitation (Swachh Bharat Mission) and telehealth will be more important for smart cities in the coming future."