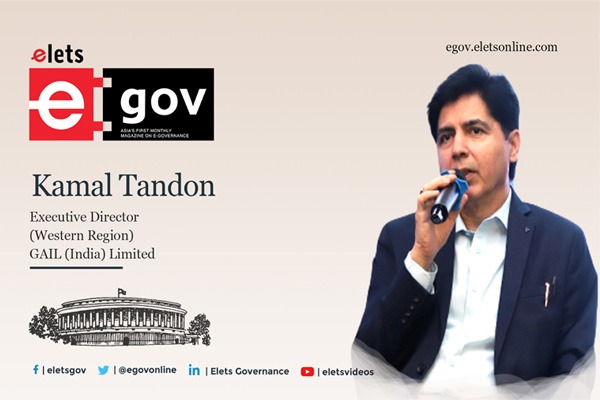 GAIL has been into the building of energy security for so many years, and as far as renewables are concerned India has performed pretty well, shared Kamal Tandon, Executive Director, (Western Region), GAIL (India) Limited at the 4th Elets National Energy Summit in Mumbai.
"We have not been able to do the transitioning from the share of oil and coal which has been required lately. Oil is going to stay for the next 10 – 20 years so the transition is not that simple, it is going to be a long process and I think the best bridging fuel FEC is natural gas, and that's what everyone should focus on, as it is the cleanest, effective, and efficient fuel which is contributing to the climate change, lesser emissions, and decarbonisation and that's what the focus of GAIL is", expressed Kamal.

The focus of Gail is on building infrastructure so that more and more natural gas is used. We already have six LNG terminals in India and are looking for four more LNG terminals in the country.
The pipeline network of infrastructure in India is close to 19,000 to 20,000 kilometers out of which about 15,000 kilometers is owned by GAIL. Their plan is to build another 14,000 kilometers so that the country can have a total infrastructure network of 35,000 kilometers in the country. They already have some solar and wind projects in our basket and are going to have more in the coming time.
He added, "A total of about 130 megawatts of capacity has already been in place as far as solar and wind are concerned. We have already commissioned a hydrogen blending with compressed natural gas at Indore wherein we have concluded that we can blend about 20 hydrogens in natural gas. We are already in the process of setting up India's largest 10-megawatt electrolyser which can produce 4.3 million tons per day of green hydrogen."
He said, "Through the whole network of natural gas, a number of cities and towns are getting connected and they are able to supply natural gas to all our transport sectors and household sectors too, that's what the transition is all about."
"We've already allocated a budget of about five-six thousand crores and are going a big way for hydrogen. The government wants about 5000 Compressed Biogas Producers (CBG) units for which GAIL has been made as a moderator. We are facilitating all these CBG producers so that the gas which is produced from the agricultural waste etc is supplied to all CGDs."
Also Read | "GAIL aims 1GW of renewable energy production in coming years"
In addition to that, he said that there is a mechanism that has been in place which we call a 'SATAT' scheme wherein some price mechanisms have been made. We need to work on all the regulatory frameworks and the pricing mechanisms etc so that all these things become attractive.
He concluded the session by saying, "Some of the CBG plants have already come in and we have already signed more than 24-25 agreements. The CBG producers and the city gas companies are also coming up with this scheme in place."
Views expressed by Kamal Tandon, Executive Director, (Western Region), GAIL (India) Limited.