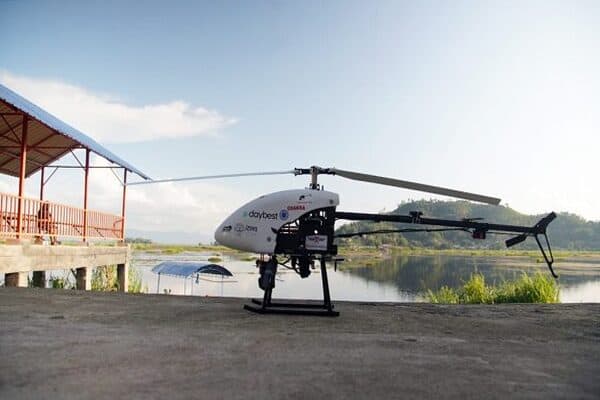 Under the Centre's Drone Response & Outreach in North East (i-Drone) programme, the first package of Indian made 'Covid vaccines' have been successfully airdropped at a remote village in the hilly terrain of Manipur. The move is a benchmark for the country as not only the vaccines delivered are Indian made but drones being used to transport the vaccines over an aerial distance of 15 km from the Bishnupur district hospital to Loktak lake in Manipur are also fully Indian made.
The Union Health Minister Mansukh Mandaviya appreciated drone technology and said that drones can play a key role in bridging the gap and delivering essentials to the remotest corners of a country like India which has diverse geographies. He was announcing the success of the delivery of the first batch of vaccines using drones.
Also Read: UP Govt establishes 104 STPs for cleaning major rivers under Namami Gange
The Minister launched the Indian Council of Medical Research's (ICMR) Drone Response and Outreach in the North East (i-Drone) programme on Monday. According to Manadaviya, the new delivery model would ensure that life-saving COVID vaccines reach everyone. After the delivery of the vaccines, 10 beneficiaries received the first dose while eight received the second dose at the primary healthcare centre (PHC) near Loktak lake.
The Health Minister said, "We can use drones to deliver life-saving medicines and collect blood samples. This technology can also be used in critical situations. It may prove a game changer in addressing the challenges in healthcare delivery, particularly health supplies in difficult areas."
At present, the drone-based delivery project has been allowed to be operational in Manipur and Nagaland in the North East and Andaman and Nicobar Islands.
Also Read: Centre plans to encompass e-bikes under FAME II scheme
Ahead of the launch of the i-Drone, the ICMR in association with IIT Kanpur carried out an initial study to test the capacity of drones to carry and transfer vaccines safely. The study was done in Manipur, Nagaland and Andaman and Nicobar Islands. These studies gave out promising results based on which the Ministry of Civil Aviation (MoCA), the Directorate General of Civil Aviation (DGCA) and other regulatory authorities gave a go-ahead granting permission to fly drones beyond the visual line of sight.