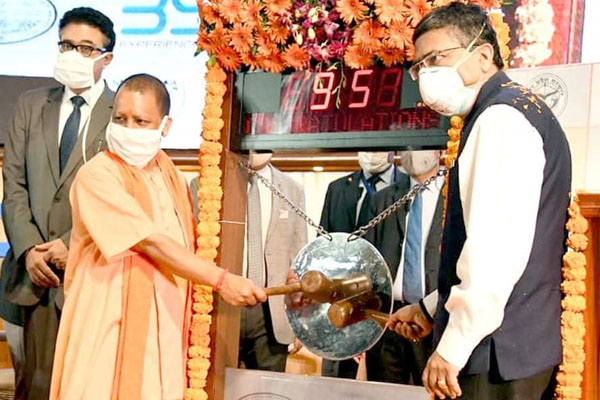 It will help in improving financial & municipal governance, make city move on the path of self dependence and provide necessary support for developing civic infrastructure. This will also boost Aatma Nirbhar City as a part of Aatma Nirbhar Bharat.
The municipal bonds issued by the Lucknow Municipal Corporation were listed on the Bombay Stock Exchange (BSE) recently with Uttar Pradesh Chief Minister Yogi Adityanath ringing the bell to mark the listing.
This marked a historic occasion as it was the first municipal bond issued from North India and the first from Uttar Pradesh after the launch of the AMRUT scheme. The considerable investor interest evinced by significant over-subscription of this bond issue is indicative of improving economic environment in The State.
"It's a matter of pride for UP that the LMC has raised Rs 300 crore through the bond issue which is listed today. It is the trust of the investors which UP has earned during the last three-and-half years of governance," said Yogi Adityanath on this occasion.
"It will augment our effort to improve infrastructure in urban areas and it shows the improvement in the industrial climate of the state and the trust the investors have reposed in the state machinery", he added.
With this, Lucknow became the 9th city in the country to have raised municipal bonds, which has been incentivized by the Ministry of Housing and Urban Affairs, Government of India under the mission AMRUT (Atal Mission for Rejuvenation and Urban Transformation). The bonds issue will ensure that the LMC will get ₹26 cr to subsidise its interest burden.
It will help in improving financial & municipal governance, make city move on the path of self dependence and provide necessary support for developing civic infrastructure. This will also boost Aatma Nirbhar City as a part of Aatma Nirbhar Bharat.
"I would like to congratulate Lucknow Municipal Corporation for successfully raising Rs. 200 Crore by issuing Municipal Bond on BSE Bond platform. The order book was filled more than double in a matter of few minutes establishes Lucknow Municipal Corporation as a credible entity in the Indian bond market. The BSE firmly believes the Indian bond market has a potential for substantial growth. The BSE Bond platform has ensured transparency and efficiency in price discovery for private placement of debt securities and enables seamless subscriptions," informed BSE Managing Director and CEO Ashishkumar Chauhan.
Also Read: Agra Metro Project: Major Boost to Economic Sector of Heritage City
The Lucknow Municipal Bond listing follows the pioneering trend set by Ahmedabad Municipal Corporation which issued the first municipal bond for INR 100 crore without state government guarantee to finance infrastructure projects in January, 1998.
The Government of Uttar Pradesh and the Government of India have extended their full support to this issue which marks a paradigm change in urban governance and would trigger more market oriented and transparent local administration. The Government of Uttar Pradesh is keen to encourage other local bodies in the state to emulate the example set by Lucknow Municipal Corporation. It is expected that the municipal corporations of Ghaziabad and then other cities such as Varanasi, Agra and Kanpur will also issue municipal bonds in the coming months, followed by a pooled municipal bond issue from some of the smaller municipal entities in the state.
Also Read: Yogi Adityanath launches Lucknow Municipal Corporation bond at BSE
On the Global Market of Municipal Bonds and it's opportunities in India, A.K. Mittal, MD & CEO, A. K. Capital said: "A big congratulation to Lucknow Municipal Corporation for raising Rs.200 crores at historical low rates. I feel proud to say that A.K. Capital has been a leading Merchant Banker in the Municipal Bonds space in terms of volumes. Lucknow Municipal Corporation bonds are backed by strong structured payment mechanism making it an secured investment with an attractive return for the investors. Indian Municipal Bond market is at a very nascent stage compared to the US Municipal Bond market but given the rapid pace of urbanisation, it is going to play a pivotal role in shaping the urban infrastructure sector in the country."
Some important points about Municipal Bonds and its relevance
Municipal corporations, the government bodies form the third tier of the government in urban areas after the central and state government.
Services being provided by them include water, sanitation, sewage and solid waste management.
They garner revenue through levies like property tax, government grants and fees for the services offered.
Municipal bonds are one of the ways to raise funds for financing specific projects such as infrastructure projects.
The Securities and Exchange Board of India regulations (2015) specifies some conditions for these corporations to issue bonds- (i) not have negative net worth in any of the three preceding financial years, and (ii) not have defaulted in any loan repayments in the last one year.
In 2017, the central government had announced incentives for municipal bodies who raise funds through these municipal bonds.
Ghaziabad, Varanasi, Agra & Kanpur are other cities of UP which could issue municipal bonds in coming months.
The significance of this maiden bond issue from an urban local body in Uttar Pradesh is not merely the quantum of resources raised for investments in urban infrastructure but a demonstration of the transformation of Lucknow Municipal Corporation into a model for urban governance.
This bond issue from Lucknow Municipal Corporation is rated 'AA' by India Ratings and 'AA (CE)' by Brickwork Ratings.
The proceeds of the issue are proposed to be invested in a water supply project being implemented under AMRUT scheme of the Government of India and a housing project.
The tenure of the Lucknow Municipal Corporation bond is 10 years and it is structured as a 'strip' bond with 7 STRRPs (A to G) and principal repayment to happen in 7 equal annual payments from the 4th year to the 10th year.
In addition to asset cover, a structured payment mechanism has been put in place to ensure timely payment of both principal and interest obligations.