Gujarat, a powerhouses of dynamism in India, has a state police that is taking a number of steps to be in tune with the times. New technology is being adopted in order to serve the mandate in the best way possible.
By Manoj Agarwal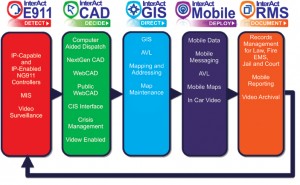 In the modern information society, knowledge is power, and crimes are no more committed only on the streets by weapon-wielding shady characters. As the nature of a society changes, the role and capabilities of its protectors must evolve in step, so that peace and tranquilly prevails, and development can be ensured. Keeping this in mind, Gujarat Police have embarked upon a comprehensive modernisation plan that will help the police carry out their responsibilities to the best satisfaction of citizens. Modernisation of the Police Control Room – the nerve centre of operations of a police force – is one of the important projects underway in the state. The project has several modules such as: Control Room Automation; adoption of Geographical Information System; Automatic Vehicle Locator; Computer Telephony Interface; CCTV monitoring of control room activities; Access Control System; SMS Gateway Communicator and integration with the 108 Call Centre.
Computer Aided Dispatch
Computer Aided Dispatch (CAD) is a module for call taker and call dispatcher to create incident reports and fill related details as per conversation with distress caller. The CAD System provides real?time data acquisition and control through user?friendly graphics display with an easy to use operator interface system. The system consists of two sections: Call taker and Call dispatcher. Call taker collects information related to incident from the distress caller and creates an incident report, whereas the call dispatcher locates the nearest vehicle on the GIS map and communicates with PCR or patrolling vehicle and assigns police vehicle to the incident location.
The CAD system is a flexible telecommunicator aid that helps ensure the accuracy of dispatching, along with an easily understandable user interface for viewing critical data in real time. CAD provides help to the telecommunicator and dispatcher in recording activities, setting priorities, and identifying who is available to respond; what vehicle and officer are already dispatch to an active call. Access to information is useful in increasing the safety of the emergency responder.
GIS for policing

The state police are implementing a Geographical Information System known as GEO911, which is a module that shows geographical details of city like highways, landmarks, streets, vital installations as per the layers and also provides real time movement of vehicles on map as well as incident details.
The GIS-based information may include agency defined layers that commonly include hospitals, roads, houses, airports, etc. GIS updates are handled via standard ESRI products. InterAct's Geographic Information System is the hub for integrating caller location as well as incident location.
Automatic Vehicle Locator
The Automatic Vehicle Locator (AVL) module consists of automatic locater device installed in the police patrolling vehicle and software module which interacts with control room and device. The system is a combination of hardware, software and networking subsystems that tracks the location of vehicles within a network using a combination of GPS/GPRS. The real?time tracking, movement and location of the vehicle is projected onto a map and displayed onto a PC screen for monitoring. Each vehicle equipped with the GPRS /GPS (AVL system), will have its location and identity continuously transmitted.
Computer Telephony Interface

The Computer Telephony Interface (CTI) provides an interface between system and telephony equipments at command centre location, An effective interface handles all call related module including pop-up, ACD call forwarding , call waiting, conference and reporting at any given time.
Video Surveillance and Biometrics system for Control Room
All the activities in the control room are being monitored & recorded using IR CCTV cameras. Biometric fingerprint based access control system is being used to restrict unauthorized access to control room as well as to track attendance.
Mapping Wireless Conversation
All the wireless conversations are being recorded with date and time stamped so that proper records of each incident are maintained. The complete wireless communication protocol is illustrated in the adjoining diagram.
Integration with 108 Call Centre

The 108 Emergency Response service is presently providing services for emergency healthcare, fire and police. However, the service is presently not integrated with police systems and this at times leads to situations where police response times can be improved. Consequently, the state police would be implementing a Dial 100 system that would also be integrated with the 108 service. The flow is illustrated in the adjoining diagram.
There are many cases such as mob attack, bomb blast, riots etc., where police help would be needed along with emergency health services. In such a scenario, relevant information would be acquired from the distress caller and fed into the 108 system by the call operator. The same information would also be conveyed to the nearest Police Control Room.
Integration with SMS Gateway Communicator
The system would be integrated with SMS Gateway Communicator to send incident details to group of officers as per the priority of incident code. Even distressed citizens would be able to send SMS for help to predefined control room number and operators at control room would respond immediately.
Components of Police Control Room modernisation
Control Room Automation

Geographical Information System

Automatic Vehicle Locator

Computer Telephony Interface

CCTV monitoring of control room 

Access Control System

SMS Gateway 

108 integration
Further plans for Control Automation
Control Room automation software consist of Computer?aided Dispatch (CAD) system which provides leading edge technology to assist call takers, telecommunicators, dispatchers, and system administrators to receive and manage (Dial 100) calls and dispatch Police, Fire, EMS, and other types of agencies. The system designs takes care of every feature with the goal of split second response, ease?of?use, data integrity, and data security.
InterActDial 100 System will be able to handle Distress Call and can provide immediate response to the distress call with immediate help. InterAct Dial 100 System an integrated system with Computer aided dispatch system for call taking and dispatch process, Geo911 system for GIS map and AVL system for vehicle location along with other network and telecommunication modules. Dial 100 system is flexible in nature hence easy integration with other Public Safety Systems such as Mission Mode Crisis Management System, Record Management System, Court Management System, Fire Management System, CCTV Surveillance System with Analytics True Sentry. In this way, the state police hopes to utilise advances in ICT for better serving Gujarat and playing a role in ensuring good governance.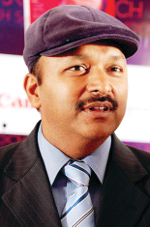 THE AUTHOR
is the Inspector General of Police, State Crime Records Bureau, Gujarat
Follow and connect with us on Facebook, Twitter, LinkedIn, Elets video