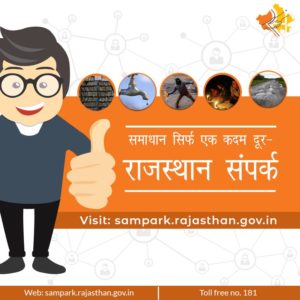 One of the significant projects launched by the Government of Rajasthan is "Rajasthan Sampark" which aims to enable the common man to reach the departments of the State Government to address their queries and concerns, through Information Communication and Technology (ICT) interventions, observes Elets News Network (ENN).
An Initiative Empowering Citizens
As part of the unique initiative, a centralised platform, where any citizen of the State can lodge his or her grievances to the respective departments, has been provided to all citizens. The whole mechanism primarily consists of a State-level call centre with integrated web portal which acts as a single point of contact for addressing and redressing various citizen-centric queries and grievances related to government services.
Citizens can lodge their grievances against any government department/ office through this portal and the grievance is then further sent to the respective office/ department for redressal. Through Rajasthan Sampark, the Government of Rajasthan intends to achieve all important aspects of good governance viz. robust delivery system, transparency, communication, grievance redressal and sensitivity towards citizens.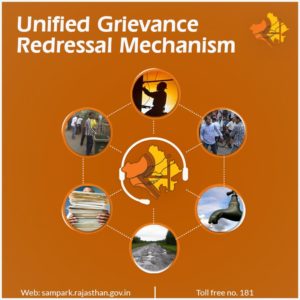 Rajasthan Sampark IT Centres — A Unified Service Delivery Platform
Rajasthan Sampark IT Centres set up across Rajasthan ensure efficient delivery of services to people in an integrated and easily accessible manner. Coverage up to block-level has now been achieved and setting up of centres up to Panchayat level is in progress with Rajasthan Sampark IT Centres at each District Collectorate and in all Panchayat Samities – provides an easy approach to senior Government offices/officers for the common man. These centres enable citizens to reach the departments of the State Government for availing services and also for raising their queries and concerns, with the help of ICT interventions. Housed within Atal Seva Kendras, Rajasthan Sampark IT Centres provide a centralised platform for services such as Direct Benefit Transfer (DBT) through Bhamashah Scheme (banking correspondent services), Aadhaar enrollment, work flow-enabled grievance redressal system (via Rajasthan Sampark Portal), video conferencing facility for Jansunwais (public hearing) up to block level i.e. 33 districts and 248 Panchayat Samitis, review/monitoring of government programmes/ schemes, etc.
PEOPLE SPEAK
Rajiv Singh, 40, a resident of Jaipur
"My experience with State government's Sampark initiative has so far been very smooth and hassle-free. Now, I don't need to visit various offices and departments to get my issues resolved. Through Rajasthan Sampark Mobile App, I can register my complaint from the comforts of my home. This is indeed helpful."
Ensuring a single, unified and integrated grievance redressal mechanism for Rajasthan 
Integrated portal (www. sampark.rajasthan.gov.in) with grievance redressal workflow Grievance registration through:
Web Portal
Mobile App
eMitra Kiosk
Call Centre
Application includes SMS integration, GIS linked inspections/visits, reality check functionality for disposed cases, provision to collect feedbacks and extensive monitoring of public grievances
Integrated with the State Call Centre 1800 180 6127
Accessible through mobile application as well
Get a chance to meet who's who of Smart Cities ecosystem in India including key policymakers from Central and State Governments. Join us at Smart City Conclave, Kochi on 18 August, 2018 to explore business opportunities. Like and connect with us on Facebook, Linkedin and Twitter.