eMitra, the ambitious e-governance initiative of the Government of Rajasthan, is aimed at providing a wide range of citizen-friendly services of different government departments under one roof so that the citizens do not have to run around various departments to avail them, observes Elets News Network (ENN).
The initiative aims to use an e-platform to provide all government information and services to rural and urban masses under one roof through centres and kiosks on a Public Private Partnership (PPP) model.
eMitra – Expanding Horizon of Government Services
Today, the scope of services that are provided through e-Mitra centres/ kiosks is not limited to the State Government domain but it also includes services of the Central Government departments and private sector organisations like LIC, BSNL, ICICI Prudential, mobile phone service providers, Internet Café and many more. Currently, over 250 Government-to- Citizen (G2C) and Business-to-Consumer (B2C) services are being provided through this platform across all rural and urban areas in Rajasthan's 33 districts.
In private domain, it provides services like utility bill payment, application and digitally signed certificate services, cable TV, insurance, ticket booking, gram haat, tele-medicine, tele-education, Internet access, commerce services, etc, and many more upcoming services are being added to its fold regularly. These centers/kiosks under e-Mitra act as the front-end service delivery points for the government, private and social sector services to the citizens of Rajasthan.
The idea is to develop a platform that can enable government, private and social sector organisations to integrate their social and commercial goals for the benefit of citizens in the remotest corners of the State through a combination of IT as well as non-IT services. Content and services form the backbone of the eMitra Scheme. To this effect, selection, aggregation and customisation of content and services, at a central level, are done to ensure the scheme's success.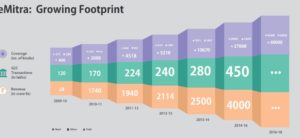 The content and services involve back-end support in the form of a content management system, content delivery platform, service delivery infrastructure as well as usage analysis systems for a quick feedback and monitoring. The kiosk issues a receipt to all citizens for all G2C/B2C and utility bill collection services. One copy of computerised receipts is issued to the customer for all transactions while another copy is kept at e-Mitra Kiosk. DoIT&C/District Level Offices (Department of Information and Technology and Communication) are authorised to inspect these receipt books and the kiosks are directed to maintain these receipt books for at least three years for audit by DoIT&C/ District Level Offices.
Currently, out of a total of 51,000 kiosks, 21,000 are urban-based while 30,000 are rural-based kiosks. Further, 30 per cent transactions are from urban segment while the rest of transactions are from rural segment. The transactions from utilities currently stand at 30 per cent while 70 percent transactions are from application-based services and there is a revenue collection of Rs 700 crores from 60-70 lakh transactions. The scheme envisages that the kiosk owners would mainly be women, thus encouraging more and more women entrepreneurs having self-sustained kiosks (with a minimum income of Rs 10,000-12,000 in rural areas and Rs 20,000-25,000 in urban areas). However, in case of no eligible woman entrepreneur being available, male entrepreneurs may also be selected.
Follow and connect with us on Facebook, Twitter, LinkedIn, Elets video