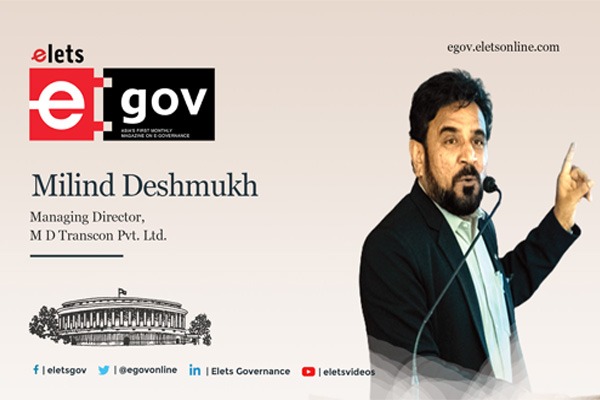 Milind Vasudev Deshmukh is the first-generation promoter of the company. His roots are from the Vidarbha region in Maharashtra. He is an Engineering graduate from Amravati University. His professional journey started as an employee in a private company but shortly he realised that something on his own has to be started. So, he started sowing seeds of the technical textile business with painstaking efforts. During 1996, in a short span of 3 years, he diversified with a new company into the energy infrastructure business, which was the stepping stone for his today's success.
Thereafter, he extended business operations in other states of India, and in 2009 the business network was stretched to overseas market. He envisages huge potential and opportunities in the energy sector.
Entrepreneurial by nature and able to see the 'bigger picture', utilises skills from an extensive background in various corporate consortiums, in General Management, Sales and Marketing/Business Development and Innovation.
Holds years of hands-on experience gained from within the industry, with specific skills in Product Management, Business Performance, and Analysis, Business Growth and Development.
An excellent record of initiating and leading turnaround growth strategies in complex business environments.
Believes in technological-driven entrepreneurship.
He loves to accept new challenges and meet them squarely. He is innovative, a good communicator, a networker & diplomatic. He is passionate about Badminton, Swimming, Exercise, Yoga, Cycling, and a healthy diet. His business contribution was recognised and got many awards for his achievement. He loves to go to many institutes, and gatherings to share his experiences, and inspire and motivate the audience. He believes in the almighty and is grateful to him for his success.
He is currently leading the following Organizations:
MD Transcon Pvt. Ltd, Navi Mumbai
Ashtavinayaka Energy- Infra Pvt. Ltd, Navi Mumbai
Ashtavinayaka Energy- Infra Pvt. Ltd. 'Mega Project' Amravati
Par Filters Pvt. Ltd. Navi Mumbai
Par Products (Nigeria) Ltd
Ashtavinayaka Construction (Nigeria) Limited
Awards & Recognition
The prestigious 'Emerging India Award – 2013' organised by imminent players like ICICI Bank with CNBC-TV18 & powered by CRISIL to honour leaders of small & medium enterprises. This momentous occasion was graced by an eminent personality like Mr. N. R. Narayan Murthy (Chairman of Infosys).
Award for Outstanding contributions in our field' at the 'International Achiever's Summit & Awards'. The ceremony will be held in Bangkok (Thailand) in Jan' 2014.
Strengths:
Personal:
Maintaining cool in most annoying situations.
Always dreams big.
Derives motivation from Ideation & Innovation.
Holds interest in Brand Building.
Professional:
Is a sharp problem-solver.
Keen on continuous Business Development.
Reading on diverse issues
Has built a team of highly qualified personnel for implementing his ideas.
Believes in constant gradation of working by adopting modern management techniques and regular training.
He believes that "Extraordinary result is a product of people's motivation, mutual trust, and their empowerment."
Message from Managing Director
A dream of many ideas, passion, and enthusiasm gave birth to our organization in 1996. Over the last 25 years, the group has established itself as a leading power infrastructure company, known for its dynamic approach within the local segment. We have been reinventing ourselves in order to stay relevant in changing market. Over the years, we evolved and diversified into a turnkey project organization from initial start-up as a small contractor and from 66 KV to 765 KV transmission lines and substations. It was possible through the active engagement, hard work, and dedication of our employees.
Our nation is one of the fasted growing economies in the world and presently ranked at 6th position based on GDP. India is in 4th position in foreign exchange reserves after China, Japan, and Switzerland. It seems that the past glory of India is likely to come back in the future. Our country has a high potential to generate renewable energy due to its geographical placement, mainly in solar and wind. In the coming years, there may be a major shift and diversification within the energy sector.
Power is a basic requirement for life and it should reach every individual in our nation. The energy sector in India is growing rapidly and demand for power is going to increase mainly due to an increase in urban population, industrialisation, technology-based equipment at offices & homes, air conditioning, and due to fast future of electric vehicles. At present, our country is the 5th largest energy consumer in the world.
Also Read | GAIL catalysing change in the energy sector
To support our nation, we have to be optimistic and need to go for opportunities to capitalize without keeping geographical boundaries. The per capita energy consumption in India is likely to double by 2030, in comparison to 2020. Currently, per capita, energy consumption in India is one-third of the world average. To meet energy demand, there will be a huge opportunity to develop infrastructure for transmission and distribution across India at least for the next 2 decades.
We have to have the right balance between economic, social, individual, and community goals to create long- term value. We have to pursue our goals even in face of difficulties and convert adversity into opportunity. The highest possible standard in work could be achieved through mutual cooperation, a responsible mindset, quality execution, occupational health & safe environment. We as an individual or teams should have two underlying principles which are, Growth in life and Courage of our convictions.
We continue to add new partners to our business with a focus to establish a robust business presence without compromising on anything. We encourage our staff to reach their full potential through equality, an inclusive work environment, and personal cum professional development.