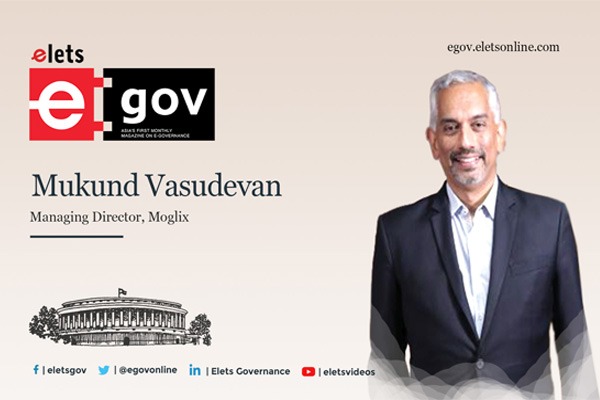 With its wide spectrum of unique offerings, Moglix is catalysing innovative transformations & efficiency in the energy sector, shares Mukund Vasudevan, Managing Director, Moglix in an exclusive interview with Anuj Sharma of Elets News Network (ENN).
Tell us about the contributions of your organisation – Moglix and its various initiatives in the energy sector?
Moglix is a B2B e-commerce company, enabling manufacturing companies bring efficiency in the management of their supply chains from procurement to sales. With both digital and physical layers, we provide efficient procurement solutions. We hold inventory for companies to reduce their lead time and make different suppliers easily accessible to them.
Moreover, we also deal with the financing of the vendors. In a nutshell, Moglix creates an operating system for B2B e-commerce for manufacturing companies.
In the energy sector, especially in renewables, we do a variety of things, catering to larger manufacturing companies, including turbine manufacturers, manufacturers of electrical switch gear and many others who supply in turn to the sector. We help energy sector manufacturers bring efficiency in the business by facilitating alternate vendors and reducing their total cost of operations in procurement and distribution.
We also focus on the developers in the renewable space, be it wind developers or solar independent power producers (IPP). We supply them MRO (Maintenance Required Spares) as well as parts such as cables, batteries, inverters, frames of solar panels or large turbines for wind, etc. We supply high-quality products at the best price through alternate vendors.
Please give insights into Moglix's key innovations which have great potential to drive the country towards a sustainable future in the energy sector?
Packaging is one of the products required by every manufacturing company. We have started supplying sustainable packaging, ensuring that our pallets or plastic are reusable.
We also try to streamline and consolidate the production supply-chain to reduce the environmental impact. For example, EV manufacturers require several products to manufacture a vehicle. These products are delivered through different suppliers leading to a constant movement of vehicles which adds to the pollution emission. Embracing an environment- friendly approach, Moglix addresses this issue by consolidating all orders and supplying them in one vehicle.
We have over 5 lakh suppliers, and we have started rating them on ESG (Environment Social & Governance) and various other measures in order to create an ecosystem of sustainable environment. With our dedicated efforts, we make sure that companies buy the right product in a sustainable manner.
What are your thoughts on the energy outlook 2030? How do you think public-private partnerships can be successfully initiated and implemented towards attaining the ambitious goal?
Let me share an anecdote related to the emergence of renewables. Around 50 years back, Professor Hubbert of US predicted that by 1995, oil would be at its peak, but on the contrary, it continued to linger on.
According to me, there are three factors that promote the use of renewables. The first factor is the shift towards finding alternatives for oil. Second is the emergence of technology, which has made renewable components cheaper. Today solar panels, EVs with battery packs, etc. are available at a lower rate. The third is the role played by the government in providing incentives and subsidies for alternative forms of energy. Overall, these have been the combined efforts of the government and private sector.
Also Read | NPTI powering change in energy sector

The government, today, is doing a fantastic job in taking a leadership role globally to promote renewable energy. It has recently committed to become net-zero by 2070 and is also working significantly well towards its commitment to reach sustainability goals by 2030.
India has witnessed the largest growth in renewable energy and is third in the overall production of alternative energy. The government is also taking steps regarding promoting usage of alternate energy, and we need to continue doing it.
The government today offers subsidies on alternate energy and EVs, and it should continue doing that until its cost comes down in comparison to other forms of energy. As EVs are still more expensive, subsidies can help in promoting it in a variety of areas. Also, it should get down to a micro level. In this regard, the government must also promote Green Hydrogen policies strongly.
I think some public private partnerships should be done at a macro level. As PPP factors brought transformational changes in the infrastructure of the country, the same should be followed in other areas too. With the right framework, a lot more mega scale projects can be developed as being done in other countries.
Is Moglix as a company open for collaboration with the government, or is there any specific PPP model that you have already explored with the government around such initiatives?
We are much more of an enabler, and we are always open to partnering with the government on various things. If, in future, we are part of any such PPP, the outcome will be significant as we will use our expertise and the government will offer the required wherewithal. The process will get formalised and become more efficient.
Is there a renewed global focus on driving mission sustainability, clean energy targets, and a shift towards the adoption of electronic vehicles? How do you see India's role and contribution towards this global focus?
From the Rio Earth summit 1992, the Paris climate summit 2015 to the 2021 COP26 summit in Glasgow, the global bodies are certainly leaving no stone unturned in achieving the green planet status. India has clearly taken a leadership role in this. Its Panchamrit pledge taken at the Glasgow summit, underscored its commitment towards this global cause. According to a recent Mckinsey report, in order to keep global warming to 1.5 degree centigrade above pre-industrial level, there are few things which need to be done both on the demand and the supply side of the energy sector.
On the supply side, there has been great transformation. From renewable platforms to IPP which are being built on solar to the solar panel manufacturing, many initiatives are being undertaken. But on the demand side, while there has been some work for instance for EVs, we need to put greater emphasis.
Furthermore, contributors to global warming need to be kept in check. Most of the industries and urban areas have begun to make the shift, but agriculture is still lagging. The way we manage energy consumption becomes even more important.
I think the demand side will have the maximum impact if everyone in their homes and every industry starts reducing their energy consumption.
On the supply side, when we are encouraging people to use sustainable and renewable sources, do you think that Moglix in its B2B supply chain management has most of the products, if not all, that are required by any kind of developer manufacturer?
We supply a variety of products which are renewable. LED light is one of our big offerings. We do sustainable packaging, and we supply lithium batteries and even textiles which are sustainably manufactured. To keep pace with growing demand, we will continue to increase our portfolio. We are also open to suppliers with different products.
Please share your specific thoughts on how sustainability can be better integrated into the energy ecosystem. What are some reforms needed at the central and state level to take this mission forward?
On generation aspects, most states have already moved towards freewheeling of electricity, whether it is fossil fuels based or renewables, net-zero and smart metering.
The second aspect is pricing and subsidies. If we price EVs and renewable energy with some form of subsidies, it will strengthen its manufacturing and purchasing in the market.
Also Read | Our solutions enhancing efficiency in the energy sector: Akshat Kulkarni, Director, Scope T&M Pvt. Ltd

The right framework for PPS to make mega-scale projects is another important segment. Green Hydrogen is another area where we need to move faster. In manufacturing renewable batteries, energy storage is going to be a big deal and it needs the government's promotion.
I believe every organisation, or industry should be incentivised to do more energy audits and figure out areas where to reduce energy consumption. There are a lot of micro-level things which companies can do like we do in our homes such as turning off the lights when not needed, using ACs at an average temperature or carpooling etc. I believe the government should incentivise energy initiatives within the SME sector also to induce a faster transition towards clean and green energy.
How was the journey of Moglix and how it became one of the fastest growing B2B supply chain companies in India and achieved the coveted unicorn status so quickly?
I would primarily highlight three things which helped us in reaching the coveted status. The first step is solving the real needs of the market and making market- fit products. We specifically targeted the problems we wanted to solve for our customers. As the supply chains are largely broken, we aim to make that a lot more efficient through digitalisation, efficient processes and with the help of the smart set of talents.
The second step is to delight the customer, and it must be a continuous endeavour. We constantly add value to our end customers to win long-term association.
Last but not the least is the culture of the company. I think building a powerful culture, where everybody is passionate about making things successful, is the key. A culture which attracts and retains talent & and helps them grow can do wonders.
We are proud to be a unicorn. Our focus is on solving the customer problem and fixing the accountability.