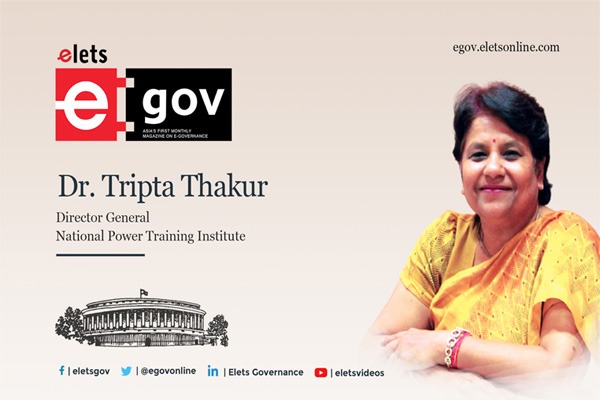 The important segment which is going to come up as a challenge in the power sector is cyber security. It is very important for us to make our systems cyber resilient as we have been witnessing a constant cyber-attack in our grids recently. Highlighting the sustainability of the power sector, Dr Tripta Thakur, Director General, NPTI, shares her insights in an exclusive interaction with Garima Pant of Elets News Network (ENN). Edited excerpts:
Could you tell us about the contributions of your organisations in terms of initiatives that you are taking towards the energy sector?

I represent the National Power Training Institute (NPTI) which is an apex body of the Ministry of Power. We have 11 centres across the country and thus have a PAN India presence. NPTI was formed with the basic objective of providing training and capacity building in the power sector.
India has made amazing progress in the electricity industry, and the only thing where we are still lacking is energy distribution. We would like to make distribution financially viable, so that we can genuinely pay for TRANSCO and GENCO, as money comes back into the system only through distribution. So, if distribution is not healthy, power generation and transmission will not be financially viable.
Consequently, the Ministry of Power, GOI has taken important initiatives in the form of the Revamped Distribution Sector Scheme (RDSS) scheme. Capacity building and training is an important component of this scheme. So, NPTI has been assigned as a nodal agency for providing capacity building and training under this RDSS scheme. As we all know, technology is improving rapidly and we are all looking forward to smart meters in this scheme for improving distribution infrastructure.
We have trained around 1200 power professionals across all Distribution Companies (DISCOMS), and we have very ambitious training targets not only to provide the basics about the new technology, like Advanced Metering Infrastructure (AMI), but also to make them understand the more complicated structure of AMI. This training will also let them understand Supervisory Control and Data Acquisition (SCADA) which is going to come up in the Indian Electricity Sector.
In terms of the key skills that are needed to strengthen the human resources in the power sector, what, according to you, are the key skills in the present times?
As we are moving towards digitalisation, we are really looking forward towards Industry 4.0,. For this upcoming automation and digitisation, engineers need to be trained and kept abreast with latest technologies.
The important segment which is going to come up as a challenge in the power sector is cyber security. It is very important for us to make our systems cyber resilient as we have been witnessing a constant cyber-attack in our grids recently. So, if anything goes wrong with the grids, it is going to disrupt us. Consequently, NPTI is providing cyber security certification, and we are the only agency that is authorised by the Ministry of Power to provide the certification.
It is also mandatory for all people who are in the generation, transmission, or distribution profession to get certified in cybersecurity. Currently, we are providing certification at the basic level. And we are planning to provide certification at the intermediate level and advanced level. We have, till now, trained about 1500 power professionals in the basic certification program for cybersecurity.
So, these certifications and pro training initiatives you talked about, are they done through a public-private partnership, or is it purely a government initiative?
When we really want to provide the best knowledge to our manpower, it becomes imperative to take industry's assistance. I have been regularly interacting with industry experts and am taking their constant help to design my courses in order to deliver the best results.
If you could tell us about the technology tools that are being used by NPTI to deliver training to make the workforce future-ready?
Our basic certification training program is in high demand and it is actually needed by all the power professionals because cyber security is a very new thing and is changing rapidly. So, we need to be experts in this area, and would really like to provide this basic certification to everyone.
We have developed a Learning Management System (LMS) for online training. We are providing these training programs for two weeks. One week is completely for theory and one week is dedicated to hands-on training. So, we are using technology like the cloud for providing hands-on online training to all the participants through online mode.
Tell us about the challenges you face while taking out these initiatives.
Training & capacity building is important for any organisation, and it should be a priority but this ecosystem is missing in India.
The demand for cybersecurity professionals is huge, not only in India but everywhere. So, we are also coming up with a 6-month Post-Graduation Diploma in Computer Application (PGDCA) online certification training program for cyber security.
Also Read: India leapfrogging Energy transition
We are also training all the load dispatch people through our programs. So, anybody sitting in the load dispatch centres needs to become a certified trainer, only then can they walk into the load dispatch centres.
If we talk about sustainability, it is important to take care of the environment also. In Delhi, the Air Quality Index (AQI) is very poor, especially during the time when Parali is burning. Since last year, NPTI, with the mission Samarth, has been working very hard to train the people in the whole value chain. We are starting the awareness through farmers, and then we are connecting farmers to the pellet manufacturers, and finally we are connecting the pellet manufacturers to the thermal power plant.
In the government's thermal power plant, it is mandatory for you to use 5 per cent pellet, instead of coal. So, there is a complete need for mixing all these three important stakeholders.
I feel that there are two challenges that the country is facing today – one is energy security, and the other one is an environmental concern. The solution for both is to use more and more renewable energy in the future.
What are your thoughts on how sustainability can be embedded in the energy segment and the reforms that are needed at the central and state level to take this mission forward?
We all know that the electricity sector is a different kind of sector. The state has its own thinking and so is the case with Centre, mainly due to our federal structure. But everyone is working in harmony with each other this time when we talk about the RDSS scheme because everyone is concerned about improving the financial viability of DISCOMs and addressing the environmental concern.
The ministry of power and NPTI is working in tandem to address the imbalance that is taking place in the environment. The Ministry of Power is working towards LiFE (Lifestyle for Environment). Through this, we are actually trying to raise environmental awareness and also aim to promote the lifestyle for the environment which is also the mission of Pradhan Mantri Modi ji.