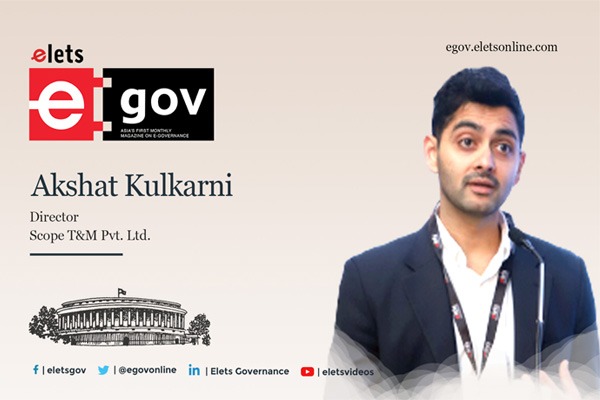 Scope Group, as a company, has 35 years experience in providing high-tech power system solutions. Headquartered in Mumbai, with a dedicated workforce of over 350 individuals divided throughout R&D, manufacture, and installation, we are catalysing change ever since our inception.
We at Scope basically provide asset management solutions for utilities through our four subsidiary companies. 1) TNM- The manufacturer of portable and online testing and measurement instruments. 2) Protection- The manufacturer of control and relay panels. 3) Isosceles- The company that provides operations and maintenance services. 4) Auxa Grid- This is a corporation that does monitoring, analytics and web SCADA.

The challenges in the energy sector are now increasing in terms of offering consumers sustainable, affordable and reliable electricity. So, connecting all the customers to the grid and making electricity accessible to everyone has now become imperative.
The challenges are brimming on the sustainable side as low-carbon technologies such as renewable, solar, and wind become more prevalent. It is extremely risky and difficult to incorporate this energy into a network/grid that was established/designed 50 or 100 years ago, particularly in sections of the network where the infrastructure is old.
So, introducing additional renewables might increase the risk of breakdowns and technical losses if they are not monitored and analysed in real time. Many portions of the network have high losses, primarily due to non-technical or electrical theft. A lot of the data is still manually acquired in various parts of the country and even though you may have some smart systems installed, many times they don't stream the data. So, the Operators who want to make the decisions don't have the access to these data. If they want to make any sort of load Corrections, imbalance adjustments, they find it very difficult to do that.
The reliability is getting harder because the demand for energy is increasing multifold in metropolitan cities and there is a big push for rural electrification to ensure everyone has access to electricity. So, it means the DISCOMs, TRANCOMs and the generators have to manage these challenges more effectively and efficiently than ever before.
There is very little predictive monitoring power for data quality analysis, and because there is so much data flowing in. It is becoming difficult to take remedial business measures. To address these challenges, DISCOMS should obtain an accurate and low-cost solution, which might be accomplished by utilising the most recent energy management technologies. But most of these technological solutions are expensive and come with several operational and other challenges.
So, we have created a simple solution for bringing efficiency in the energy sector, and this solution does real-time monitoring utilising IoT sensors, analytics, and then the front-end which is the web SCADA system to optimise grid assets and network efficiency.
Scope is now monitoring and optimising about 2500 assets in real time. In Maharashtra, we have a few projects with MAHA DISCOM and MAHA VITRANA ranging monitoring systems to all the way to theft detection. Our technological solutions assist the vigilance department in determining the location of a probable theft without using smart metre data.
We also perform transformer load analysis. We strive to optimise the transformer to find out the greatest capacity we can squeeze from the transformer before any failure/outages occurs.
So, our main objective is to optimise the energy assets and bring efficiency in the utility sector.
Views expressed by Akshat Kulkarni, Director, Scope T&M Pvt. Ltd