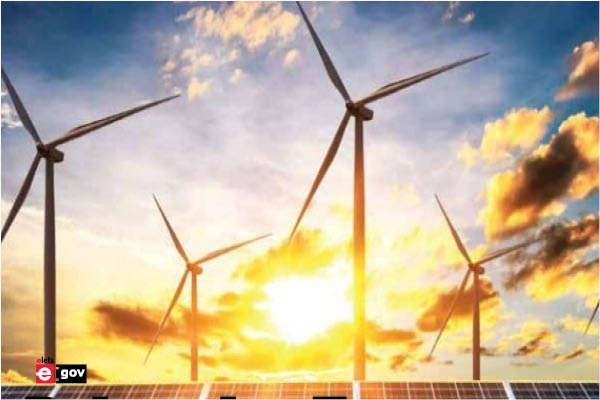 In line with the global push toward green energy and low carbon intensity, the Indian government in Budget 2023-24 has made some pertinent and most significant announcements for the green energy sector. The government listed several green energy-related initiatives, including green vehicles, green farming, green buildings, and green machinery.
Additionally, the country's emphasis on green energy will have a greater influence because it is currently the G20 Presidency.
As India currently holds the G20 presidency, the budget's announcements will underscore India's relentless strive towards clean and green energy.
National Green Hydrogen Mission:
The Indian government has made it absolutely clear that it is serious about the shift to a low carbon intensity economy, minimising the nation's reliance on fossil fuel imports, and enabling India to "assume technology and market leadership in this sunrise sector" by allocating Rs 19,700 crore for the National Green Hydrogen Mission. According to the budget, the government has also set an ambitious goal for annual green hydrogen production of 500 MMT (million metric tonnes) by 2030.
"The Union Budget offers a promising future for India's renewable energy industry. The nation's commitment to a sustainable future is evidenced by the allocation of Rs 35,000 crore towards the switch to green energy, which is a positive move, " commented Suzlon Energy Vice Chairman Girish R. Tanti.
"The government's dedication to boosting the nation's usage of renewable energy is admirable, and it will be essential in lowering carbon emissions and lessening the effects of climate change. Our efforts to reach net zero will be complemented by the National Green Hydrogen Mission." he added.
The Union Ministry of Petroleum and Natural Gas will receive Rs 35,000 crores in priority capital investments to support net zero goals, energy security, and energy transition.
"The Union Budget rightly builds incentives to support low carbon development pathways with the focus on Green Growth among the Saptarishi priorities. Catalysing sustainable growth in India will require incentives to drive investments in technology and innovation, to ensure that we do not have to make trade-offs between people and planet. We welcome the increased outlay towards energy transition, and particularly for Green Hydrogen and waste-to-energy, which will boost energy independence. The PRANAM scheme and bio-inputs centres shall incentivize adoption of sustainable and regenerative agriculture practices. The Green Credit programme will channel much needed capital to support the transition to a sustainable economy. Concessional duties on Li-ion batteries will provide further boost to the EV sector and help decarbonize the transport and logistics sectors. The measures announced in Budget 2023 will further strengthen India's position as a global climate leader, and catalyse sustainable, inclusive development." writes Anjali Bansal, Founder, Avaana Capital.
Also Read | India leapfrogging Energy transition
Energy demand in India is expected to grow exponentially in the coming decades majorly because of its sheer size as well as enormous potential for growth and development. Therefore, it becomes vital for the nation that it primarily uses renewable, low-carbon, and green energy sources to meet its energy needs.
The nation has stated its intention to achieve net carbon neutrality by 2070 and obtain 50% of its electricity needs from renewable sources by 2023. A historical turning point in the quest to go green and combat climate change has been reached with this announcement.
India's promising renewable energy sector:
In terms of installed renewable energy capacity as of 2020, India was ranked fourth globally, and fifth in terms of solar power. One of the world's leading marketplaces for renewable energy is found in this nation.
The ability of the nation to generate renewable energy has increased recently, with a CAGR of 15.92% between FY16 and FY22.
"Given that India will hold the G20 Presidency through November 2023, the emphasis on implementing green energy and attempts to improve bioCNG are encouraging. The primary message reiterates the nation's emphasis on implementing sustainable technology and increased emphasis on producing green energy," remarked Jose Jacob, Managing Director, Antony Waste Handling Cell.
In a nutshell, with its massive technological transformation and the recent announcements in this year's budget, India has shown to the world that the country really means business when it comes to meeting the global cause of net-zero emissions.