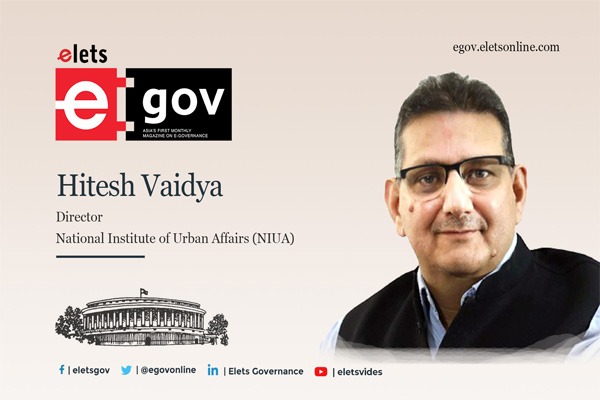 Hitesh Vaidya, Director, National Institute of Urban Affairs
Water is a finite resource. With rapid urbanisation and the growth of the Indian economy, the demand for domestic water is expected to grow manyfold. In order to meet this demand, India needs to adopt an integrated approach to water-use efficiency by smartly using its water resources through water-saving technologies.

The UN Sustainable Development Goal 6.4 sets the target: By 2030, substantially increase water-use efficiency across all sectors and ensure sustainable withdrawals and supply of freshwater to address water scarcity and substantially reduce the number of people suffering from water scarcity.
The present utilisation of water in India is estimated at around 750 BCM (Billion Cubic Meters), whereas for the year 2050, it is estimated to be 1180 BCM. In the business-as-usual approach, it will be difficult to meet this huge requirement. This is a significant cause for concern. In order to stay ahead of the demand surge, Indian cities need to adopt innovative and sustainable solutions to address these challenges.
The National Water Mission on 'Water Use Efficiency' by the Ministry of Water Resources, RD & GR has emphasised the 'Conservation of water, minimising wastage and ensuring its more equitable distribution both across and within states through integrated water resources development and management'. Likewise, the Atal Mission for Rejuvenation and Urban Transformation (AMRUT 2.0) places high importance on reducing the non-revenue water as a means to improve water supply efficiency.
This edition on SDG 6.4 – Contemporary approaches to enhance water use efficiency – is a compilation of six uniquely articulated articles related to water-use efficiency and sustainable withdrawals and supply of freshwater. The prime objective of this edition of the magazine is to capture and disseminate the perspective of experts on different aspects of water use efficiency in Indian cities. It takes a comprehensive approach to highlight the challenges in achieving SDG 6.4, and ways to overcome them.
Also Read | SDG 6.3—Water Quality and Waste Water
NIUA is committed to helping Indian cities improve their performance against each SDG. In addition to leveraging our internal resources, we partner with academic institutions, government and non-government organisations and media houses for research, capacity-building and advocacy outcomes. The collaboration between NIUA and eGov Magazine is a demonstration of the same. To come up with this edition, teams at NIUA and eGov have enthusiastically worked together to collate a diverse range of knowledge-base on the themes of water efficiency and sustainable withdrawals and supply of freshwater to address the issue of water scarcity.
My sincere thanks to all the authors who have contributed to this edition and shared their knowledge to make this possible.