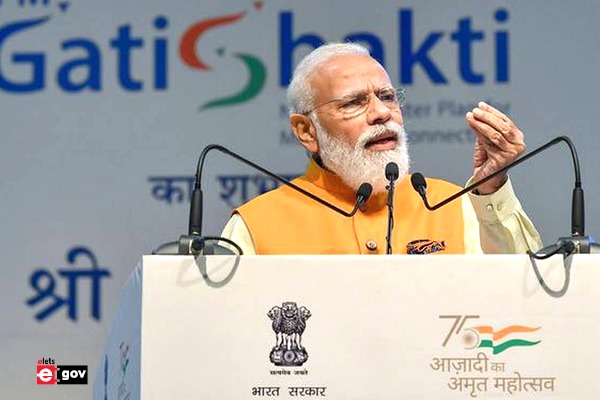 The Department for Promotion of Industry and Internal Trade (DPIIT) and the Ministry of Electronics and Information Technology (MeitY) are working towards finalising the guidelines to make the Prime Minister Gati Shakti National Master Plan portal available to the public by August 2022.
PM Gati Shakti's mission is to promote logistical efficiency through the connectivity of mass transit, roads, ports, and waterways. Gati Shakti has incorporated the infrastructure schemes of numerous ministries and state governments, such as Bharatmala, Sagarmala, inland waterways, dry/land ports and UDAN.
The criteria for opening the PM Gati Shakti National Master Plan portal to the public are apparently being finalised by the Department for Promotion of Industry and Internal Trade (DPIIT) and the Ministry of Electronics and Information Technology (MeitY).
According to a report, the Gati Shakti project will cut logistics costs to 8% of the country's GDP from 13% currently, positively lowering essentials pricing and consumer spending on non-logistics needs.
Apart from that, warehousing and logistics firms and startups will be able to bid on contracts for the construction of multi-modal logistics parks in four locations in 2022-23.
By implementing the plan, startups and SMEs will be able to save money on inventory expenditures while also achieving greater productivity.
Warehouse and logistics firms will be able to submit bids for four multi-modal logistics parks after the portal's August rollout.
Also Read | PM Modi launches Rs 100 lakh crore "Gati Shakti National Master Plan"
To enhance the logistics sector, the central government introduced the PM Gati Shakti National Master Plan for multi-modal connection to various Economic Zones via tech adoption and quicker implementation. It intends to do so by connecting public transit, airports, ports, waterways, and railroads.
The move also outlines the goal of transforming the country's energy infrastructure through a one-click complete view model, which will assist users in creating transportation plans and execution procedures.
According to Smartr Logistics' Yogesh Dhingra, the land cost, which is extremely expensive for SMEs and cargo terminals, would now be able to accommodate the warehouse requirements of small and medium-sized businesses once 100 PM Gati Shakti cargo terminals are established.
Startups may gain from the strategy, according to Dhruvil Sanghvi of LogiNext. He said, "Several departments of the government working in unison also means that be it B2B fulfillment from warehouse to stores or B2C orders like delivery of food, grocery and services; all of these will become much easier."
Other advantages include decreased transit costs, improved productivity, lower inventory costs, better data access, and increased visibility of local companies and supply chains.
Also Read | PM GatiShakti NMP Can Make Logistics Cost Among The Lowest Worldwide: Piyush Goyal 
The Gati Shakti portal was also at the centre of the Union Budget 2022, in which Finance Minister Nirmala Sitharaman outlined India's goals for the coming years, including the construction of 25,000 km of new national highways, a redesigned platform for unified logistics interfaces, an open source mobility stack, the integration of the postal and rail networks, 400 energy-efficient Vande Bharat trains, and multimodal connectivity for urban transportation and transit stations.
The initiative is meant to boost the Indian ecommerce and direct-to-consumer sector, particularly SMEs and startups.