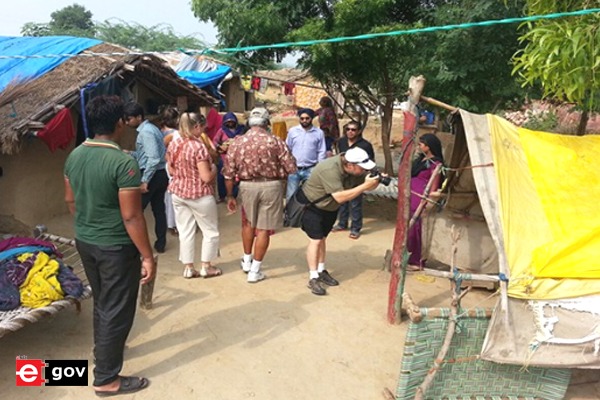 If the hustle-bustle of city life is making you look for a vacation, the Uttar Pradesh Tourism Department has the perfect plan for you. In a bid to boost rural tourism and also provide employment to the local artisans, artists and youth, the Uttar Pradesh Tourism Department is all set to launch the Rural Experiential Tourism project. The project will be launched across 75 districts of the state and the department has already started identifying the villages for the same.
The project comes close to the heels of the UP government announcing internet connectivity in village secretariats across all 75 districts and free WiFi facilities.
Talking to eGov, Principal Secretary and Managing Director, UP Tourism, Mukesh Meshram said that the project will not only boost tourism but will also promote local art & crafts and support employment. "With city life becoming more hectic and stressful, people now want to come back to their roots and experience rural life. Under this project, we would be developing some villages in each district as rural tourism hubs. These villages will not only depict the simple, stress-free life of the villages but will also showcase the local culture of the respective village."
Also Read | UP Government to Start Heliport Services in 4 Cities Soon to Boost Tourism
The department has already started identifying villages for the project. Villages that are in the near vicinity of any major tourist destination will be chosen for this project. The department will create a rural tourism hub at the Panchayat Bhawan, in the village, where there would be a gallery depicting the local village life, the crafts and the arts of that village. This hub will also witness live performances by local folk artists or regular villagers to give a feel of the old school village life. It may be noted that the state government already has announced to provide internet connectivity and free WiFi up to 50 metres for all these secretariats which would further enhance the facilities at these hubs.
On the infrastructure front, the department would be looking at options which can be developed as homestays for the tourists. "We would be looking at options which not just have the essence of the village but also basic facilities for tourists. We want the tourists to completely enjoy and experience the rural life and be stress-free," said Meshram. A senior official added that the plan will also give employment opportunities for locals. "Not only the local folk artists but also educated youngsters who can become local guides can find employment in their own villages," the official commented.
Rural Tourism experts feel that this is a great move by the UP government. Rahul Mehta, president of the Tourism Welfare Association of Uttar Pradesh said, "This is just the right time to promote rural tourism as many domestic and international travellers are looking at rural India. With rural hubs and homestays, this project would offer a complete experience to the travellers and boost the state economy as well." Ajay Jain of Waltz Tours, who has been organising village tours for international tourists around Lucknow and many other cities too lauded this move. "Lucknow has this village Kakori which is perfect for rural tourism. It is not only famous for the Kakori Kebabs, Chikankari units and Dussheri mango orchards, but also the historical Kakori train dacoity incident. This project will definitely see more influx of tourists in the state."