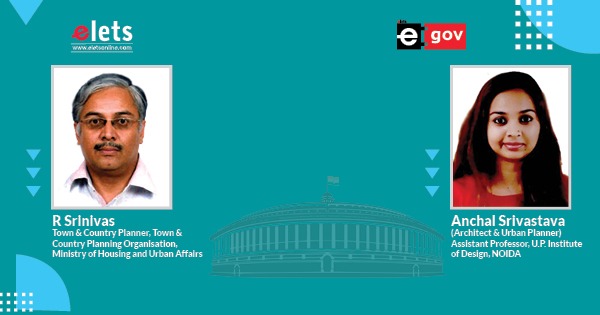 India is less urbanised compared to many Asian countries like China, Indonesia and South Korea, however, with about 377 million persons living in urban areas, it has the second-largest urban population in the world. It is estimated that by 2051, half of the world's population including India would reside in urban settlements. By 2030, it is expected that the contribution of urban settlements to the GDP would be around 75-80 per cent and they will play a key role in overall national development, write R Srinivas, Town & Country Planner, Town & Country Planning Organisation, Ministry of Housing and Urban Affairs and Anchal Srivastava, (Architect & Urban Planner) Assistant Professor, U.P. Institute of Design, NOIDA.
Sustainable Development Goals (SDGs) are an internationally accepted set of developmental targets to be achieved by 2030. These are universal goals and targets which involve the entire world, developed and developing countries alike. They aim at integrating and balancing the three dimensions of sustainable development – economic development, social inclusion, and environmental sustainability.
Town and Country Planning in India is a state subject and under the 12th Schedule of the Constitution 74th Amendment Act, the subject of urban planning, including town planning has been mandated for the third tier – Municipal Corporations and Municipalities. Town and Country Planning as currently practised in India is essentially concerned with regulating the land utilization in the cities and towns.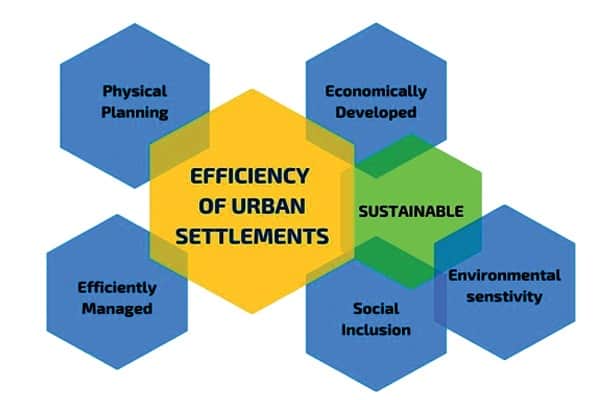 The preparation of Metropolitan Region Plans/Master Plans/ Development Plans/Local Area Plans is largely the responsibility of the Town and Country Planning Departments/ City Development Authorities under the State Town and Country Planning and Development Authorities Act and the implementation of the same rest with the various parastatal agencies of the concerned city/town.
Also Read: Rethinking Infrastructure in Urban Planning Framework
India, being the federal system, metropolises have the possibility to have a governance structure that is linked to the power of states like Maharashtra (Mumbai-Pune-Nasik), Tamil Nadu (Chennai), Gujarat (Surat), Delhi-Rohtak-Meerut-Khurja-Rewari and that is the way forward between the central government and the different state governments.
All the municipalities which are part of the metropolis, where there is a different secretariat of the state, different agencies – like transport, water, electricity, power, etc. all have their own competencies by law, and by constitutional structure. Urban Development is seen as a physical manifestation in most of the town planning legislation and preparation of spatial plans strives for sustainable development.
Sustainable Development Goal 11.A
Sustainable urbanisation occurs when the urbanisation process harmonises with principles of sustainable development. There are also large scale changes in the economic activities and land use leading to the displacement of people whose essential social, economic and other needs require to be kept into consideration not only in terms of adequate compensation for the loss of their assets but also continued social and cultural cohesiveness. Sustainability thus needs to be understood with an integrated and holistic view which should cover multiple factors. The efficiency of urban settlements largely depends upon how well they are planned, how economically they are developed and how efficiently they are managed. Planning inputs largely govern the efficiency level of human settlements (Figure 3).
It is imperative that better planning, technology and management become the cornerstones of India's urban strategy. This is truer given the GoI's renewed thrust of upgrading existing cities and developing new cities through Smart City and AMRUT Mission to facilitate and accommodate rapid urbanisation through planned development.
Improving land management, reformulating master plans for spatial inclusion of urban poor both for housing and pursuing livelihood, strategic planning of space, a physical form that responds to what the people want, reducing the back and forth movement between work and residence of the poor, having sustainable transport models, administration as well as governance are the key challenges for a new urban agenda. In addition, urban laws need to be improved or strengthened to help prevent spatial segregation. As per the information compiled by the Town and Country Planning Organisation, there are 2843 cities and towns having statutory master plans as of December 31, 2021.
Achieving SDG 11.A Through Planned Development
(i) Promote Systematic Urban Planning Ensuring that urban planning is a central respected function and promotes a "cascaded" planning structure in which large cities have 40-year and 20-year plans at the metropolitasn level that are binding on city master plans. The development strategy at various levels and for different states and cities should be cohesive and complement each other rather than contradict and compete with each other. For urban planning to work, district and metropolitan development plans as well as city-level master plans are required to be formulated in a coordinated manner and accordingly implemented.
It has been noted that the states with over 5 million population or mega-cities have taken preliminary steps, but the time for upgrade begins as a city reaches 1 million mark. The metropolis has different municipalities and it is necessary to integrate them so that they are not just governing a hundred thousand people but has a million or 2 million population that is integrated by the transport system and so a metropolis becomes much more efficient, much more effective and even it can go to 50 to 60 per cent of more efficient than having a dis-aggregated and uncoordinated governance structure with no transport system matrix.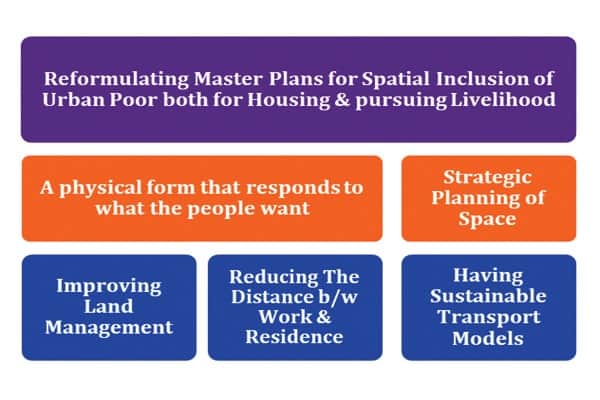 (ii) Promote Compact Urban Form Urban form is an important element of sustainable urban development since it impacts the cost efficiency of services provided as well as mobility patterns. It is required that planning norms rules and regulations promote compact cities that support mixed land use and efficient densities as against urban sprawl and its associated problems.
Also Read: Safeguarding Cultural and Natural Heritage for Sustainable Urban Development
(iii) Delineation of Metropolitan Region In 2011, it was noted that out of over 35 million cities as per the census of 2001 (which rose to 53 by 2011 census data), only one metropolitan development plan i.e. by Kolkata was prepared, but today, several proposals are seen among the present 51 million-plus cities, including Mumbai, Delhi, Chennai, etc. Few states like West Bengal, Maharashtra, and Haryana have constituted metropolitan planning committees. It was a reform agenda under JnNURM. Seeing the trajectory of growth of the country, this reform needs to be re-instated. It is also essential to delineate the metropolitan regions along with the preparation of the metropolitan regional plans to ensure decentralisation of economic activities, creating adequate infrastructure in the satellite towns to facilitate balance urbanisation.
(iv) Reorient Planning Approach Restrictive zoning laws and unrealistic planning norms and standards are some of the reasons that have contributed to considerable deficiency in the actual provision of housing for the urban poor vis-à-vis its requirement. There is a need to set to redefine the zoning laws as well as approach /orientation towards development to ease the net supply of land to make housing and other services accessible as well as affordable for the poor.
The Master Plan should aim optimal allocation of space, especially land use and Floor Area Ratio (FAR)/ Floor Space Index (FSI) planning and focus on linking public transportation with zoning for affordable houses for low-income groups. These plans need to be detailed, comprehensive and enforceable.
Further, additional FSI bought by builders through Transferable Development Rights (TDRs) should be allowed in areas that have been selected in advance as a part of the Master Plan. Private land assembled also needs to be guided so that it adequately provides for the low-income population.
(v) Provide Security of Tenure Tenure insecurity, particularly for people living in informal settlements, is a matter of concern for most cites in India. Insecurity of tenure holds back peoples' contribution/participation to housing development and also make them easy prey to evictions. The land administration system needs to address this challenge and provide for the security of tenure, especially for poor urban households.
(vi) Land Availability for Productive Use While making land available for housing and other services for the poor is important it is also imperative to make serviced land available for 'investors' to give the cities a much required economic base to make it vibrant. The concept of 'mixed land use' with the traditional pattern of living needs to be revived. A policy of 'socialisation of urbanisable land' and the conversion of all freeholds into leaseholds need to be evolved in order to prevent the phenomenal escalation in land and real estate prices. The concept of 'Low Rise High Density' urban form would be helpful in achieving higher densities and compact liveable residential development. Brownfield development is another aspect of urban planning that needs to be looked into before jumping on to greenfield development.
Also Read: Strengthening Cultural & Heritage Management Planning in Urban Spaces
(vii) Protecting the Green Spaces The urban land-use planning needs to protect the public spaces, especially the open green spaces, which provide areas for recreation and social interaction, to protect the environmental concerns of rapid urbanisation and dense development as well as allow adequate mobility and enabling space for civic and economic activities.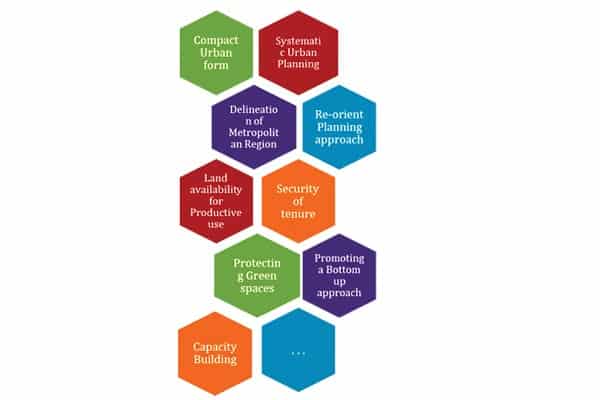 (viii) Promote a 'Bottom Up' Approach Land is a state subject in India and the complex challenges faced by Indian cities are not just unique but typical to the specific city realities. Therefore, instead of a top-down approach and prescriptive norms and standards, the planning approach needs to promote and support innovation at city level to address their own unique challenges through their unique strengths and potentials. States need to take up the formulation of Local Area Plans for brownfield areas while Town Planning Scheme for Greenfield areas.
(ix) Capacity Building Capacity building is an important aspect especially for bringing in innovations in urban planning practices. The appreciation of urban dynamics and role of transport in ensuring the transit-oriented development, use of sources of renewal energy, climate change concerns and disaster management are some of the issues to be sensitised amongst urban planners and policy experts so as to ensure out of box thinking and they come out with workable solutions.