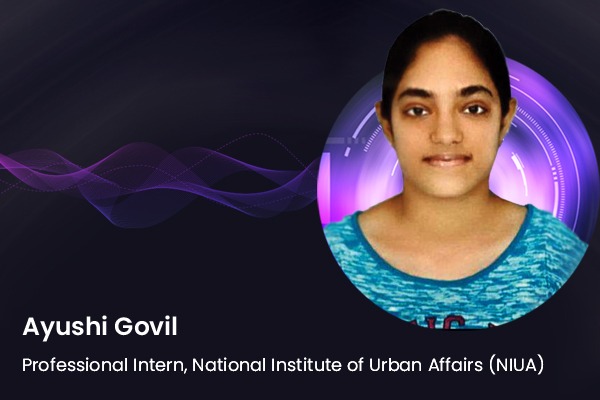 Disasters are often short duration events with long-lasting impacts on the society and economy of the nation. The crises affect the economically weaker sections of society the most. The global assessment report on disaster risk reduction (DRR) highlighted that an average annual economic loss due to disasters, now reaching up to USD 300 billion, and DRR is essential for sustainable development, writes Ayushi Govil, Professional Intern, National Institute of Urban Affairs (NIUA).
As India is vulnerable to a wide range of natural disasters, the country has also recorded a significant number of natural disasters over the last 20 years (2000-2019), particularly floods (52 per cent), cyclones (30 per cent), drought (3 per cent), earthquakes (5 per cent), and landslides (10 per cent). The comparison of data on disasters from 1981-1999 to 2000-2019, indicates that the occurrences of disasters increased from 240 to 321 along with substantial financial and property losses. The map depicts the disasters faced by cities, which are mainly floods, cyclones, landslides, etc. Cities are the growth engine in India, given that approximately 35 per cent of India's population now resides in urban areas, an emphasis must be laid on the disasters risk reduction in Indian cities. The urban population contributes about 63 per cent to Indian GDP at present and is expected to rise to 75 per cent, according to a joint report by CBRE and CREDAI. By 2030 when SDGs will be evaluated, almost 400 crore people will reside in Indian cities. Thus, cities can be considered as vulnerable units for disaster risks. Manifold increase in population growth, risk-blind urbanisation and migration to cities expose more people to high-risk areas.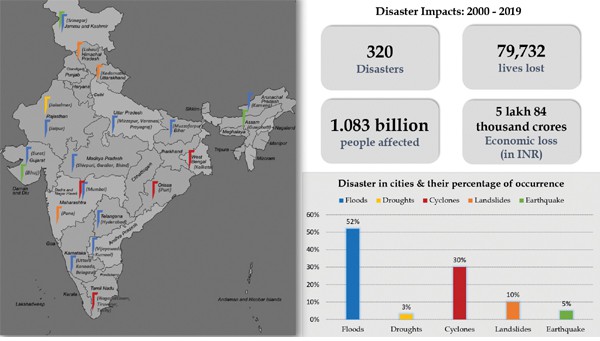 Sendai framework and its linkage to SDGs
The Sendai framework and its eight targets align with SDGs target timeline. It ensures increased national and local disaster risk reduction strategies, enhanced cooperation among nations, and advanced early warning systems, disaster risk information and assessments. The implementation of these targets is also reflected in SDGs 1, 11 and 13 (viz. Poverty Eradication; Sustainable Cities; and Climate Action), and are being tracked. The Framework's target monitoring functions as a management tool to help countries develop disaster risk reduction mechanisms, risk-informed policy processes and allocate resources to mitigate disaster risks. Alignment of Sendai framework with various SDGs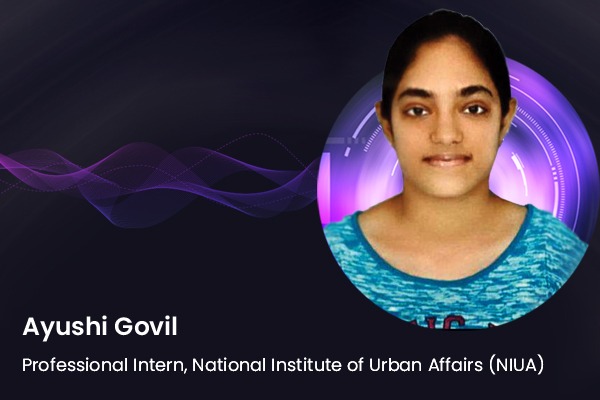 Also Read: Disaster Resilience for Sustainable Urban Development

Disaster management planning for Indian cities
For efficient DRR in India, a Disaster Management Act of 2005 (DMA 2005) was enacted with an effective response mechanism through National Disaster Management Authority (NDMA), various committees under it and State and District level structure. However, considering the increasing contribution of urban areas in the country's GDP, and at the same time losses incurred due to threats of disasters like urban flooding, heat strokes, cyclones etc. and some man-made disasters affecting the critical infrastructure of cities; a resilience of Indian cities through citylevel disaster management preparedness is necessary.
City-level disaster management planning by their provisions in the Master Plans and disaster-resilient reconstruction of critical infrastructure can serve as a major tool to achieve SDG target 11.5 and contribute to a more sustainable future for all.
When a city is faced with a natural disaster, the focus is mainly on reactions to minimise losses and protect those who are worst hit. In any city, the low-lying regions where squatter settlements arise, are at direct risk of flooding. The development along floodplains uninformedly and with makeshift materials leads to loss of life and people losing their residence with recurring floods, which never gets accounted for.
Similarly, areas that are generally prone to landslide hazards are at the base or top of a steep cut slope and old fill slope, in or at the base of minor drainage hollows, on existing old landslides. To mitigate the extensive impact of a landslide, construction should be avoided near steep slopes, close to mountain edges, near drainage ways, or natural erosion valleys and a ground assessment of any property should be carried out comprehensively. Also, the occurrence of earthquakes in steep landslide-prone areas greatly increases the likelihood of devastating mudflows and reactivation of mass movements on slopes. Large fills can become unstable due to moderate seismic activity if proper lateral support is not provided.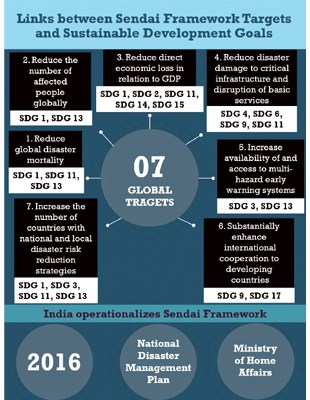 Hydrological disasters (droughts and floods) make up the bulk (55 per cent) of the total natural events and take a huge toll on the vulnerable section of society in Indian cities and they are also specifically part of SDG 11.5. Hunger, poverty, outbreaks of epidemic and malnutrition, widespread agricultural failures, loss of livestock and water shortages intensify the threat of disaster risks. Therefore, along with regional scale disaster management planning, a city-scale planning is also highly recommended.
City disaster management plans
Two metropolitan cities of India, Kolkata and Chennai have taken a major step by developing the City Disaster Management Plan (CDMP). These CDMPs have been prepared based on the guidelines of the National Disaster Management Plan (NDMP) and the State Disaster Management Plan (SDMP). The plans take into account the vulnerabilities of the city's geography, demography, history of disasters and its social and environmental aspects. The systemic interconnection of geographic and GDP contexts of impacts must be taken into consideration to effectively monitor and strengthen disaster risk reduction. The CDMP is to be revised annually, based on requirements and past experience.
Key Highlights of Kolkata Disaster Management Plan (CDMP)
●  Aims to develop a multi-hazard ready reckoner for all the stakeholders containing the roles and responsibilities, contact details and the pre-determined plan of actions (Standard Operating Procedures) for Disaster Management of Kolkata city with intrastructure and interorganisational well-coordinated effort.
●  A coordination meeting in connection with the monsoon activity during the entire monsoon period is to be held at all organisational levels.
●  CDMP of Kolkata plans to initiate public-private partnership (PPP) in disaster management.
●  This plan encourages a paradigm shift from relief centric to an integrated pre-during-post disaster management approach.
Key Highlights of Chennai Disaster Management Plan (CDMP)
● This plan takes into account the vulnerabilities of Chennai and its districts based on their geography, demography, past history of disasters and social and environmental aspects.
Also Read: Reducing Disaster Risks by Strengthening Response Plans
● Greater Chennai Corporation (GCC) Plan essentially focuses on coordinating with Metrological Department and Indian National Centre for Ocean Information Services (INCOIS) to get the warning report and alerts.
● An early disaster warning system with very high-frequency equipment and public address systems with sirens, addressing the public through air media.
● GCC has introduced individual complaint 24-hour helplines at headquarter in each of the 15 zones.
The CDMP has been aligned broadly with the goals and priorities set out in the Sendai Framework of DRR and SDGs.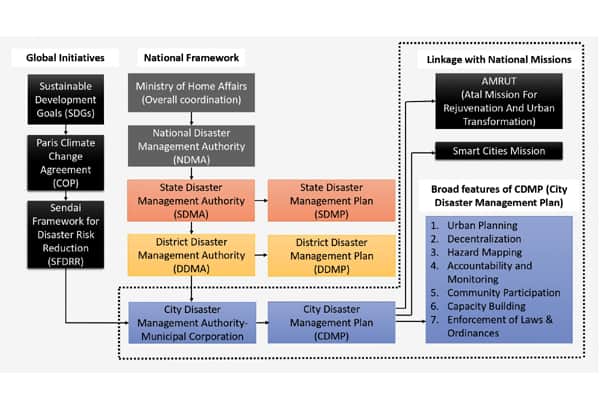 Way forward for Indian cities Rapid urbanisation is leading to a threatening decline in ecosystems subsequently impacting the resilience of cities. A paradigm shift from the response approach to a comprehensive risk mitigation approach needs to be adopted by Indian cities. The framework, mechanism and funding are currently limited to response and not risk reduction. The following figure depicts a broad framework, potential avenues and key features that cities can adopt to prepare city disaster management plan.
A framework with key features of City Disaster Management Plan
The following are recommended actions to safeguard Indian cities from disasters:
● It is strongly encouraged to safeguard natural buffers to enhance ecosystems protective functions.
● Planning decisions and processes are currently based on political economy and/or ease of engineering. Building bye-laws are often restricted to a few hazards such as earthquakes which constitutes only five per cent of the total disasters in India. Others, such as cyclones, drought and floods, that form the major 95 per cent are still not considered. Thus, a multi-hazard approach should be put into practice.
● As suggested in Kolkata and Chennai Disaster Management Plan, cities must have a document that gives a comprehensive idea about the city in the context of disaster management and should be aligned with the agenda set out in the Sendai Framework.
Also Read: SDG 11.5 Reducing Disaster Risks & Saving Lives
● Inadequate technical and institutional capacity and critical data gaps serve as a roadblock in conducting risk assessment practices. Cities must strengthen infrastructural and institutional resilience and societal capacity.
● Integration of advanced IT services with early-warning and monitoring systems can comprehensively identify vulnerable population groups and geographic regions.
● A core component of the disaster resilience governance framework must be the ability to address services and housing provisions for marginalised communities and vulnerable populations in the cities.
● In order to strengthen financial capacities, cities must ensure a budget for investing in building long-term resilience. Private investments can play a fundamental role in strengthening financial resilience and developing institutional preparedness to gain economic, social and environmental benefits