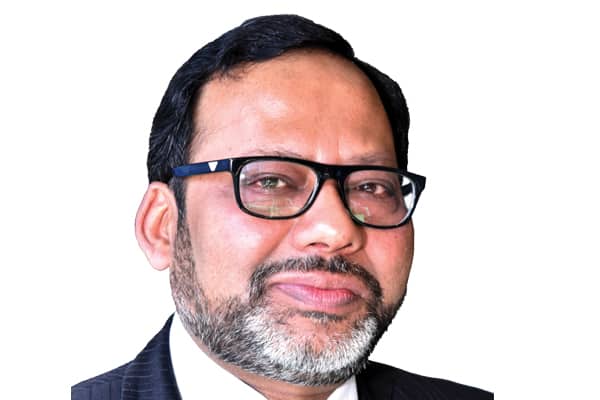 Our cities, in the times to come, will become highly vulnerable to natural disasters. Also, the intensity and frequency of the disasters will increase due to the rapidly changing climate, haphazard urbanisation, encroachment in ecologically sensitive areas, etc. The Sustainable Development Goal 11.5 calls for the implementation of measures to reduce loss of life and property due to disasters. Sharing his vantage points in this regard, Dr Shailesh Kumar Agrawal, Executive Director, Building Materials and Technology Promotion Council (BMTPC) interacted with the National Institute of Urban Affairs in an exclusive interview for the eGov Magazine.
The SDG 11.5 focuses on reducing the number of deaths and the number of people affected by disasters, especially waterrelated ones. Could you elaborate on the broad areas of BMTPC's work in the area of disaster risk reduction and how it is contributing towards achieving SDG 11.5?
BMTPC, a promotional council under the Ministry of Housing & Urban Affairs (MoHUA), Government of India, is mandated to promote cost-effective and sustainable building materials and construction technologies including disaster resistant practices. Since its inception in 1990, BMTPC works as a technology transfer institution to bridge the gap between research and its field level application. Off late, BMTPC has also been working on emerging construction systems that are resource-efficient, climate-resilient, disaster-resistant and fast track to bring technology transition in the construction sector.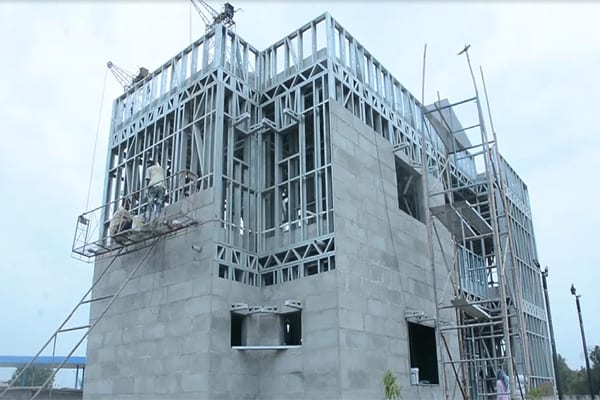 India, being exposed to multiple natural hazards, namely, earthquakes, cyclones, floods, landslides, thunderstorms, it is of paramount importance to include disasterresistant design and practices, materials and systems not only at the policy level but also at the grass-root level. It is also necessary to disseminate knowledge and spread awareness about the hazard profile of the country and build capacities towards disaster preparedness and prevention.
One of the significant contributions made by BMTPC is publication of the Vulnerability Atlas of India which gives information on all vulnerable areas that have been mapped indicating the expected intensities of natural events like earthquakes, cyclones and floods that can occur in different areas. Besides containing hazard maps of India, the atlas also includes the maps for each State and Union Territory, thereby indicating the vulnerability up to the district level. The Vulnerability Atlas gives State-wise hazards maps and district-wise damage risk tables for all States and Union Territories (UTs). The information and data given in the Atlas can be utilised for preparing damage scenarios for individual districts of states for a possible occurrence of a hazard and to formulate suitable strategies to prepare the community for any eventuality.
The Atlas has served as a useful tool for pro-active pre-disaster prevention and mitigation strategy of the Government. The third edition of the Vulnerability Atlas of India (2019) based on Census 2011 was released by the Prime Minister of India on March 2, 2019, and is available digitally on https://vai.bmtpc.org. Also, BMTPC has started an e-course on Vulnerability Atlas of India in association with the Ministry of Housing and Urban Affairs and School of Planning and Architecture, New Delhi, for creating awareness and understanding about natural hazards namely, earthquakes, cyclones, landslides, floods. Also, it is being advised by the National Disaster Management Authority (NDMA) to include clauses of the Vulnerability Atlas of India in the tender documents of future works for disaster resilient construction and development.
What approach has been taken by BMTPC to improve the level of stakeholder engagement, and enhance the dissemination of information to improve disaster risk reduction?
One of the important aspects of disaster mitigation and management is to build capacities and create awareness within the country. BMTPC has been publishing literature, guidelines, manuals and conducts capacity building programmes, expositions, on regular basis. Also, training to professionals as well as artisans is being imparted in association with research and development laboratories, academic institutions and State departments.
In order to empower the common man of the country towards disaster mitigation and management, BMTPC in association with IIT Kanpur has published 32 Earthquake Tips covering all aspects of earthquake resistant design and construction in easy to understand language. The Earthquake Tips have also been translated into various local languages and is being published in electronic and print media on a regular basis. Also, IIT Kanpur organises quiz programmes for students on Earthquake Tips yearly. This is one of the most widely used and circulated documents on earthquakes.
To reach out to urban managers, BMTPC in association with the Ministry of Housing and Urban Affairs and United Nations Development Programme (UNDP) has come out with a Handbook on Disaster Risk Reduction which serves as a handy tool for urban managers towards risk-sensitive planning and ensuring safety and well-being of the citizens in the face of disasters.
Under Pradhan Mantri Awas Yojana (Urban), a Technology Sub-Mission is set up which not only facilitates innovative and green technologies but also assist States/Cities in deploying disaster resistant technologies. The State Governments are being imparted training on hazard resistant design and construction including professionals and artisans. All the houses under PMAY(U) are designed and constructed to meet the requirements of structural safety against earthquakes, floods, cyclones, landslides etc. conforming to the National Building Code and other relevant Bureau of Indian Standards codes.
BMTPC has also developed a standardised course material on earthquake-resistant design and construction in association with IIT Roorkee for Training of Trainers (TOTs) namely engineers and architects for Bihar Institute of Public Administration and Rural Development (BIPARD) and Bihar State Disaster Management Authority (BSDMA). Year-long programmes were conducted along with experts to build capacities at BIPARD, Patna.
Disaster risk reduction can be achieved by building all the new structures hazard resistant and retrofitting the existing structures. BMTPC initiated retrofitting of lifeline structures which included schools and hospitals. During retrofitting, training programmes are also being organised at the site for engineers, architects and artisans to impart knowledge and education regarding various retrofitting and strengthening techniques.
With regard to earthquakes, there is a need to create an inventory of existing buildings from a seismic vulnerability point of view and the vulnerable structures need to be identified and retrofitted. BMTPC has published Guidelines on Rapid Visual Screening which helps individuals quickly ascertain the damage risk level of masonry and RCC buildings which is also included in the Bureau of Indian Standards.
As a step towards disaster risk reduction and zero tolerance towards loss of lives in future events, it is high time that all new developments are multi-hazard resistant and existing deficient structures are strengthened to desired performance level so as to withstand future shocks safely.
Technology plays an important role in disaster risk reduction. In this regard, what are the innovative approaches in building materials and construction technologies promoted by BMTPC to enhance disaster preparedness and strengthen mitigation measures?
In order to bring a paradigm shift in the construction sector, the Ministry of Housing and Urban Affairs organised the Global Housing Technology Challenge – India (GHTC-India) with the objective to transplant the best construction systems available globally which can help the Indian construction sector towards safe and sustainable development. A Conference-cum-Expo was inaugurated by Hon'ble Prime Minister of India on March 2, 2019, through which 54 emerging construction systems have been identified which are resource-efficient, climate-resilient, environment-friendly and disaster resilient. These 54 systems have been classified into six broad categories, namely:
● Precast Concrete Construction System-3D Precast Volumetric
● Precast Concrete Construction System- Precast Components Assembled at Site,
● Light Gauge Steel Frame System (LGSF) and PreEngineered Steel Structural System
● Prefabricated Sandwich Panel System,
● Monolithic Concrete Construction
● Stay in Place Formwork System
These innovative systems are showcased through the construction of six Light House Projects (LHPs) in different states of India where 1000+ houses are being constructed along with basic services and infrastructure. These Light House Projects are projected as live laboratories to encourage large scale citizen participation and create technical awareness for on-site learning, multi-stakeholders consultation, finding ideas for solutions, learning by doing, experimentation and encouraging innovation, thereby mainstreaming the globally identified proven innovative technologies under GHTC-India in the Indian context.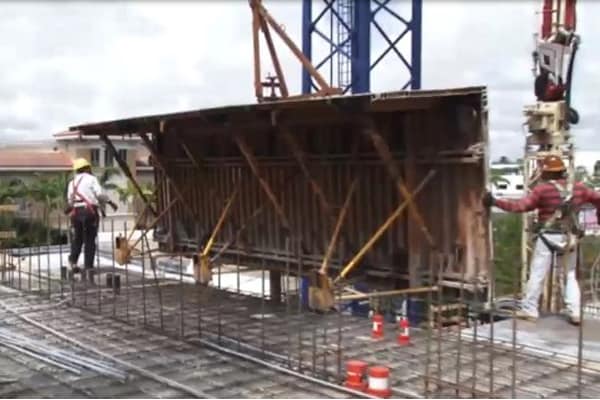 An online drive for the Enrolment of TECHNOGRAHIS under GHTC-India: Light House Projects was also launched. Technograhis are the Change Agents of innovative and sustainable technologies who will bring about technology transition in the construction sector for its adoption and replication in the country. They will act as Catalysts to Transform the Urban Landscape for New Urban India to full the vision of Aatmanirbhar Bharat. Technograhis will be exposed to the innovative construction technologies through onsite activities to learn different phases of use of innovative technologies in LHPs as well as through offsite Workshops/ Webinars, Webcasting, Mentoring on Technical know-how/ Module etc.
These emerging construction systems will also help build disaster-resilient structures and to build capacities, BMTPC in association with the Ministry of Housing and Urban Affairs and School of Planning and Architecture (SPA), New Delhi has conceptualised NAVARITIH (New, Affordable, Validated, Research Innovation Technologies for Indian Housing): Certificate Course on Innovative Construction Technologies. The Course was launched by Hon'ble Prime Minister Shri Narendra Modi during the Foundation Stone Laying of Light House Projects at six locations through video conferencing on January 1, 2021. The major objectives of the Course are:
Familiarise the professionals with the latest materials and technologies being used worldwide for housing.
Provide an awareness of the state of art of materials and technologies in terms of properties, specifications, performance, design and construction methodologies so that professionals can successfully employ these in their day to day practice.
Provide exposure to executed projects where such materials and technologies have been implemented.
The Course has been received very well by the professionals including students and since its launch in January 2021, six online batches have been conducted educating more than 700 professionals.
What are your thoughts on an effective emergency management strategy in order to minimise the loss of lives and property, beyond just constructing strong and resilient buildings?
India with a large population base and diverse geoclimatic conditions is vulnerable to myriad natural hazards and associated risks. Natural hazards can be broadly classified into geophysical hazards (earthquakes, landslides, and tsunamis), hydrological hazards (floods), meteorological hazards (cyclones and storm surges), and climatological hazards (thunderstorms) that are a common occurrence in India. The Indian sub-continent, being the world's most disaster-prone area, has 57 per cent of land vulnerable to Earthquakes, 18 per cent of land vulnerable to High Wind Velocity (55 & 50 m/s), 7.3 per cent of land vulnerable to floods, 12.6 per cent of land vulnerable to landslides in hilly regions of 18 states. These natural hazards turn into disasters causing significant disruption of the life of communities leading to loss of life and property. Even though the vulnerability varies from region to region of the country, the Sustainable Development Goals (SDGs) strongly emphasise that preparedness and prevention are integral components of the development process. Both at the Central and State levels the governments are gradually evolving strategies, policies and programmes for natural disaster mitigation and prevention. In this process, state-ofthe-art technologies like forecasting, satellite and remote sensing, computerised systems of vulnerability and risk assessment for warning and monitoring of hazards are fast emerging. There has been a paradigm shift in the approach of the Government of India towards disaster risk reduction shifting from the traditional 3 Rs (Rescue, Relief and Restoration) to 3 Ps (Prevention, Preparedness & Proofing) resulting in pro-active pre-disaster preventive measures. Some of the milestones by the Government of India towards disaster mitigation and management are Disaster Management Act, 2005, National Policy for Disaster Management, 2009 and National Disaster Management Plan, 2016 and Model Building Bye-Laws 2016.
Technology and science is one part that helps in timely monitoring and forecasting of disasters. However, I think that there is a need to bring legislative amendments in the country's town and planning legislation to mainstream the disaster-risk reduction for the sustainable and resilient development of the country. There is also the need for amendment in Master plan area development rules. Planners should focus on land use zoning in hazard-prone areas and establishing techno-legal regimes. There is a need to incorporate safety requirements in building bye-laws of smaller urban local bodies and gram panchayats as well. These safety requirements should be applicable to new buildings and extensions of old buildings. Empowering urban local body officials to exercise their control in the inspection of such buildings is the need of the hour. Legislation is also required to upgrade hazard resistance of critical buildings for the use and safety of a large number of people—schools, hospitals, assembly halls, water tanks, towers, telephone exchanges, fire stations, and headquarters of police and administration.