Governments, across the globe, has seen a digital transformation in their operations after the COVID-19 pandemic occurred. India was no different and witnessed a facelift of the government operations that are now tech-enabled. Addressing the transformation of governance, Elets Technomedia Pvt Ltd organised a two-day virtual Governance Leadership Summit 2021 on 17 & 18 June 2021 and Durga Shanker Mishra, Secretary, Ministry of Housing and Urban Affairs delivered the Keynote Address.
Secretary, Urban Affairs, called the COVID-19 pandemic a phase that jolted not only India and other developing countries but even the developed countries. "Countries across the world have been adversely impacted. There were huge losses to life, businesses. Economy across the globe took a toll." Though every country was making efforts to tackle the situation effectively, India's performance was lauded worldwide for the series of lockdowns that the government imposed to control the spread of the virus, he added.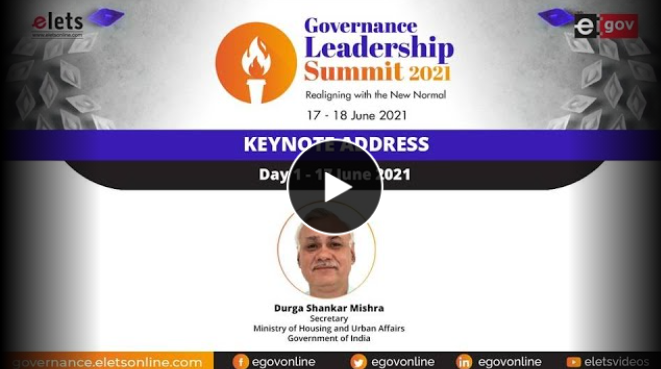 "Despite being unprepared for such a massive pandemic and facing a shortage of masks, sanitisers, PPE kits, etc. India emerged out as a winner. We not only managed to effectively tackle the COVID pandemic, but we also contributed to the well being of people across the globe," he said. The country's confidence was well witnessed when amid this difficult Prime Minister Narendra Modi launched a series of schemes like Aatmanirbhar Bharat Abhiyan, Pradhan Mantri Gareeb Kalyan Yoajan, and so on and so forth. "Even in those times, we aimed to make India a self-reliant nation and have been taking steps to achieve the dream… My ministry was one of the pioneers of these schemes launched," the Secretary added.
Also Read: E-Governance Initiatives Improved Efficiency and Productivity in the State Government
He appreciated the efforts of the Centre, especially for launching schemes for street vendors. He said, "We talk of urban governance, city management, etc. but we often forget street vendors which are an important part of any city. I call them 'nano entrepreneurs'. Prior to the COVID phase, there were no specific schemes designed or implemented to benefit street vendors like the schemes launched recently." However, it was heartbreaking to see these 'nano entrepreneurs' migrate back to their villages or hometowns due to the nationwide lockdown. These vendors were taking loans on interest rates as high as 300 per cent and thus not getting out of debt. Hence, to aid the vendors, the Government of India launched a scheme called the 'PM SVANidhi' scheme, he said.
The Secretary highlighted that "I feel delighted to tell you that this is one of the government schemes that are end to end IT-driven." Adding to it he said, "We've structured the scheme in a way that it is completely IT-driven. And, I'm happy to announce that within a matter of nine months only, we have received over 41 lakh applications already. Besides, more than 24 lakh applications have been sanctioned and over 20 lakh applications have been finally disbursed. Over Rs 2000 crore were released to the street vendors."
Also Read: Leveraging Technology, Empowering DISCOMs – The IPDS Story
Speaking about the second wave, the Secretary said, "While many of us thought that the pandemic is over, the second wave came in as a bigger jolt and shook the entire system. With this came a series of lockdowns which were imposed by states as per the situation they faced. Various restrictions on the economy and movement of people were imposed. This impacted the street vendors negatively. However, when I had a meeting with the states it was great to see their enthusiasm to take initiatives to aid the street vendors during this time of trouble." Therefore, during the second wave also measures were taken to help the street vendors to survive the lockdown. E-commerce websites and online food delivery apps like Swiggy, Zomato were called on board to deliver food from street vendors. He said, "We're trying to further strengthen this online ordering structure."
Later in his address, the Urban Affairs Secretary also mentioned how the Ministry of Urban Affairs (MoHUA) has entered the social housing market and started building Affordable Renta Housing Complexes (ARHC) which will benefit the poor people who migrate from small towns and villages to big cities in search of livelihood. Also, it would reduce the setting up of slums and squatters.
Also Read: eGov April 2019: Reinventing Governance – Leadership Special
Further, he spoke on how in the past few years India has rapidly developed its IT infrastructure and has established systems that are now powering the government's digital presence and online delivery of services to the citizens. He also mentioned the redevelopment of the Central Vista and said "The people of India will see a vibrant democracy with new Parliament building, new buildings for various ministries. Everything in this project is Indian. From building materials to technology all Indian. This is a representation of Aatmanirbhar Bharat"
He pointed out that the Indian population is growing rapidly. "If our cities keep on developing the way they are today lives of the people will become difficult. As a solution to this our Smart Cities Mission is playing an important role. It is not only making cities smarter but also devising out ways to futuristic development."
On the Smart Cities Mission, the Secretary said, "100 cities were selected through for a smart city challenge and they're being rated for their works and development. However, this concept of raising challenges for growth and development is not something new anymore. We've observed that the moment you challenge someone he/she delivers the best they can. A successful example for the same could be Swachh Survekshan. We've seen civic bodies sincerely working to keep their city clean to stand above the other cities competing. Recently, on similar grounds, we've launched 'Pey Jal Survekshan' through which cities will compete to provide clean and potable drinking water and improve their overall water standards." Developments can be witnessed in smart cities. As many as 61 cities have got Integrated Command and Control Centres and 25 more are coming up. These smart cities are planning on ways to make their cities future-ready, that is where urban India's growth is heading, he added.
While concluding his address he said, "We have to take a smart path. We need to ensure that the land has to be used judiciously and we have to get the best out of the land available to us. We need to improve our urban planning in ways such that the people are able to realise their aspirations and our cities become the engines of economic growth. People should not have to struggle but contribute to the growth of the nation. This is the learning from Smart Cities – how to fetch ore from less.