Throughout history, human settlements have flourished on the river banks and reaped multiple socio-economic benefits from the rivers. The once small-sized settlements have metamorphosed into some of the largest highdensity cities. India is no exception. The urbanisation trend in the country is such that by 2030 when SDG targets will be evaluated, almost 400 million people will reside in cities. It is, therefore, vital for Indian cities to adopt sustainable urbanisation strategies, write Uday Bhonde and Rahul Sachdeva, Project Coordinators at the National Institute of Urban Affairs (NIUA).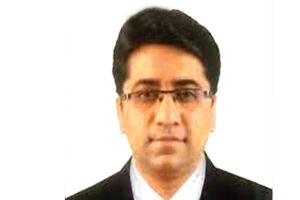 In many cities, natural resources have been over-exploited in the quest for economic development. Several such natural resources are found in a riverine ecosystem. Ironically, despite being providers of a range of productive ecosystem services, the state of rivers in Indian cities is highly unsatisfactory. Figure 1 shows a classic depiction of the issues in urban river stretches in cities that include discharge of untreated wastewater from households and industries, solid waste dumping, overabstraction of water, pesticides from agricultural runoff, among others.
Urban River Management Plan (URMP)
To address the challenges faced in urban rivers, the National Institute of Urban Affairs (NIUA) in association with the National Mission of Clean Ganga (NMCG) developed a strategic framework called the "Urban River Management Plan" (URMP) aimed at the holistic management of urban rivers. This framework is anchored in the principles of sustainable development and requires river cities to take actions against 10 common objectives under environmental, social and economic heads. Several of these objectives have direct linkages with SDG 11.3 for making cities safe, resilient, sustainable and inclusive.
The first objective is to ensure effective regulation of activities in the floodplain.
This has direct connotations with one of the targets of SDG 11.3 related to city planning and making resilient cities. A floodplain is figuratively the river's "playground", encompassing the area that a river needs for its lateral spread, and therefore is an eco-sensitive zone. It is important that cities are cognizant of this fact and ensure that only rivercompatible activities are allowed in the floodplain.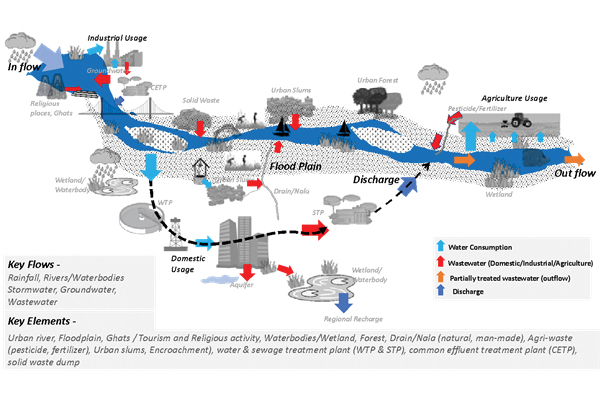 The second objective is to strive for pollution-free rivers.
Healthy rivers are paramount for sustainable cities. The pollution in rivers is mostly in the form of untreated domestic and industrial wastewater, municipal solid waste, and pesticides from agricultural activities. Cities will need to adopt a range of engineering, regulatory, legal, economic, and social interventions to achieve this objective.
Also Read: Andhra Aims to Achieve Housing for All in 3 years: Ajay Jain
The third objective is to rejuvenate water bodies and wetlands,
Which are intrinsically connected to rivers. They provide varied benefits such as facilitating groundwater recharge, treating wastewater naturally, enhancing riverine biodiversity, and influencing microclimate, among others. However, due to rapid urbanisation, their numbers are dwindling and their health is degrading. In addition to the aforementioned benefits, rejuvenated waterbodies and wetlands will provide a city with economic benefits like increase of land value in the vicinity, while at the same time reviving the connection between people and the natural environment.
The fourth objective is to enhance the riparian buffer along river banks.
A riparian buffer is a strip of vegetation on either side of the river that enhances a city's resilience by protecting it from fluvial floods, while also protecting the river banks from erosion and other harmful activities in the city. Most cities do not have this riparian buffer, especially where floodplains have been encroached up to the edge of the river. Achieving this objective is, therefore, a long-term endeavour, which goes far beyond mere planting of trees.
The fifth objective is to increase the reuse of treated wastewater.
Increasing freshwater demand in cities is exerting tremendous pressure on surface and groundwater sources. Bulk of the water demand for activities like agriculture, toilet flushing, road cleaning, groundwater recharge, the revival of surface water bodies etc. does not require drinking water quality, and therefore, can be met with treated wastewater. Hence, increased reuse of treated wastewater will help in reducing the stress on rivers.
The sixth objective is to ensure maximum good quality return flow from the city.
A river needs some minimum flow in order to perform its ecological functions. Most cities over-exploit the rivers without paying heed to this requirement. Maximising the return flows in form of stormwater and treated wastewater after duly budgeting demand for various purposes within the city, will contribute to the environmental flow of rivers, especially in non-perennial watersheds.
The seventh objective is to develop eco-friendly riverfronts.
Eco-friendly riverfronts provide a unique opportunity for people to reconnect with the river. They serve as the interface between cities and the river. Developing eco-friendly riverfront projects like biodiversity parks, nature trails, constructed wetlands, etc. will not only provide environmental benefits for citizens but also contribute to sustaining bio-diversity along river banks.
The eighth objective is to leverage the economic potential of the river.
A river has tremendous economic potential through the range of ecosystem services it provides and the livelihoods it supports. River cities have the unique opportunity to leverage this potential through various interventions such as navigation, agriculture, fishery, water sports, river cruises and floating markets, and more, in a river-compatible manner.
The ninth objective is to inculcate river-sensitive behaviour among citizens. No policy or initiative taken by the government can be successful without the support of citizens.
Sensitising citizens about the need to sustainably manage riverine systems is the first step in securing their support. Given that rivers have a spiritual value in many parts of India, cities can leverage this notion and employ non-traditional sensitisation media like social media, children's camps, hoardings, app-based dissemination, games, celebrating a river day, etc. for strengthening the riverpeople connect.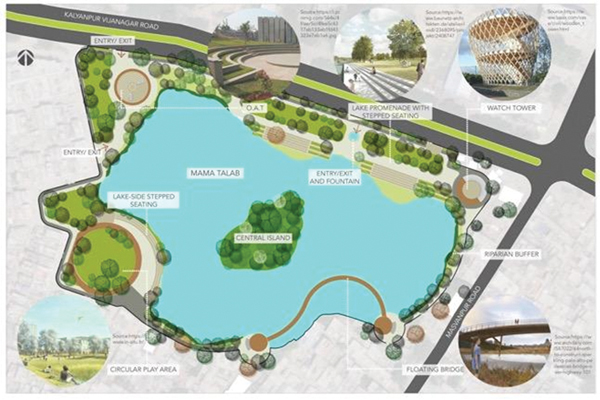 The tenth objective is to proactively engage citizens in managing rivers.
The purpose of introducing this objective is to ensure that urban river management in a city is a participatory process, which will lead to community ownership and pride. For this, cities need to provide opportunities to a diverse range of stakeholders to be involved in activities such as monitoring the river water quality, cleaning river banks, preparing databases and information portals, among others.
Also Read: Puducherry Adding Innovation to Affordable Housing
Application of the URMP framework
Kanpur city in Uttar Pradesh is the first city in India to adopt the URMP framework to develop a city-specific river management plan. The URMP for Kanpur has been developed with the overall vision to ensure the harmonious integration of the rivers Ganga and Pandu in the development landscape of the city. The work was led by the Kanpur Nagar Nigam in association with other stakeholder agencies and supported by NIUA and NMCG. The city has identified 19 interventions that it will undertake against the 10 objectives of the URMP. Figure 2 shows an example of an intervention that seeks to rejuvenate 'Mama Talav', a degraded water body.
Many river cities in India are at a critical juncture where they are defining their development trajectories in line with SDG 11. The decisions taken today will have long-lasting implications. Including sustainable management of urban rivers in the long-term development, strategy is one decision that is a purely 'no regret' option for the city.
"Exciting news! Elets eGov is now on WhatsApp Channels 🚀 Subscribe today by clicking the link and stay updated with the latest insights!"
Click here!