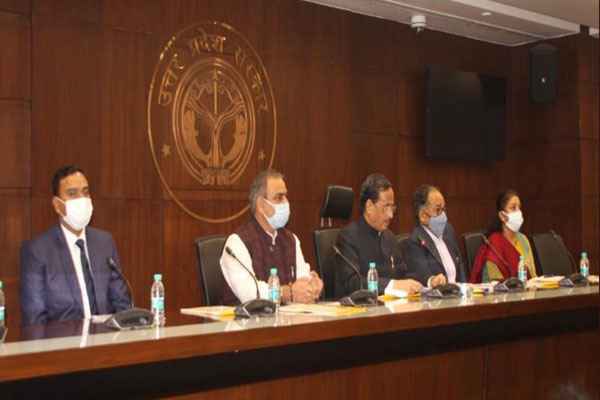 Given the globalization of the economy and the increasing usage of technology in everyday life, the Government of Uttar Pradesh has taken various steps and announced new policies to encourage the investment in IT and Electronics sector in the state, writes Arpit Gupta of Elets News Network (ENN).
After the formation of new Government in 2017, the "Electronics Manufacturing Policy 2017" was announced in December 2017 to attract investment in the electronics sector in the state. Noida, Greater Noida and Yamuna Expressway areas located in the National Capital Region were declared as "Electronics Manufacturing Zones" under the policy. The policy had a great success and was able to achieve its targets of attracting investment and employment both.
Many reputed companies from China, Taiwan and Korea are getting attracted to set up their manufacturing units in Uttar Pradesh. An Electronics Manufacturing Cluster (EMC) is being developed in an area of 100 acres of Greater Noida by an overseas reputed company, in which ESDM units will be established. Under the Uttar Pradesh Electronics Manufacturing Policy-2020, the electronics industries will be developed in all areas of the state.
After the successful implementation of the Electronics Manufacturing Policy 2017, the state government announced, the new Electronics Manufacturing Policy 2020 covering the entire state for uniform development of the electronic industry in all the regions of the state. The new policy targets investment of Rs 40,000 crore over the next five years and employment generation for 4,00,000 persons. According to the policy, the establishment of three electronics manufacturing clusters in the state, an electronic city near Jewar Airport in Yamuna Expressway, Defense Electronics Manufacturing Cluster in Bundelkhand and Medical Electronics Manufacturing Cluster in Lucknow-Unnao-Kanpur zone are proposed.
To promote research, innovation and entrepreneurship in the ESDM industry, world-class infrastructure will be created in the state as 3 Centers of Excellence in collaboration with the Government of India and industry associations. In this order, the Center of Excellence (COE) for product-based Li-ion cells has been given in-principle approval by the state government.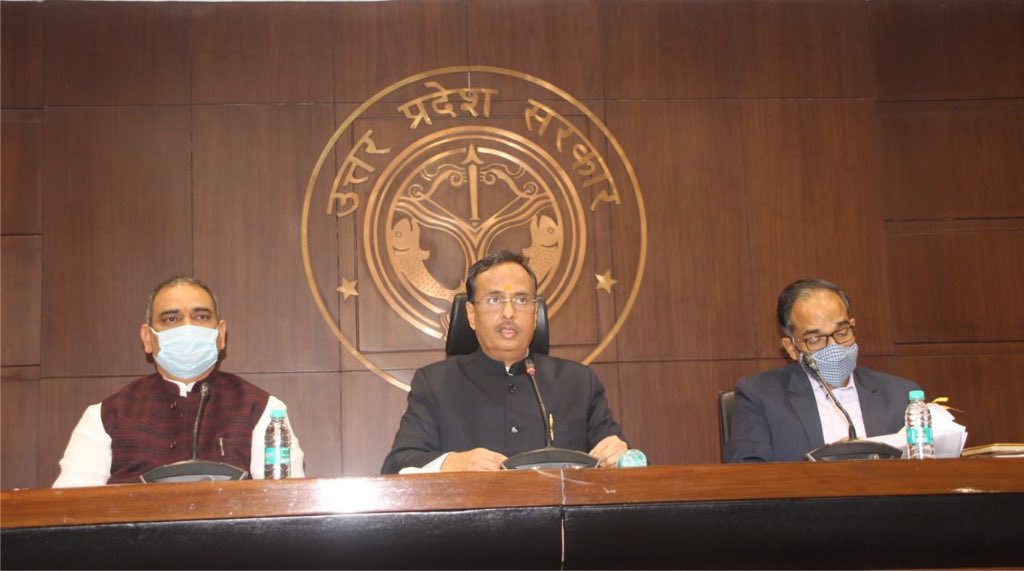 Establishment of IT Parks / Software Technology Parks in all areas of the state and encouragement of incubators and start-ups under Uttar Pradesh Information Technology and Start-up Policy 2017
To promote the IT industry, the IT Parks are being developed with an investment of approx Rs 200 crore in all 18 divisions of the state by Software Technology Parks of India (STPI), a Government of India organization. Operation in these IT parks in Meerut, Agra, Gorakhpur and Varanasi is expected to begin in the first half of the coming year. Apart from this, the actions are being taken to start the work for the development of IT parks in Aligarh, Saharanpur, Azamgarh and Jhansi.
Also Read: CM Yogi Adityanath appoints IAS & IPS officers to inspect agriculture & govt schemes in UP districts
Additionally, 40 acres of land has been acquired in the state capital Lucknow to develop a state-of-the-art Information Technology Park on PPP model. Out of which, four acres of land has been allocated to STPI to set up the country's largest incubation centre in Uttar Pradesh.
As a result of the state government's initiative, 18 incubators in prestigious educational institutions of the state like IIM Lucknow, IIT Kanpur, IIT BHU, Abdul Kalam University of Technology, Amity University, KIET Ghaziabad have started their operations after approval by the State Government. At present, more than 3300 start-up units have become operational in the state. An online portal has been launched to promote incubators, startups and other ecosystem stakeholders to engage with respective Nodal Agency. To meet the financial requirements of the needy startups, a 1000 Crore Fund of Funds has been set up by the State Government with the help of SIDBI which is expected to be operational soon.
As a result of the successful efforts by the state government to encourage start-ups, Uttar Pradesh has been placed in the category of 'Emerging Startup Ecosystem' under the State Start-up Ranking 2019. Under the Uttar Pradesh Start-up Policy 2020, startups in all sectors including Agriculture, Medicine and Health, Energy, khadi, Education, Tourism, Transport, etc. will get encouragement. The newly launched Startup Policy 2020 has been made sector agnostic to promote start-ups in non-IT sectors as well such as Agriculture, Healthcare, Sports, Tourism, Education, Transport etc.
Policy aims to set up more than 100 incubators, minimum one in each district of the state and creation of an eco-system compatible with the establishment of at least 10,000 startups in the state. With the implementation of the policy, it is expected to generate direct employment for 50,000 youth and indirect employment of 10,000,00 in the state. In the recently concluded Policy Implementation Meeting, seven new incubators were approved in various districts such as Banda, Varanasi, Noida, Lucknow, Mathura and Ghaziabad.
Under the Startup Policy -2020, three state-of-the-art centres of excellence are to be set up in the state, out of which the Center of Excellence in Medi-tech, Technology in SGPGI Lucknow campus is in progress.
Also Read: ODOP—Fostering Local Arts, Crafts, and Traditional Skills: Navneet Sehgal
Proposed UP Data Center Policy
A new dedicated policy is proposed to attract investment in the Data Center industry in the state. The State Government has decided to formulate a Data Center Policy. Under the proposed policy, 250 megawatts data centre industry is to be developed in the state, attracting an investment of approx. Rs 20,000 crore and setting up at least three state-of-the-art private data centre parks in the state. Under the policy, various non-financial incentives are proposed to Data Center Parks and Data Center Units, in addition to capital subsidy, interest subsidy, an exemption in stamp duty on purchase/lease of land and financial incentives related to energy. Additional incentives have been proposed for Bundelkhand and Purvanchal regions.
E-tendering system in government departments
To eliminate the interference of anti-social elements in the transparent and clean administration and tendering process, the e-tendering system has been implemented by the government in all departments of government since May 2017 in which all tenders above Rs.10 lakh are invited through e-tendering only.
Also Read: UP Govt aims to establish IT parks in all divisions in collaboration with STPI
Uttar Pradesh is the first State Government to have implemented the e-tendering system and was given the 'Best Performance Award' among the top-performing states during the period from April 2017 to March 2018.
National Broadband Mission – Bharatnet: Bharatnet is a part of National Broadband Mission, National Digital Communication Policy 2018. It has a target of providing Fiber Optical connectivity at each Gram Panchayats by 2022. Till date, 30,167 Gram Panchayats have been successfully connected through optic fibre in the state.
Common Service Center (CSC 3.0): Common Service Center (CSC 3.0) project has been started in all the 75 Districts of State. In this project, a minimum of two CSCs at each Gram Panchayat and two CSCs at the population of 10,000 citizens in an urban area will be opened. Citizens can avail 258 citizen-centric services of 35 government departments from these Common Service Centers. Approximate 4.5 lakh unemployed youths will become self-employed in this project.
Uttar Pradesh Statewide Area Network (UPSWAN 2.0):
UPSWAN Project is a dedicated & secured government network to provide high-speed connectivity to all government departments up to block level. This network is utilized by Government officials to dispose of citizen's centric applications in speedy & time-bound manner. Under UPSWAN 2.0 Scheme, District Head Quarters (DHQs)/ Tehsil Head Quarters (THQs)/ Block Head Quarters (BHQs) are now connected with State Head Quarter via 10 Mbps dedicated MPLS connectivity.
Uttar Pradesh State Data Centre (UPSDC)
Uttar Pradesh State Data Centre is operational in Lucknow since Aug 2012. This is an ISO 27001 and ISO 20000 certified Tier II Data centre running with uptime of 99.98%.  Currently, 155 Departmental portals/ Applications have been hosted in UPSDC.
Also Read: At the Edge of 2020-21: A look back & forth
CM Helpline (1076) (Jansunwai Portal)
Chief Minister Helpline is a dedicated 500 Seater Call Centre redressing citizen's grievances in time-bound manner.  It is operational with the capacity of 80,000 inbound & 55,000 outbound calls per day.
During COVID-19 pandemic situation, CM Helpline worked as Covid Control Room attending more than 43 lakh calls including over six lakh COVID-19 health-related calls and registration of over six lakh lockdown-related complaints since March 23, 2020.
Direct Benefit Transfer (DBT)
A State DBT Portal has been developed & hosted at Uttar Pradesh State Data Centre (UPSDC). Presently, 130 DBT Schemes of 27 departments have been on-boarded on State DBT Portal. During the Financial year 2020-21, more than 56,000 Crores money transferred to beneficiaries' bank account directly through DBT.