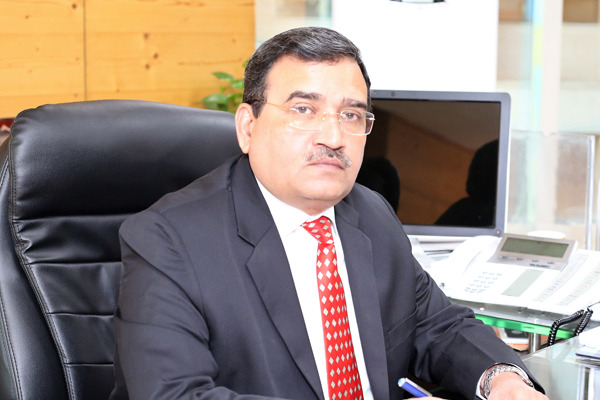 The COVID-19 pandemic has been hard-hitting for not only the businesses but also for the socio-economic scenario of the country. IRCON International Ltd. took some commendable measures to sail through the tough times. Moreover, taking the frontier, IRCON has also taken various CSR initiatives to contribute their bit to aid people and uplift various small businesses impacted by the pandemic, write Adarsh Som and Ritika Srivastava of Elets News Network (ENN).
IRCON International Ltd. is a Schedule –'A' and a Miniratna – I company under the administrative control of the Ministry of Railways, Government of India. Hence, being a well-established and esteemed infrastructure developer, IRCON has actively taken noteworthy initiatives to neutralize the effect of COVID-19 pandemic on its operations.
Combating COVID-19
IRCON proactively came forward to lend a hand to various government bodies in fighting the pandemic. To contribute its share of aid to the government efforts, people, and small businesses, IRCON took four major approaches.
Monetary contribution to PM Cares Fund– Ircon International Limited (IRCON) has provided financial assistance of Rs 20.5 crore to Prime Minister CARES Fund for fighting COVID-19. Moreover, the employees working with IRCON have donated their one day's salary amounting to Rs 51 lakh.
Payment to contractual workers during the lockdown period -The salary during the lockdown period has been paid to all the contractual employees. Full wages had been paid to the labourers during the lockdown period and the due amount was transferred to the families in their native villages.
Social support to the needy by providing food & shelter-IRCON has taken several initiatives to cater to the needs of people who are worst-affected by the Coronavirus and the subsequent lockdown. Further, the employees working with IRCON came forward and provided food packets to migrant labourers. Also, dry food items were distributed to workers and labourers and arrangements were made to provide lunch and dinner to labourers at various project sites.
Medical support to address health crises– We have tied up with nearest hospitals at our project sites for providing immediate help to labourers in case of any emergency. We have also provided first aid kits to the labourers at worksites.
As the Coronavirus has shown rapid contamination in populations across the globe, it called for a need to strictly implement preventive measures in the offices, public spaces and at home. IRCON has been actively involved in aiding the ones in need during the tough time of crisis, the company also took effective measures to safeguard its employees.
The authorities at IRCON constituted a special task force for monitoring the compliance of safety and preventive measures which were implemented as per the guidelines issued by the Ministry of Health and Family Welfare (MoHFW) at the Head Quarter and at projects for coordination.
Also Read: IRCON Overcoming COVID Challenges: SK Choudhary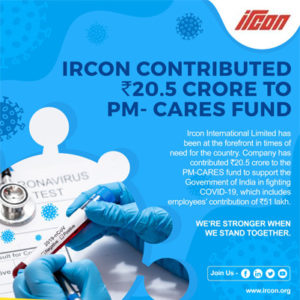 Moreover, standard operating procedure (SOP) was formulated at Corporate, Project & Sub Offices and Project Sites including Construction Material Testing Laboratories and all other premises which were introduced as a mandatory protocol to be followed. Further, as per the advice from the Government of India and the MoHFW, all the employees of IRCON, Sub-cons and workers were asked to download the 'Aarogya Setu' App on their mobiles. The employees were permitted to enter the office premises only when the app declared the employee safe.
In a further stringent approach to preventing the spread of virus infection, biometric swiping for attendance had been temporarily discontinued. And, all employees have been strictly directed to wear masks all the time and adhere to the social distancing norms laid out by the authorities.
In addition, IRCON has been raising awareness at its project sites through posters and banners. These were displayed at prominent places showing usage of hand sanitizers and wearing of masks. Labours were informed about safety measures in local language through their supervisors. Moreover, at regular intervals, training of employees is being conducted regarding awareness of COVID-19 and preventive measures to be taken to prevent the spread. Employees are instructed on the manner of using facemask and gloves, disposal of masks and other PPE.
Also Read: PSUs, A Possible Gateway to Indian Economic Recovery
IRCON has also actively contributed to business continuity and aiding the small businesses to surf through the tough times. With the announcement of relaxation in the lockdown norms, IRCON started work at its various project sites in a staggered manner by implementing strict safety measures. Following are a few safety protocols which IRCON implemented while resuming operations: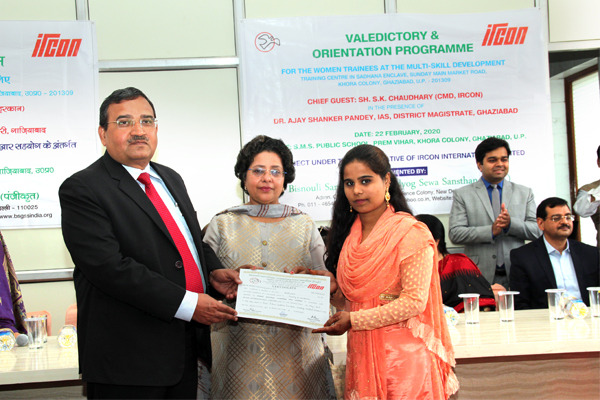 Operation of Machines and Equipment– The machine body operator's cabin of all Machines/Equipment being used at sites are being disinfected before use. The handheld tools, small machines and knobs of equipment are cleaned properly and if permitted as per Owners' Manuals these items are sanitized before use.
Laboratory Staff– All Laboratory Equipment, tools and tackles are disinfected.
Worksites– The worksites are disinfected before starting the work. Moreover, the workers are engaged in such a way that while working the social distancing norms are followed. To keep social distancing, the staff maybe engaged in different shifts or work shall be carried out at more than one front.
Handling of construction material- Mechanised handling of materials has been adapted to the extent possible. All lifting machines (cabins and body), tools and tackles (like slings, D-shackles etc.) are disinfected before use. Besides this, the incoming material is disinfected using approved disinfectants. Where the material is of large volumes like cable reels, electrical panels, S&T Equipment, aggregates, sand, cement or sensitive materials where disinfectants cannot be used, such materials are quarantined for at least 48 hours. Additionally, for manual handling of materials, labourers have to wear the hand gloves and face mask at the time of unloading/ loading the materials. Use of PPE kits like a hard helmet, safety boots and reflective jackets have been made essential.
IRCON's CSR Initiatives
While taking the frontier to support the government's efforts to fight the COVID crises, IRCON has also been leading the path in Corporate Social Responsibility (CSR) in India. IRCON has contributed immensely towards the development of the remote areas of the country in terms of capacity building, empowerment of communities, inclusive socio-economic growth, environment protection, promotion of green and energy-efficient technologies, development of backward regions, and upliftment of the marginalised and under-privileged sections of the society, Swachh Bharat Initiatives, many more.
IRCON kept its CSR budget for the financial year 2019-20 as Rs 9.88 crore, which is two percent of the average net profit recorded by the company in the period of the last three financial years. Looking at trends it is seen that during the fiscal year 2019-20, IRCON has spent Rs 10.04 crore, which include Rs 4.50 crore that the organisation contributed towards the PM Cares Fund for COVID-19.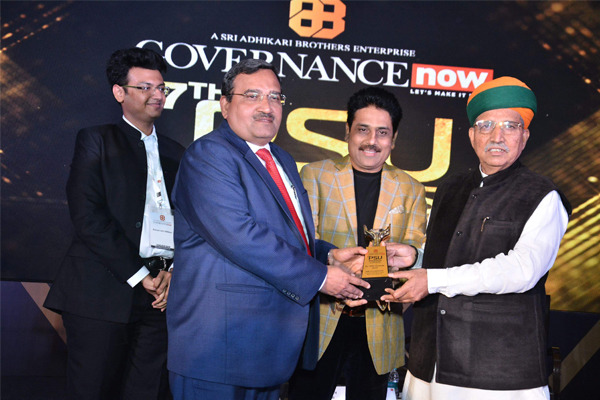 However, there are numerous noteworthy CSR initiatives that IRCON took during the times of COVID pandemic and helped in developing the nation through empowering the society and improving the overall socio-economic ecosystem.
To spread the awareness on cleanliness, IRCON promoted a 'Waste-to-Energy' initiative for school kitchens located in Adivasi communities in collaboration with M/s LAYA in Vishakhapatnam. Under this initiative, wet waste coming from the kitchen is used for biogas plants and the wastewater coming from the biogas plants is used for the kitchen garden. Further, the dry waste such as milk covers, papers, and dry leaves from the plants, etc. are being used for the firing of water heaters/incinerators. The boiled water obtained from the incinerator is used for drinking and cooking purposes. Considering the present scenario, biogas is being used to cook food which helps in saving consumption of as much as five LPG cylinders a month.
Further, to provide easy and affordable access to basic health care facilities, IRCON joined hands with Arogya Foundation of India and organised 90 medical camps for the people of Jammu and Kashmir. These 90 medical camps provided effective primary healthcare services through basic health check-ups and treatment across villages. Each of these 90 medical camps catered to as many as 200-250 villagers and successfully brought them the services that they were long deprived of.
IRCON also partnered with South Western Railway, Bengaluru, to beautify the walls of Bengaluru railway station. The idea was to promote the culture and heritage of South India through mural paintings. As thousands of passengers from outside South India arrive at Bengaluru railway station every day, the mural paintings presented them with the culture and heritage in a beautiful manner. Since the beautification, the response from both passengers and management has been appreciative, as the mural paintings have given the railway station a new and unique identity.
Moreover, IRCON provided assistance for the skill development centre at Khora district of Ghaziabad. The initiative aimed to upskill the youth in four trades such as Cutting & Tailoring, Beauty Culture, Computer Operations and English Speaking. The initiative was successful in helping women to enhance their skill set and get skillbased employment.
IRCON also partnered with Godhuli to impart education to the children by running a school for underprivileged street/resettlement labour slum children of labour slum area in Nangloi. The teaching at the school is done in a more interactive fashion using practical methods. Students learn while getting introduced to various ideas and subjects playfully.
Way Forward
IRCON has been at the forefront of responding to efforts of the government and is continuing to support every initiative to combat the COVID-19 crisis. Further, the higher management of IRCON is assessing the emerging situation regularly and recommending mechanisms to respond to the changing situation. It can be interpreted that with such active efforts by IRCON and many other such PSUs and other government bodies, India will overcome the crisis and will emerge out as a self-reliant nation.
IRCON Overview
IRCON, a Schedule "A" & Mini Ratna – Category I Central Public Sector Undertaking (CPSU), incorporated by the Ministry of Railways, Central government, under the Companies Act, 1956 on April 28, 1976, originally under the name 'Indian Railway Construction Company Limited'. It was created for the development of railways networks in India and abroad utilizing the expertise of Indian Railways. The Company has executed projects operated in the areas of Railway construction including New Lines, Doubling works, Rehabilitation & Gauge Conversion projects, Ballast less track, Electrification, Bridges/Flyover, Tunneling, Sub-Stations, Signal & Telecommunication as well as Leasing of Locos, Station building etc.
Over the years, while keeping railway projects as its focus area, it diversified into a wider spectrum of infrastructure such as Highways & Expressways, Tunneling, Bridges, Metro, Power substation, transmission & distribution, Buildings (Industrial, Commercial & Residential), Townships, and Airport Runways & hangars and Mass rapid transit system.
Over the years, the company has extended its operations to other geographies including countries like Algeria, Bangladesh, Iran, Iraq, Malaysia, Nepal, South Africa, Sri Lanka, Bhutan, Myanmar, Afghanistan, Syria, Turkey, Ethiopia, Tanzania, Mozambique, Zambia, Liberia, Nigeria, Indonesia, etc.
During its 44 years of journey, IRCON has emerged as the front ranking construction company of international repute having executed more than 390 landmark projects in India and 128 projects in 25 countries across the globe.