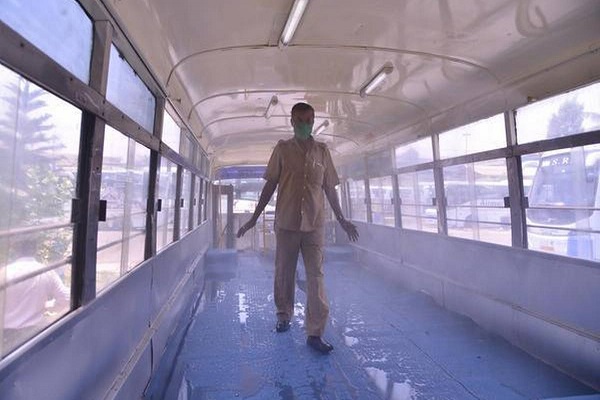 In a bid to enhance the preventive actions taken in the state, the Karnataka State Road Transport Corporation (KSRTC) has started converting its old buses that were slated to be scrapped into 'sanitizer buses' to disinfect people in public places. The transport corporation launched one such bus on April 12 in Bengaluru.
Shivayogi C Kalasad, Managing Director of KSRTC said that the sanitizer buses which are branded as 'Sarige Sanjeevini' will be run in Bengaluru for the benefit of people serving in the essential services like police personnel, health workers, pourakarmikas and others. "There are various measures to curb the spread of COVID-19, this is one among them. We can't say that the sanitizer buses will completely disinfect people. They have to follow other measures such as maintaining personal hygiene, washing hands, etc. This is one of the proactive measures taken by the corporation," added Kalasad.
KSRTC's Central Workshop is being used to modify the old buses to sanitizer buses at a cost of Rs 20,000. The sanitizer buses feature sprinklers for spraying disinfectants. People will enter the front door of the bus and exit from the rear door getting sprayed of disinfectant while moving through the bus.
KSRTC is further planning to deploy such modified buses in districts like Mysuru, Mangalaore, Chikkaballapur and other from where the cases of COVID-19 surfaced. As of now 18 to 20 buses will be modified and the further actions will be taken as per requirement.