KSRTC is the first and leading State Transport Undertaking in the country to adopt Information and Communications Technology in its administrative and operational processes. KSRTC's primary objective is to adopt IT in its day-to-day operations and bring every staff under the Information Technology net, says Shivayogi C Kalasad, Managing Director, Karnataka State Road Transport Corporation (KSRTC) in an exclusive interview with Krishna Chandra Mishra of Elets News Network (ENN).
India needs effective public transportation. How is KSRTC contributing towards mobility in towns and cities?
Efficient public transport system is the 'sine quo non' for a modern city. As cities grow, their ecological impact increases, and despite the flexibility and apparent freedom a car might bring, a city cannot function without a sustainable public transport network which allows their citizens to move. The quality of public transport in any city serves as a formative index of development, being the fulcrum of the functional efficiency for businesses and non-businesses alike. KSRTC is the pioneer to evolve the concept of providing efficient transport services to Tier II and III cities in the state. The initiative has become the urban transport policy of the Government for providing organised city bus services in medium and small cities. At present, we are operating in 16 cities with 786 buses and serving a population within 400 metres from bus stop per day. KSRTC has been providing quality services across the city, suburban areas, intercity and the surrounding neighbouring states too.
Has KSRTC taken up any Smart City Projects?
Yes, under convergence and as per Smart City Mission advisory, KSRTC has undertaken two smart city projects in Karnataka.
• Tumkur Smart City project: KSRTC has taken up construction of Bus terminal with passenger Amenity centre at our estimated cost of Rs 93.78 crore. (Redevelopment of existing bus station)
• Davanagere Smart City project: Redevelopment of KSRTC Bus stand at a cost of Rs 120 crore.
Public-Private Partnership can be an effective solution. What are your comments?
Exploring PPPs as a way of introducing private sector technology and innovation in providing better public services through improved operational efficiency is the way ahead. Facing constraints on public resources and fiscal space, while recognising the importance of investment in infrastructure to help their economies grow, Governments are increasingly turning to the private sector as an alternative additional source of funding to meet the funding gap.
For Governments seeking to expand infrastructure, the public-private partnership offers an option that lies somewhere between public procurement and privatisation. Ideally, it brings private sector competencies, efficiencies, and capital to improving public assets or services when Governments lack the upfront cash.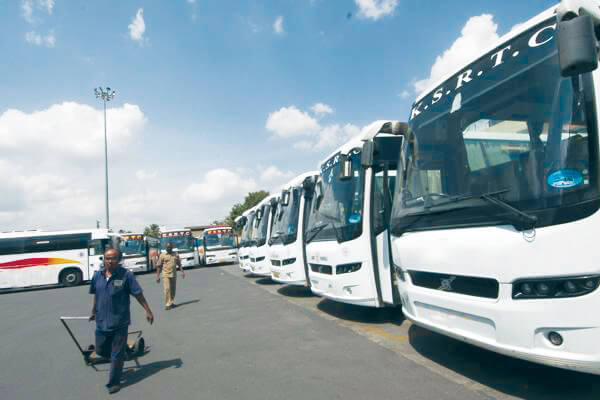 KSRTC has also taken up PPP projects such as building of commercial complex at Mangalore and Puttur bus station. The selection of developer is done through e-mode on a Build-OperateTransfer (BOT) model. The developer has to complete the project within one and half years and has to maintain the complex for 33 years before handing it over to the KSRTC.
Tell us about safety awareness programme initiated in KSRTC?
KSRTC ensures passenger comfort, speed and safety despite the high volume of passengers it caters to. It has undertaken several measures to make the journey safe.
Check points have been established at various high ways and busy corridors to check drivers for alcohol consumption by using Breath Analysers. Automated Driving Track System one of the robust recruiting system through which drivers were selected based on their driving skill. We are also imparting regular as well as refresher training at Volvo training institute, PCRA, CTI & RTI experts from industry.
To encourage drivers to ensure safe and accident free rides, we are awarding accident free drivers with Silver and Gold medals.
Sign boards are installed at all accident prone places and the list of such places is displayed at the depot too. Drivers and Crew for buses have been fixed for specific routes so as to make them familiar with routes to deal with any eventuality.
Regularly Organising Accident awareness programmes, street plays, medical check-up of crew, road safety week programmes, publicity campaigns, control room monitored bus operations, analytical based decision making etc. These initiatives have been helpful in addressing the critical issues associated with road safety.
What are the challenges being faced in managing the public transport system?
Public Road Transport is facing numerous challenges and particularly state transport undertakings have to find innovative strategies to improve their market share besides providing adequate, efficient and economical operations to the travelling public. The major problems being faced is a huge gap in travel demand and supply, competition from other modes or operators, Infrastructure Development & Management, I.T – Transformation & Challenges, and Sustainable Mobility. Meeting the commuter requirements has been the great and constant learning process.
What steps have been taken by KSRTC in roping organisations under CSR funding?
KSRTC has seen sustained innovation led growth. Innovations made in KSRTC have been recognised and acclaimed in several forums at National and International levels. We have to tap the funds available under CSR in different companies are for social development issues and make a positive impact on the living standards of the people.
Since KSRTC caters to nearly 30 lakh passengers daily in our buses, CSR funding would help KSRTC to build extended infrastructure and offer amenities to travelling public. KSRTC so far has commissioned pure drinking water plants, development of 'Sthree Shochalays' (Toilet for female being built on reusable scrap buses) in association with Bangalore International Airport Limited, pet bottle crushing unit, bus museum etc., under CSR funding.
Also Read: KARNATAKA Where Cities are Engines of Growth
Being Transport provider, though our main area is to cater the transport facility to the public, the people friendly initiatives and giving back to society matters to a responsible organisation like us.
How is KSRTC evolving in the digital era? Please list some key IT initiatives and technology upgrade in KSRTC.
KSRTC is the first and leading State Transport Undertaking in the country to adopt Information and Communications Technology in its administrative and operational processes. KSRTC's primary objective is to adopt IT in its day-to-day operations and bring every staff under the Information Technology net. KSRTC has been deploying the IT tools in the best possible measures to optimise its efficiency and reduce operational cost and at the same time, providing quality services to its customers.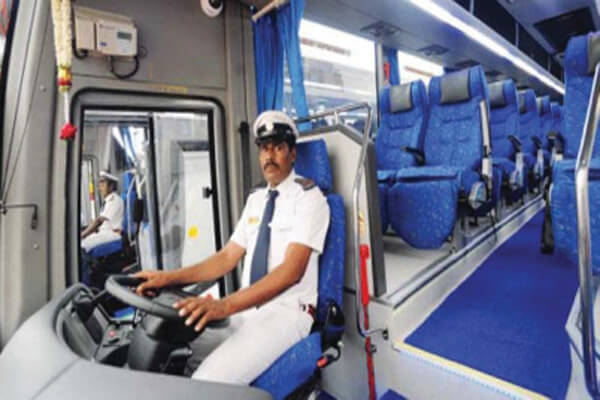 Intelligent Transport System at Mysuru, first-of-its-kind, World Bank sponsored project successfully implemented at Mysuru City. Web based Advanced Passenger Reservation System– AWATAR with mobile and online booking facility, GPRS enabled Electronic Ticketing Machines, Computerised Duty Rota System, Online Leave Management System for crew and mechanical staff, Digital marketing activities along with social media presence, IT enabled recruitment processes, Vehicle Tracking System with Passenger Information Systems, Online applications for internal usage etc. are some of the key IT initiatives in KSRTC.
What is your view on customer focus in public transport industry?
Successful transport management consists of the availability of improved travel options and hence the success of new mobility patterns will only meet public acceptance if attractive, public transport services are widely made available which would result in increase in the PT share.
Also Read: Karnataka has taken lead in urban mobility: Ramandeep Chowdhary
They must keep pace with their customers' needs in order to deliver quality and innovative services to make people change their attitudes and behaviour. They must change their corporate culture from a fleet manager to a customer-oriented organisation and boost the sector's potential. KSRTC has always been obtaining customer feedback (both online and offline) and concentrating its efforts and resources to keep the customers satisfied.
What is your vision for the future?
In its 58th year, the KSRTC continues to be India's trendsetter in the passenger transport and has tailor-made transport solutions for all segments of the society. KSRTC has a fleet strength of 8,800 buses, traverses 29 lakh kilometres per day with a dedicated workforce of more than 39,000 staff, connecting seven states in southern India.
Also Read: KSRTC: Leveraging technology to offer last mile service to commuters and crew
KSRTC is marching ahead with innovative technologies and high quality buses, effectively creating inroads into people's hearts as the most preferred form of public transport with cleaner, safer, less congested and more organised cities with sustainable mobility. Introducing the electrical buses, implementing environment friendly practices, extending 'Fly bus' services to other cities, tapping other commercial revenue models, deployment of IT tools are some of the dream projects of KSRTC in the near future.
Also Read: BMTC: Implementing international transit hub through TTMC
Follow and connect with us on Facebook, Twitter, LinkedIn, Elets video