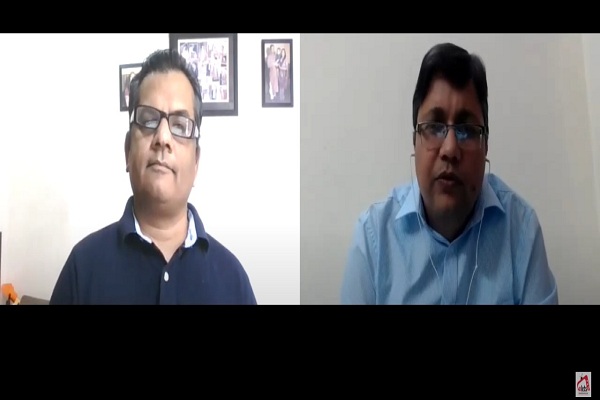 Smart Cities Mission is one of the most ambitious missions launched by the Government of India. Also, under this mission, the technological infrastructure in the country developed manifolds. The concept brought in smart usage of IoT, IT, m2m and more such technologies strengthening the governance system on the whole. Moreover, as witnessed recently, the tech has been an enabler for the governments during the time of COVID crisis. Throwing light on the significance of smart technologies in making the cities more disaster-ready and improving civic infra as well as municipal services, Ajay Gupta, Global Head – Smart Cities and IoT, Tech Mahindra Ltd addressed a webinar organised by Elets Technomedia.
Speaking on the role of Tech Mahindra in the execution of various smart city projects, Gupta said, "We have installed one of the largest waste management projects covering 2,76,000 households in Jabalpur."

Tech Mahindra has worked with more than a dozen of smart cities, he added.
Adding on Gupta said, "We have five projects ongoing – Kanpur is already in the operation and maintenance phase. We have installed as many as 10,000 smart meters in Pimpri Chinchwad and there are many such projects with Jaipur Development authority and more cities."
Role of Smart City intervention in times of COVID
Speaking on how smart city interventions have been used to tackle the Corona crisis, Gupta said, "Kanpur and Gandhinagar are the two of many smart cities which have converted their ICCCs into a COVID-19 war room. The call centre application in the ICCCs are helping for assistance to people, smart technologies are being used to track, trace and monitor the situation, delivering of essentials, telemedicine, citizen querries, live video feeds from thousands of cameras for monitoring people movement and these smart cameras give alerts to police for action, etc. are a few of the numerous work that cities are doing through ICCCs to tackle COVID crisis." ICCC is the only place for various civic department to come together and manage the city centrally, he added.
Elaborating on the topic he said, "We have developed dashboards and AI-based analysis enabled data system which helps in tracking trends of the pandemic." For working in such a time of crisis, the company took special permissions from the city commissioner and CEOs of the smart cities, he added
Highlighting the example of Pimpri Chinchwad, Gupta said, "For Pimpri Chinchwad, we were asked to convert the ICCC into a war room. We were given a few days in which we worked…We made special arrangements for our staff accommodation and other facilities near to the ICCC building to minimise the movement."
Further speaking on the technology being enabler for the authorities, especially in times of crisis, Gupta said,  "There are smart cameras which send alerts. There are thermal cameras which can help in fever screening that can be used in hotels, and other buildings to monitor if someone has a fever and an alert can be sent automatically. Various types of AI and analytical tools are also helping. We can do predictive modelling."
Taking the discussion forward on smart cities, Gupta quoted Durga Shanker Mishra, Secretary, Ministry of Housing and Urban Affairs (MoHUA) saying, "ICT technology experience should be experienced to all the big cities."
He raised a very significant point on making villages smarter. Gupta said. "60 percent of India still lives in villages and we have full-fledged programmes to develop smart villages. Mori in the state of Andhra Pradesh is the first smart village in India and Tech Mahindra was involved in making it smart."
The Way Forward
When asked about the way forward, Gupta said, "The countries like ASEAN member countries, Middle East countries and Africa countries are coming up with similar smart missions. These countries can learn from our experience."
Concluding his address he briefed on how Tech Mahindra has been actively working for making Indian cities smarter. Gupta said, "TechMahindra is the only IT organisation which is doing smart cities. Smart solutions are very complex implementations and you need to have a number of ethnical blocks that come together and work in tandem. And, we have an expertise in these tech blocks. Giving his ending notes he highlighted, "Smart cities and ICCC have proved their significance. I will not limit it to India but other cities outside India can also be helped by us to smarten."