Myanmar is the largest country in mainland South-east Asia, sharing borders with around 40% of the world's population. The country is connected to the world through at least three international airports, border roads and waterways, and efforts are on to improve the infrastructure further as more and more tourists are visiting this fascinating country with every passing year.
Myanmar is the northernmost country of Southeast Asia, sharing its borders with China in the north and northeast, Laos in the east, Thailand in the southeast, Bangladesh in the west, and India in the northwest. Myanmar slopes from north to south, from an elevation of 19,296 feet (5,881 metres) at Mount Hkakabo (the country's highest peak) in the extreme north to sea level at the Irrawaddy (Ayeyarwady) and Sittang (Sittoung) river deltas.
Air Connectivity
The best way to enter Myanmar is through the country's three international airorts — Mandalay International Airport, Yangon International Airport, and the newest airport in the capital Naypyidaw. The airport at Mandalay is Myanmar's biggest, while the one at Yangon located far in the south, is older and offers better international connections than its northern rival. The Naypyidaw airport is right in the middle of the country, and a fourth international airport, Hanthawaddy, is currently being built in the Bago region and is scheduled to be completed in 2022. Core routes such as Yangon to Mandalay and Yangon to Bagan have frequent, direct services; the number of direct flights between Yangon and Naypyidaw is also increasing. However, some internal flights work on a fluid schedule – many operate on circular routes, stopping off at different airports.
Railway
The rail system services a large area of the country with the main routes being between Yangon and Mandalay, Kalaw, Pyin Oo Lwin and Hispaw. The Yangon-Mandalay-Myitkyina railway is the main artery, and from it there are branchlines connecting the northern and central Shan Plateau with the Irrawaddy. Other branches run from Pyinmana across the Bago Mountains to Kyaukpadaung and from Bago to Mawlamyine to Ye. The Pyay-Yangon railway has a branchline crossing the apex of the delta to Hinthada and Pathein (Bassein).
Road System
Roads connecting the major centres are good, however as you leave these areas the quality varies. Historically, the road system until independence was confined to the Irrawaddy and Sittang valleys, duplicating the railway route. A road goes from Pyay along the Irrawaddy to the oil fields, and many roads extend into the rural areas. These rural roads, however, are often impassable during the wet season. There were originally three international roads in use during World War II: the Myanmar Road from Lashio to Kunming in China; the Stilwell, or Ledo, Road between Myitkyina and Ledo in India; and the road between Kengtung, in the southeastern Shan Plateau, and northern Thailand. These roads subsequently became neglected but more recently were rebuilt and extended.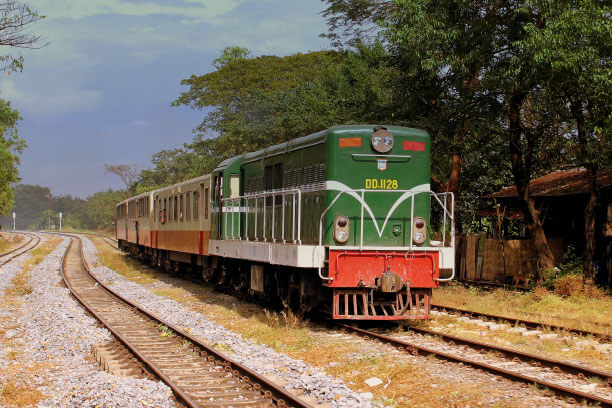 Ports
Yangon, as the terminus of road, rail, and river-transport systems, is the country's major port, with up-to-date equipment and facilities. Pathein, Mawlamyine, and Sittwe are also important ports.
Also Read: Myanmar- The Golden Land
Visa Requirements
The Government of Myanmar controls travel to, from, and within Myanmar. To enter Myanmar, you must have a valid passport with at least six months remaining validity and a valid visa. You should apply for your visa at a Burmese embassy or consulate abroad before you arrive in Myanmar. Overland entry is permitted with valid visa for international visitors at designated check points along Thailand-Myanmar border. Prior permission is required for package tour travellers at ChinaMyanmar border and India-Myanmar border.
The entry visa to Myanmar is applicable at Myanmar Embassies and Consulate General Offices abroad and it is valid for 28 days, extendible for an additional 14 days.
Also Read: India-Myanmar a progressive partnership
A Myanmar visa allows a stay of 28 days, extendible up to 12 months on a case-by-case basis. Visa on Arrival is granted on prior arrangement with the Ministry of Hotels and Tourism.
E-visas are available for citizens of 100 countries who can apply online via Myanmar's Ministry of Immigration and Population website. Generally, an e-visa is issued within five working days and it costs around $50 per person with a validity of 28 days. However, travellers on e-visa can enter Myanmar only through Yangon, Mandalay and Naypyitaw international airports; and at three Thai-Myanmar land border crossings: Tachileik, Myawadi (Myawaddy) and Kawthoung (Kawthaung).
Follow and connect with us on Facebook, Twitter, LinkedIn, Elets video