Myanmar, for many outsiders, is a forgotten place, a land where little ever changes. But this country of some 55 million people is warily but determinedly opening up to the world.

Endowed with abundance of natural resources — arable land, forestry, minerals, natural gas, oil, freshwater and marine resources, gems and jade — Myanmar is the world's 40th largest country situated in Southeast Asia, bordering the Andaman Sea and the Bay of Bengal in south. Owing to its strategic location, Myanmar serves as a bridge between India and China, as well as SAARC countries and ASEAN countries. The country is bordered in north and northeast by China, in east by Laos and Thailand, in west by Bangladesh and the Indian states of Nagaland, Manipur and Mizoram. Previously an independent kingdom, Myanmar (then called Burma) was annexed by the British Empire into the colony of India in 1886. The occupation brought social, economic, cultural and administrative changes to the oncefeudal society. The Japanese Empire invaded and occupied the country during World War II but it was returned to British control until independence in 1948.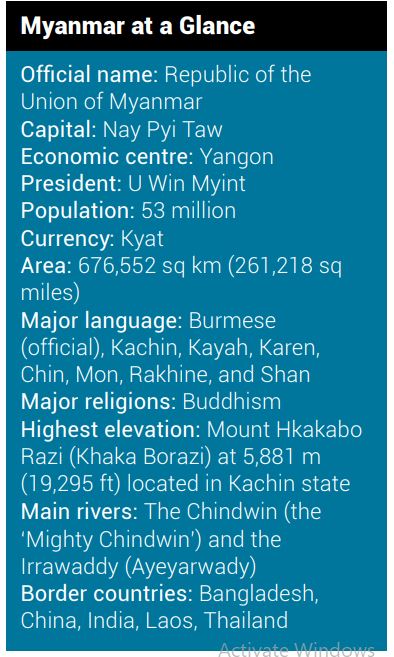 Myanmar, for many outsiders, is a forgotten place, a land where little ever changes. But this country of some 55 million people is warily but determinedly opening up to the world. After ruled for nearly five decades by a military regime, the country is changing rapidly, and may possibly be entering its most optimistic period of reforms in decades. Asian investors from China, India, Thailand, South Korea and other nations are pouring capital into Myanmar, which has rich reserves of oil, gas, and other natural resources. This renewed interest could finally help the country develop. Myanma's priority sectors for investment include agriculture, tourism, health, education, energy, and banking and finance.
Myanmar is crucial for connecting India, China and other ASEAN countries. The country is surrounded by some of the most populated countries in the world which together account for about 41 percent of the world's population.
Myanmar is a lower-middle income economy with a GNI per capita of US$1,210 in 2017. According to World Bank's 'Poverty Report', the proportion of Myanmar's population living under the national poverty line halved from 48.2 percent in 2005 to 24.8 percent in 2017. The reduction in poverty is visible in both rural and urban areas, but has been faster in urban areas. Poverty depth and severity have also decreased substantially since 2005.
Administratively divided into seven States and seven regions, the country is at the crossroads of cultural, ethnic and religious influences from China and India. The rich and diverse cultural assets, both tangible and intangible heritages, especially those closely related to religious practices, exemplify the co-existence of past and modern way of life. Myanmar is perhaps alone in East Asia, where men still wear traditional dress—longyi sarongs—and women wear thanaka, a chalky paste made from bark and applied to the face as a natural sunscreen.
Tourists from across the world see in Myanmar vestiges of the slower, seemingly more relaxed life common four decades ago in Thailand or Singapore. They are often seen relaxing in open-air teashops, spending hours sipping warm green tea and eating samosas and mohinga noodles beneath a skyline of goldencrusted temples and crumbling colonial facades. The bookstalls in central Rangoon, selling tattered copies of old Penguin classics, attract far more interest than similar stalls in wealthier neighbors like Thailand.
Mandalay, the last seat of Myanmar's monarchy, was until recently a forlorn town. But today, central Mandalay has massive shopping malls dominate its skyline, surrounded by new hotels and coffee shops catering to tourists and businessmen. Today, tourists are flocking not only to bigger Myanmar cities but also to the lesser known cities and regions, transforming the South Asian country, which still has almost 50 percent of its area under forest cover, at a rapid pace. China has proposed a high-speed rail line to connect it to Myanmar's coast, and has started to revive the old "Burma Road" from World War II, a decaying link across the north.
Having a rich history stretching back to times of Pyu dynasty which prospered for a 1000 years from 200 BC to 900 AD; a rich diversity of its numerous ethnic groups, languages, fairs and festivals; and splendid religious and spiritual sites, Myanmar is among the last countries of Asia awaiting to be revealed to the travellers of the world.
Follow and connect with us on Facebook, Twitter, LinkedIn, Elets video