Rajasthan Skill and Livelihoods Development Corporation (RSLDC) as a nodal agency for skill development and livelihood activities in the state is fully geared up in its skilling initiatives in a bid to achieve its target of skilling the youth to fit into emerging market scenario by building a skilling system that embraces changing demands of employment market, writes Vivek Ratnakar of Elets News Network (ENN).
Rajendra Prasad Meena, who is from a small village called Tapilya in Sikar district of Rajasthan, could not afford to go to a college due to financial constraints. His father is a daily wage labourer, who struggled hard to make ends meet. But Rajendra was determined to improve the financial situation of his family. "I decided to do something to improve my family's financial and social condition. Coincidentally, Rohitash & Hari Sir from Safeducate Pvt. Ltd., a Skill Development Centre being run under the Deen Dayal Upadhyaya Grameen Kaushalya Yojana (DDU-GKY), Sikar came to my village and explained us about its training programme," says Meena. The decision to join the training programme proved to be life altering experience for him. "After completing the programme, I got selected in FedEx Pvt. Ltd. as an Operations Assistant which helps me earn over Rs 15,000 per month," he says with pride underscoring how he has not only improved his family's financial condition, but also helped him gain respect in the society.
Rajendra Prasad Meena's story is that of hope and courage; of dreams becoming a reality; and of the rise of Rajasthan on the back of positive social and economic transformation enabled by Rajasthan Skill and Livelihoods Development Corporation (RSLDC).
However, looking at the efficacy of interventions designed by RSLD only in terms of job creation and skill development for individuals would be a folly, for the Corporation's programmes have been successfully churning out entrepreneurs who are critical in helping India's cause of economic growth and development for all. Take for example, the case of Varsha whose father works in a bangle factory as a labourer and earns Rs 7,000 per month, while her mother sells vegetables to support the family. Varsha joined as a Computer Faculty & Centre Coordinator at Karni Computer Centre, Nagaur, after completing her training as a documentation assistant in 2017. She learned how to manage a computer centre and saved some money to start her own computer centre. She took her life's biggest decision to quit her job after one year and laid the foundation of her venture named Tulsi Computer & Emitra. Her sister helped her with a working capital of Rs 50,000, which was loaned by Uco Bank.
Starting her computer training centre in a rented accomodation with six computers, today Varsha has hired another girl at Rs 7,000 per month to support her in the business. Varsha is strengthening her business by reinvesting her earnings, and has emerged as a shining example of what a girl can achieve if given the right direction and support.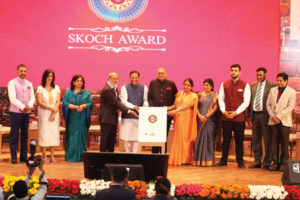 There are hundreds of such stories to share from across Rajasthan — thanks to RSLDC which is driving the youth of Rajasthan towards realising their own potential through skilling and making them employable. "Today's youth are fascinated by government and corporate white collar jobs and shun blue collar jobs. The time has come to acquire new skills and keep an open mind to new approaches in the various job sectors so as to develop and evolve today's youth. We are living in an ever changing world. Skills that worked in the past may not work in the future. To continue to succeed, reskilling, learning and adapting should become a continuous process," says Ashok Chandna, Minister of State for Skill, Employment and Entrepreneurship; and Minister of Youth Affairs and Sports (Independent Charge), Government of Rajasthan.
His thoughts sum up the vision with which Rajasthan is moving towards empowering the youth to reap the benefits of demographic dividends India has today. "Rajasthan government's aim is to create quality and productive employment opportunities for the youth, because it is not just for the economic benefit that youth must be skilled, there are social reasons too. Moreover, India is turning out to be a high growth market – which will generate employment in a big way, and with the ageing world population, young India has an opportunity to be the global supplier of manpower. The Central Government's Ministry of Skill Development and Entrepreneurship, too, has projected a total human resource requirement of 103.4 million people between 2017 and 2022," Chandna adds.
Department of Skills, Employment and Entrepreneurship (DSEE) and RSLDC are leaving no stone unturned to achieve this by way of proper coordination of all skill development efforts across the State, building the vocational and technical training framework, skill up-gradation, building of new skills, and innovative thinking not only for existing jobs but also jobs that are to be created.
Naveen Jain, Secretary, DSEE and Labour Department; and Chairman, RSLDC, says that "the aim is to make Rajasthan the future skill State of the country. We believe 'skill education' has the ingredients to change the future of the country". Recognising the existing skill gaps, he adds that every year hundreds of youth are churned out of the formal education system with only a formal degree to boast of. "They lack the practical know-how –– skilling. We need to inculcate learning, knowledge and employability factor in the formal education system. In a scenario of plenty of discussion on the new technologies like Artificial Intelligence (AI) and robotic we should not forget that at the end of the day we will need a qualified person to operate these machines."
According to a Nasscom report, about 40 percent of India's total workforce has to be re-skilled over the next five years to cope with the emerging technology trends like AI and machine learning.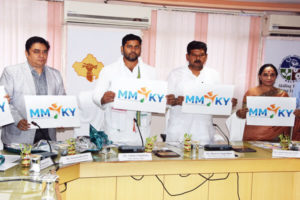 In view of the paradigm shift happening in skilling space, Rajasthan has been spearheading the efforts to actively implement strategies to address the challenges of unemployment, says Dr Mukta Arora, DGM, RSLDC. "Way back in 2004, recognising the dire need to bridge the gap between demand and supply of skilled manpower and improve employment prospects, Rajasthan became the first state in the country to launch a skill mission with the creation of the Rajasthan Mission on Livelihoods (RMoL)."
In 2015, for an effective integration of various skilling units — Industrial Training Institutes (ITIs), Employment Exchange and RSLDC, — under one umbrella, the Department of Skills, Employment and Entrepreneurship (DSEE) was formed. Rajasthan was also the first State in the country to establish a 'Government Skill University".
RSLDC as a nodal agency for skill development and livelihood activities is fully geared up in its skilling initiatives in a bid to achieve its target of skilling the youth to fit into emerging market scenario by building a skilling system that embraces changing demands of employment market.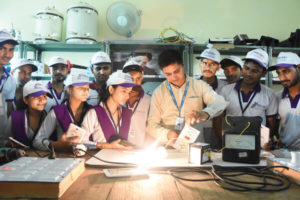 The efforts put in by RSLDC in promoting skill development have not gone unnoticed. The State has won the 'Skoch Platinum Award' for Best State in Skill Development for two consecutive years – 2017 and 2018. Rajasthan also held ASSOCHAM Gold Trophy for Best State in Skilling for three consecutive years – 2015, 2016 & 2017 – and ASSOCHAM Diamond Trophy for Best State in Skilling in 2018.
To leverage the job opportunities arising, RSLDC is also actively engaging with Sector Skills Councils (SSCs), industries, and other stakeholders to improve various aspects of skill development such as improving the quality of training, speeding process of certification and assessment and understanding the emerging job trends.
According to Naveen Jain, in retail sector there are plenty of employment opportunities, as shopping mall are rapidly on the rise in Rajasthan. He also says that other sectors like IT and ITes, and security services are generating lot of opportunities for new talent. Moreover, the e-commerce segment has also created lot of demand for jobs.
Also Read: Rajasthan: Well on its way to boost Skill, Employment and Entrepreneurship
The way forward, Jain says is the need of private players playing greater role; a robust entity in place to regulate the entire skilling ecosystem; and greater incentives for employers to take skilling to the next level.
"You need to slow down to speed up. You need to build yourself an integrated platform that works when you are not working. Leveraging your knowledge and reducing time spent to do such is the key to success," he advises.
Follow and connect with us on Facebook, Twitter, LinkedIn, Elets video