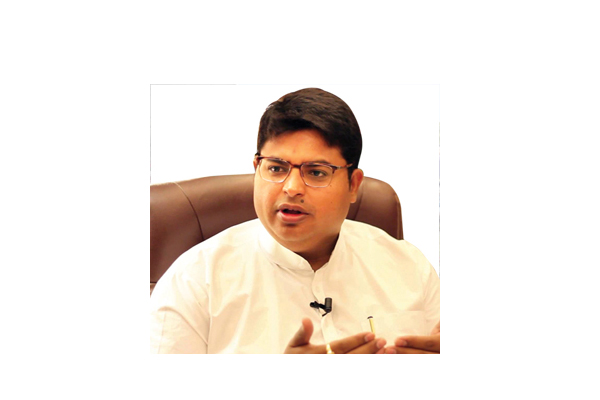 Attaining relevant skill sets will help the youth of Uttar Pradesh to get most suitable jobs for them. With the help of a good number of training providers, the State Government is trying to skill every boy and girl of the state, primarily in rural areas, says (Prof) Abhishek Mishra , Minister for Skill Development, Government of Uttar Pradesh, in conversation with Arpit Gupta of Elets News Network (ENN) .
Uttar Pradesh is the first state to launch its skill development policy. It is the largest state in terms of population and youth unemployment is a major problem. What steps are being undertaken to improve the situation?
The policy helps them in getting employment through attaining skills. At the moment, less than 4% of labour class in the state is skilled. Once they will attain skills, we help them being placed in the organisations that are relevant to their skill sets and relevant to the job sets needed locally.
Give an overview of skill development programme of UPSDM.
The scheme was launched on February 20, 2014. The Uttar Pradesh Skill Development Mission (UPSDM) is the brainchild of our Chief Minister. The idea behind setting up UPSDM was to impart professional training in different trades to the unskilled youth of the state. Despite the larger population of youth, there is a huge amount of unemployment across the state and the prime reason of unemployment is lack of professional knowledge in them. Under UPSDM, Uttar Pradesh government has identified 52 sectors to imparting training through over 600 courses make the lives of youth better by ensuring them livelihood.
Introduction of skill programme received an overwhelming response with nearly 45 lakh students enrolled, what was the selection criteria?
There was no special criteria to get selected except that students were selected based on their skill sets. It helps the students to get training in their interest areas.
What is the skill set that you are providing to the enrolled students?
We are providing skill training through more than 600 courses across any sector that you can think of. Right from stitching and sewing the students are provided training under all possible skill sets to refine and enhance their talents.
What are the policies and strategies for Vocational Education and Skill Development being followed in Uttar Pradesh?
The Uttar Pradesh government decided to transform the existing skill ecosystem to enable youths to choose and acquire skills of their choice. It also will help the industries to get skilled manpower as per the requirement.
To synergise efforts and resources, the Uttar Pradesh Skill Development Mission was created to bring all skill development training programmes on a standard platform. Earlier, most of the schemes were being implemented by different departments and they were not in a position to run them in a uniform manner, as required by the industry. Establishing UPSDM helped in synchronising the training programmes with the needs of the industry.
What is the role of ITI in skill development? What is the current situation of ITIs in the state?
Apart from the UPSDM, the department has great focus on the existing ITIs. Around 2,000 crores were spent in the last four years to improve the ITI system. In a span of less than three years, capacity of ITIs has been increased by 2.5 times. From 46,000 seats in ITIs two and a half years back, this year, admission has taken place on 1,00,500 seats. We used to have roughly 200 ITIs and opened 80 new ITIs in the span of four years. We have been able to give more than 100 IT labs and 150 new workshops to these ITIs. This has actually created a huge impetus in the system.
Once people get trained or skilled, there will be two thought processes: one will be going for a job and the other one will be to go out and create jobs. We are exposing students who are doing our courses to 'Art of Entrepreneurship'
Are there only government- training institutions providing training to the students?
There are private training providers as well. There are more than 200 private training providers for the students and multiple flexible MoU partners like Samsung, LAVA Mobile, Maruti, Cafe Coffee Day, Javed Habib etc. The government is working with all of them.
How 'Uttar Pradesh Skill Development Mission' is aligned with Government of India's 'Skill Development Programme'?
UPSDM is Uttar Pradesh Government's Programme but ultimately the idea is the same. The intention of every state government and the union government of India is the same that every boy and girl gets skilled and trained in a particular vocational activity so that they are employable.
Where does skill development fit in the development agenda of the UP government? 
Skilled work force can only help industry of a state and its economy to grow rapidly but there is a huge deficit of skilled manpower in every industry. In fact, a large number of youths are available in Uttar Pradesh and proper training will not only supply skilled work force across the state but also across the country. After completing the training, the state government will also help them in getting relevant jobs in government and private companies as per the skill sets of youth. UPSDM is focusing on wage employment as well as promoting entrepreneurship, depending on sector specific requirement.
Skill development is one part and entrepreneurship is another part. What are your plans to encourage entrepreneurship?
The idea is that once people get trained or skilled, there will be two thought processes: one will be going for a job and the other one will be to go out and create jobs. We are exposing students who are doing our courses to 'Art of Entrepreneurship'. We are getting GM of District Industries Centres (DICs) and eminent persons from MSME sector to come and talk to the students. We are getting bank managers to come and talk to them about what financing options are available, what processes are involved in get – ting a loan, how you can write a business plan and so on. After getting skilled, some will go for job and some will go for entrepreneurship.
Also Read: Strengthening Skilling Avenues for Youth in Rajasthan