Among the Indian states, Rajasthan is considered as the perfect potpourri of a rich cultural heritage, offering glimpse of modernity, Kartik Sharma and Ahmad Shariq Khan of Elets News Network (ENN) take a close look at what makes this State one of the most preferred tourist destinations.

Home to numerous attractive destinations, coupled with a world-class hospitality ecosystem favouring tourism, being actively promoted by the State Government, Rajasthan today tops any domestic or international tourist's wish list. Since time immemorial, Rajasthan, the land of majestic Aravali Hills, has been regarded as the land of kings, palaces, valour and sacrifices. Rajasthan derives its name from "Rajah" "Sthana", which literally means home of Kings, and it truly is.
Tales of battles fought and romance of the riches adorn every wall, folklore or literature of the state. The present state of Rajasthan today comprises 33 districts, which is effectively a union of 22 former princely states. Located in the northwestern part of India, the State is spread over 3,42,239 sq.km area, making it geographically the largest State in the country, encompassing around 11 per cent of the total geographical area of the country.
One could gauge the sheer vastness of its size if its area is looked at in comparison to that of some of the western countries such as that of Italy (3, 01,200 sq. km.), Norway (3, 24,200 sq. km) or of Poland (3, 12,600 sq. km.) The State's topography is such that it mainly comprises three regions, namely, the Aravali hills range, the Great Indian Thar Desert and the Eastern part of the state. It can be said that Rajasthan's topography is a potpourri of the sandy deserts and abundant flora and fauna. Rajasthan – A Unique Tourism Landscape Rajasthan is a land of great beauty and diversity. From the Thar Desert in the west to the fertile southeastern plains, Rajasthan's topography too shares this diversity.
The State is home of brave Rajput warriors. Rajasthan is today popular for its vibrant culture, from the lively folkdances to the many schools of Indian classical music. The customs and traditions, fairs and festivals, handicrafts, art and music reflect the very broad spectrum of the Rajasthani culture where much of the Rajasthani thought, philosophy and culture are being reflected across the nook and corner of the State. That's the reason why the main hotspot destinations of State such as Jaipur, Jodhpur, Udaipur, Mount Abu, Bikaner, Jaisalmer, Chittor, Bharatpur and Alwar are hugely popular among tourists. The rich tourist attractions of Rajasthan includes numerous forts and palaces, monuments and structures, lakes and mountains, sand dunes and desert beauty, national parks and wildlife destinations.
Even the cities and towns of Rajasthan are worth exploring. The State is known for its diversity in terms of natural resources, cultural heritage, historical as well as archaeological wonders and rare flora and fauna and particularly, the wildlife. The forts and palaces, heritage hotels, colourful fairs and festivals, local art and handicrafts have been a unique selling proposition for tourists coming to the State. The desert environment in the western parts of the State is also a major attraction for visitors, particularly for foreign tourists. There are good reasons to believe why tourism in Rajasthan is being accorded the priority it deserves. No wonder why Rajasthan is called the "Designer State" as far as tourism on national map in concerned.
This is mainly because of its people, culture, cuisine, costumes, clothes and its numerous traditional art forms. The Chief Minister of Rajasthan has rightly declared tourism as one of the key area of economic development and termed this sector as the "Hope Sector" for Rajasthan. The state' colourful canvas of culture is best described in the words of Hon'ble Chief Minister Vasundhara Raje who describes the land of Rajasthan as "a colourful melange of massive forts, stunning palaces, diverse cultures, delectable cuisines and warm people, set amidst a rugged yet inviting landscape".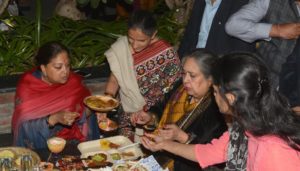 Calling it a land that has inspired her, the Hon'ble Chief Minister of Rajasthan describes the unique terrain of the state as: "Come tread on the sands of time. In Rajasthan, you will find every hue in Nature's grand palette – the red sands, the blue of royalty, the pink cities or the amber sunsets. Surrender yourself to the sounds of trinkets or the sounds of the all conquering wind. Sight and sounds that are far removed from any city. Sights and sounds that will transport you into a folk lore."
We could not agree more! Rajasthan and tourism closely interwoven Thanks to the proactive role and enabling environment provided by the State Government, tourism industry in Rajasthan is a flourishing industry and a force to reckon with. The sector, besides contributing around 15 per cent to the economy of Rajasthan is an important foreign exchange earner for the State that also contributes to the promotion of local handicrafts and artisans and infrastructure development of the State.
Not to forget, Rajasthan also forms part of India's golden triangle, a popular tourist circuit which connects the national capital Delhi, Agra and Jaipur, making it one of the most preferred tourist destinations, particularly for global tourists. The second largest city in Rajasthan, Jodhpur is among the top 10 preferred destinations that travellers have on their wish lists for the upcoming year, a recent study has revealed. Various studies undertaken by the State have shown that tourism is said to have a significant multiplier effect on the state economy as it not only increases employment opportunities, generating revenue, developing infrastructure, increasing investment opportunities but also revives traditions and heritage conservation. It is estimated that every rupee spent by a tourist changes hands 13 times and that every hotel room generates direct employment to three persons and indirect employment to eight persons. Not surprisingly, tourism is the third largest employer after agriculture and textiles in the State.
The state government is actively pursuing a pro-tourism policy aimed at bolstering the sector and in recent times, has introduced many unique schemes to help the sector flourish hassle-free and realise its full potential. In recent times, efforts initiated by Department of Tourism (DoT), Rajasthan Tourism Development Corporation Ltd. (RTDC), Rajasthan Institute of Travel and Tourism Management (RITTMAN) and many other organisations have reaped great rewards for the State's tourism sector. Further, in addition keeping a thrust on tourist-welcoming schemes such as "Padharo Mhare Desh" meaning "Rajasthan Invites You", coupled with Rajasthan tourism's new captivating (and quite successful) marketing blitzkrieg Campaign titled 'Jane Kya Dikh Jaaye', the State of Rajasthan can be said to have successfully established the identity of Rajasthan as the land of the wonders, thereby creating effective buzz in the minds of tourists who, going by the recent numbers, have only grown manifold.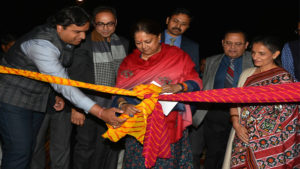 "Our marketing strategy to overcome the challenges has been to promote Rajasthan's offering beyond what is already known through media and influencers; digital and social media campaigns; effective PR and on-ground activation. The coordinated effort enables us to bring to life different and new experiences in Rajasthan, from the individual prospective of travellers and explorers enchanted by Rajasthan," says Pradeep Kumar Borar, Special Secretary and Director Tourism, Government of Rajasthan.
Going forward, the major new dimensions for the advancements of tourism being explored include, improvement in transportation network by rail, road and air connectivity, increase in fund allocation to tourism sector and free loans to tourism projects, human resource development, increasing private sector participation, preservation of rich heritage palaces, and encouraging new area of tourism such as meetings, incentives, conferences and exhibitions (MICE) tourism, rural tourism and adventure tourism, among others. The Key Attractions There are many tourism-related offerings that the State offers.
These include its majestic forts and palaces, safari tours, wildlife sanctuary parks, heritage and pilgrimage places, beautiful lakes and rivers among its other countless unique cultural products such as folk music, Traditional dance forms and puppetry etc. The list simply goes on and on.
Key Marketing Initiatives being promoted
1. Increased focus on International Marketing: In 2017-18, Rajasthan tourism facilitated participation of about 30 tour operators and hoteliers to take part in five international travel marts (TOPRESAParis, ITB- Singapore, WTM- London, FITUR- Madrid and ITB- Berlin). This year already more than 80 participation request from travel trade have been received in Tourism Department to facilitate participation in these marts. Based on the input received from travel trade this year, the State Tourism Department is said to have included JATA-Tokyo and Pure Experiences- Marrakesh in its annual plan.
Further, the Tourism Department has also added many niche cultural events to annual calendar, some of these are:
Rajasthan Heritage Week, Jaipur in October
The Sacred Festival at holy Pushkar held in October
World Music Festival held in Udaipur from in February
Jaipur Photo Fest in February
2. Revamped Traditional Fairs & Festivals: The State's traditional fairs and festivals are very popular both within and outside India. In recent times, the Tourism Department had joined hands with many private players to scale up its festivals. Some noteworthy fairs and festivals include:
Pushkar Fair held in Oct/Nov
Camel Fair Bikaner- held in January
Desert Festival' Jaisalmer held in January
Braj-Holi Festival in Bharatpur in February
Dhulandi (Holi) Festival in Jaipur in March
Mewar Festival in Udaipur in March
Gangaur Festival in Jaipur in March
• Rajasthan Foundation Day celebration organised as Rajasthan Festival in Jaipur and all over State in the month of March has become very popular among tourists.
• Jaipur Lit- Fest supported by Rajasthan Tourism, and popularly known as JLF is held annually in Jaipur in the month of January. It has now become iconic and global event. This year, the State's Tourism Department is taking JLF abroad to London and Boulder (USA).
• Mountain Echoes Literature Festival Thimphu (Bhutan) – This will take place on 22-25 August 2018. The State's Tourism Department has been supporting this literary festival for so many years now.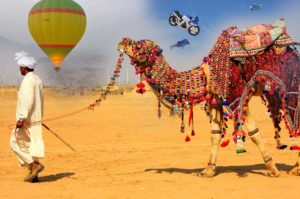 3. Preserving and Showcasing of State Heritage: The State Government is also keen to revamp museums which have a vast repository of literature, rare manuscripts and other attractions of heritage value. The State Tourism Department has renovated the museums at Sikar, Pali, Jaisalmer, Bikaner, Ajmer and Bharatpur. Work at Museums in Kota, Chittorgarh, Jodhpur, Jhalawar, Alwar, Ahar (Udaipur), Dungarpur, Mandore (Jodhpur), Shahpura, Viratnagar, Jaipur (Albert Hall) and Chandrawati will also get completed shortly.
4. Luxury Trains: Renovated 'Palace on Wheels' is doing good business in current year. Its recent year-wise occupancy clearly depicts the pace and direction of its progress:
Occupancy in year 2016-17: 41 per cent
Occupancy in year 17-18: 60 per cent
Occupancy in year 18-19: 80 per cent
forecast estimates Familiarisation (FAM) trips – Worth mentioning is, in recent times, the State Tourism Department has hosted numerous international bloggers, event managers, Royal Rajasthan Team players and foreign travel agents from Delhi to Jaipur on these trains.
5. Wildlife Parks and Sanctuaries: Rajasthan is a richly endowed state with the natural heritage of diverse flora, fauna and numerous scenic landscapes. At present, the state boasts of: 3 Tiger Reserves 3 National Parks 26 wildlife sanctuaries and 10 conservation reserves housing bountiful biodiversity in the form of hundreds of species of micro and macro flora and fauna. In recent years, the state has taken huge strides in conserving its natural wealth. Ranthambore Tiger Reserve commands the major share of wildlife tourism in the State.
However, due to increasing tourism pressure beyond the carrying capacity of the park, a new Tiger Safari park will be established at Amli near Ranthambhore tiger to divert tourism.
Sariska Tiger Reserve in Alwar and Mukandara Hills Tiger Reserve Kota, are two other prominent Tiger Reserves.
Jhalana Leopard safari park is operational in Jaipur.
Also, a Lion Safari is under construction at Nahargarh at an area of 36 hectares with a cost of Rs 4 crores.
National Chambal Ghariyal Sanctuary and Sam sand dunes in Desert National Park, Jaisalmer are also being developed as tourism destinations.
Presently, Sitamata Sanctuary, Raoli Tadgarh, KumbalGarh Sanctuary, Kela Devi Sanctuary and Mt Abu Sanctuary and Ranthambore are envisaged in the proposed heritage and spiritual tourism circuits.
Similarly, Jawai dam in Pali, Tal Chhapar in Churu and Van Vihar sanctuary in Dholpur, Bansiyal Khetri Conservation Reserve in Jhunjhunu, etc, are also being developed.
6. Ecotourism: With a view to attract more and more nature lovers in the State and also laying down the framework for sustainable growth pattern in the State, Rajasthan was one of the first States to formulate its own Ecotourism Policy way back in 2010. Under this, nine ecotourism sites have been developed at:
Menal (Bhilwara), Bassi
Sitamata (Chittorgarh)
Pachkund (Ajmer)
Sundamata (Jalore)
Gudha Bishnoi (Jodhpur)
Sorsan (Kota)
Harshnath (Sikar) and few other sites spread across the state.
To promote ecotourism and ex-situ (preservation of components of biological diversity outside their natural habitats) and for conservation of wildlife, three biological parks have been opened for general public.
These are at:
Machia
Nahargarh
Sajjangarh Further, work is in progress in two more Biological parks:
Abheda Biological Park, Kota
Marudhara Biological Park, Bikaner
An elephant ride at Amber is major tourist attraction in Jaipur. To further boost this segment, Hathi Gaon (Elephant Village) near Amber has been created with the dual purpose of rehabilitation of Elephants in Jaipur and to attract tourists. Certainly, under the dynamic leadership of Hon'ble Chief Minister of Rajasthan, the State's tourism sector has been flourishing by leaps and bounds. Yet there remain many untapped opportunities which the State government, together with various stakeholders, including private players has been actively exploring in recent times. This is evident from the repeated hikes in tourism budget by the State government. Further, bearing fruits of its unique, innovative and effective campaigns and marketing initiatives, Rajasthan has certainly managed to establish itself as a force to reckon with in country's tourism circuit and thus, be ranked among the top tourist destinations in India. Going forward, good days are certainly in store for this State, known as Potpourri of traditional and contemporary blend of what today's India signifies – traditional yet modern, coloruful yet quiet and serene (at times). Certainly, you have got all in Rajasthan. And as the State's tagline sums it aptly "Jane Kya Dikh Jaaye". Isn't it so?
Follow and connect with us on Facebook, Twitter, LinkedIn, Elets video