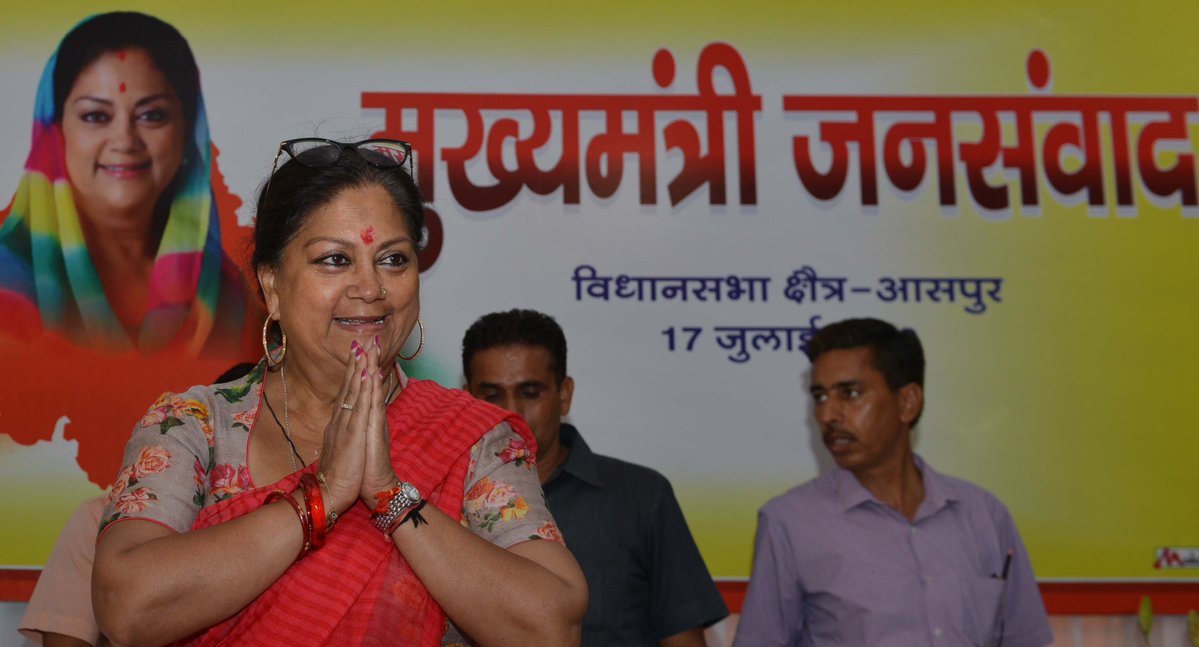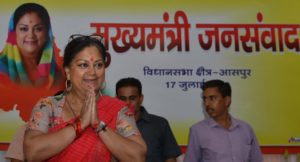 Working towards the objective of "Minimum Government, Maximum Governance", the State of Rajasthan has witnessed a paradigm shift in the governance management with IT being a key ingredient for the same, says Vasundhara Raje, Chief Minister of Rajasthan, in conversation with Kartik Sharma of Elets News Network (ENN).
Bhamashah Yojana has successfully achieved efficiency of benefit transmission via DBT and also promoted women empowerment in the state. Please tell us about the impact of Bhamashah Yojana on the person at the last mile.

The power of financial inclusion was writing on the wall way back in the mid-2000s. If you look back at our track record between 2003 and 2008, you will find that our government was serious that every household should have a bank account. It was then that the Bhamashah Programme was conceived – a bank account in the name of the woman head of family and a small seed money to get her started. It was then that the woman self-help group movement in Rajasthan became internationally renowned.
Bhamashah V-2 leverages the power of Jandhan, Aadhaar and Mobile Connectivity and is today India's largest DBT platform. We have become the first State to achieve direct transfer of benefits worth more than Rs 20,000 crores transferred directly to the bank accounts of more than 5.73 crore beneficiaries – a population greater than that of many countries. Bhamashah gives a family an identity and empowers women by strengthening her voice in financial decisions within the family. Bhamashah has been applauded and awarded far and wide.
Its impact is not just to be accounted in terms of money transferred but also in terms of leakages plugged and entitlements passed on with promptness and transparency.
Rajasthan has gone digital easing lives of common people. Please tell us more about this thought of developing a digital state and how did you make it possible.
Digital has been transforming the way we live for most of our adult life. When I was re-elected as Chief Minister in 2013, I dreamt of Rajasthan as a super power. Digital was the only way to engine economic and social growth. We took up as parallel exercises, the creation of digital infrastructure and communication backbones and at the same time, development of solutions that are effective and future proof. From security and safety of citizens to solid waste management and civic services; from financial management to decision support systems, we have tried to make digital an unalienable skeleton of governance in our state. Prosperity in Rajasthan today is defined by India's largest water conservation mission by a wonderfully vibrant start-up ecosystem, by transaction-based transfer of cash and non-cash benefits to crores of beneficiaries, by prompt disposal of public grievances. More than 51,000 Common Service Centres offer around 400 government and other services.
25,000 fair price shops have PoS Machines. Abhay Command and Control Centres monitor the State for ensuring safety and security of the residents. My Government not just accepted the challenge to transform Rajasthan as a developed State, but went ahead and made the state the Digital Leader of our country. We have been successful to create an integrated e-governance infrastructure, till the last mile and growing ten-fold faster than any other State of our country. Digital milestones achieved by our State are numerous and the statistics say it all. Digitisation has touched the remotest corner of Rajasthan, making us the technological hub of India. The task has just started. The future that we are looking at includes unimaginably higher degree of digital presence in governance and development. This is the least that we can do to ensure Rajasthan continues to be a leader in the digital space and ensures prosperity of all its residents. Today, an average Rajasthani, who by the way is a young person, has started to dream. His dreams are ours and I intend to bring them to life.
What is your message for the youth, women and common people of Rajasthan who are now entering into this digital era in the State?
Rajasthan is waking up to a new era of digitisation. With the support, hard work and dedication of Team Rajasthan we have been able to match step with Hon'ble Prime Minister Shri Narendra Modi's vision of Digital India Mission. We could not have made this happen without the support of my people. People of Rajasthan were very gracious to accept this digital transformation. They not only realised the importance of IT but also implemented it to ease their daily lives. The State initiatives would not have created such impact without acceptance of my people. Team Rajasthan makes us proud. I express my deepest gratitude to all the people of Rajasthan. They have accepted me, my ideas, schemes and my Government with open arms. Their vigour to break the barriers and enter the era of trying something new has given me the motivation to do something innovative for them. They have already given me two chances to serve my State and I am sure they will once again bestow me with the honour to serve my people. Mind it, the best is yet to be. I would also like to share that though we are the new Digital Leaders of the country, our journey doesn't end here. Every time a young mind imparts digital knowledge, or a woman accesses a computer or a common man avails government schemes digitally, the foundation of Digital Rajasthan is strengthened. So, my message to my people is — Rise in the new era of digitalisation and embrace technology.
What have been your initiatives for job creation in various sectors in the State?
The quality of Rajasthan's human resource is second to none. Entrepreneurship and innovations is in the DNA of the people of this State. We have been working hard to break the perception that jobs have to come from the government alone. I am proud to share that not only have we fulfilled our pre-election promise of creating 15 lakh employment opportunities but also have bettered it. The path we have taken was to give our youth the skills, the tools that make them employable since in our country, degree alone does not confer capabilities…Self employment has seen immense growth in Rajasthan and the Mudra Scheme alone has more than 44 lakh beneficiaries. The Bhamashah Rojgar Srajan Yojana too is an attractive self employment avenue. Our start-up ecosystem is showing great vibrancy and it too is a job creator in its own right. Rajasthan Startup Policy and platforms like iStart,Rajasthan Stack and Challenge for Change are providing a strong foundation to the youth.
These programmes are boosting sectors like IT, Education, Advertising, Service Industry etc. We have also introduced Bhamashah Techno Fund worth Rs 500 crores to encourage and support the start-ups. In the last three months, 50 start-ups have been funded. We have also launched Challenge For Change through which youths are given an opportunity to directly partner with the Government of Rajasthan without following the traditional tendering process and win contracts worth INR 1 Crore. We also organise multiple Job Fairs all across the State. The first mega job fair was organised during Rajasthan IT Day 2018 in Jaipur. Since then, Job Fairs have been organised in Kota, Udaipur and Sikar. More than 45,000 youth have participated in the job fairs and 10,000+ have received jobs from leading corporates. We will also organise Job fair in Rajasthan DigiFest Bikaner this month.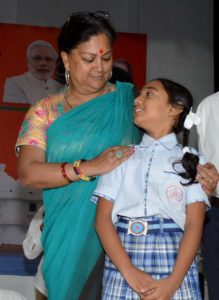 Please tell us about the Government's initiative(s) to promote and support Startups. While Jaipur remains the preferred base for most startups in the State, what other initiatives have you adopted for the Tier II cities of Rajasthan?
Start-ups are close to my heart and my intent is to not just support start-ups, but to empower them. Therefore, we've created an integrated Startup Platform iStart, first of its kind in India. I, along with my team have always strived towards transforming Rajasthan into a start-up hub. We have amalgamated innovation with digitalisation and technology to become the startup hub of our country. My agenda is to adhere the Startup India Mission initiated by Hon'ble Prime Minister Mr Narendra Modi and build a sustainable start-up ecosystem through which emerging entrepreneurs in the State can thrive, flourish and take over the world.
While creating the State's start-up policy, my focus was on crafting a growth-stimulating, growth-sustaining and investment-oriented start-up policy. Let me proudly highlight this, Rajasthan was among the first State to launch its Startup Policy in October 2015, merely two months after the launch of Startup India Mission. With the launch of iStart platform, my government is not only promoting entrepreneurship and innovation in the State but is also creating history by writing a new chapter in the State's start-up policy. In just a few months, more than 700 start-ups have become a part of iStart platform and are enjoying the infinite benefits offered by the government. Just launching an integrated start-up platform was not enough for me. I wanted to create a platform where when a startup knocks at our door, we can provide them with 360 degree support.
To further boost the startup paradigm, we also introduced Qrate – the only startup rating mechanism in the country, accepted by all leading VCs & investors; iStart Nest– the only centralised incubator providing free incubation to startups; Bhamashah Techno Fund of Rs 500 crores and Bhamashah Technohub, the largest incubation centre in the county with a capacity to accommodate 700 entrepreneurs. By introducing the most cohesive and supportive ecosystem for start-ups and budding entrepreneurs which include iStart, iNest incubation centre, Bhamashah Techno Fund and Bhamashah Technohub, my Rajasthan has locked its position as the top contender in the DIPP state startup ecosystem ranking index.
Prior to the launch of iStart platform, only a niche sector of society was availing opportunities like this, mostly from the private sector. Today, start-ups from all across the State, be it from the capital city or a small village near Jaisalmer are also aligned with iStart platform and are growing in leaps and bounds through the support of my government. I wanted to instill this belief in the minds of our youth that dream and dream big and me along with my complete team will work day and night to make your dream a reality. My aim to transform my State into DigiSthan can only be achieved if every resident is digitally empowered. Though
the journey of Startup Rajasthan commenced from cities like Jaipur and Kota, it has now penetrated till the last mile. We already have incubation centres in Jaipur, Kota and Udaipur and will soon be launching two more incubation centres in the State. Besides, the iStart Platform is wellknown to entrepreneurs from all across the State. Many startups belonging to smaller cities are now receiving mentorship from experts, meeting investors and VCs, getting funding and are receiving global exposure, all under the State's start-up policy. Growth is only possible when you have the backing of your people. Every resident of Rajasthan is contributing towards our growth and the government is taking everyone along.
The e-Mitra model has been appreciated at several platforms. Please tell us the key reasons for the success of this project.
When service delivery is now becoming a priority for the States across India, Rajasthan is already a groundbreaker, ensuring service delivery with over 51,000 nodes of e-Mitra thus extending the reach of Government till practically every doorstep of Rajasthan. The idea behind launching e-Mitra was to provide a wide range of citizenfriendly services of different departments (public and private sector) under one roof so that the citizens do not have to run around various departments. This has facilitated the Government's reach to citizens and ensured efficiency, transparency, and reliability in the system. e-Mitra is one of the most groundbreaking schemes of my government. During my first tenure as the Chief Minister of Rajasthan, I wanted my people to avail every government scheme and service that was launched for their benefit. We, at the epicenter of the State, cannot only launch schemes, we have to ensure that it is effectively delivered to the end user. e-Mitra was such a scheme that ensured all other citizen-centric schemes are accessed by my people, from cities to villages, all across the State. We created a platform that enables government, private and social sector organisations to integrate their social and commercial goals for the benefit of citizens in the remotest corners of the State through a combination of IT as well as non-IT services.
Today, e-Mitra Centres are spread over all 33 Districts of the State covering all 300 Blocks and 10,000 Gram Panchayats. We provide over 400 services, under one kiosk. The agenda behind launching e-Mitra was achieved years back, but we have always tried to go further in all our projects. My quest to make Rajasthan the torch-bearer of the "Digital India Mission'', led to the introduction of the next-generation of e-Mitra – "e-Mitra Plus". It is a cutting-edge computerised kiosk, without any human interface, that offers easy access to more than 300 government and private services. Technological advancements in e-governance have made unhindered service delivery possible for every citizen of the State through E-Mitra+ kiosks. This one stop service delivery touchscreen kiosk is fully automated with no manual intervention required.
The Government is ensuring a single, unified and integrated grievance redressal mechanism for entire State through Rajasthan Sampark. Please tell us more about this initiative.
I completely believe in the notion that our nation's forefathers taught us "a government is of the people, by the people and for the people". If we are unable to recognise the problems faced by our people, what good are we doing for them? …With the motto of "Safe and Happy Rajasthan", the Government is always engaged in providing a better place for residents of the State.
With the objective of "Minimum Government, Maximum Governance", the State has witnessed a paradigm shift in the governance management with information technology being a key ingredient for the same. The government has worked extensively for increasing transparency in the system. CM Helpline 181 – Rajasthan Sampark is inspired by the Digital India revolution and is an innovative e-governance tool that paves the way for common man to get in touch with State government departments. It allows the government to achieve important aspects of good governance viz. robust delivery system, transparency, communication, grievance redressal and sensitivity towards citizens. Initiatives such as Rajasthan Sampark have made officials more accountable and responsible which has also become a key monitoring tool for measuring the performance of government officials. My government believes in honest administration with clean governance.