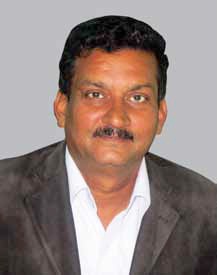 The biggest impediment in effective implementation of e-Governance is change management, writes Rajasthan's Department of IT & Communications Joint Director RK Sharma
Until the last decade, non-IT enabled environments prevailed and the service delivery mechanisms were largely dependent on manual processing. Manual processing meant human dependency, which led to long queues, procedural complexities, complicated processes for liaisoning with various government departments, etc.
A common man associates such complex and time-consuming features with the working of the government departments. Consequently, a visit to government department by a citizen to make use of any service was a taxing experience. Several factors such as lack of resources, supportive infrastructure, etc contribute to such a bleak picture of the government sector.
Metamorphosis to an IT-enabled environment has added a new silver hue to this bleak picture. Now the quality of delivery of services to the citizens by the government has been more pronounced in recent years with the advent of e-Governance. Use of ICT in  -Governance is also transforming citizens' interactions with the public sector by improving efficiency, effectiveness and accountability of governments.
A paradigm shift
e-Governance, which is a paradigm shift over the traditional approaches in public administration, means rendering of government services and information to the public using electronic means. Prior to this shift, the common man had to stand in long queues and visit various government departments for availing any government service but with the advent of ICT, not only has the footfall to the government departments has lessened, there has also been a significant reduction in time as well as efforts for availing any service.
This new paradigm has also brought about a revolution in the quality of services delivered to the citizens. It has ushered in transparency in the governing process; saving of time due to provision of services under one roof; simplification of procedures; better office and record management; reduction in corruption and improved job handling capacity of the dealing personnel.
e-Governance in India has steadily evolved from computerisation of Government Departments to initiatives that encapsulate the finer points of Governance, such as citizen-centricity, service orientation and transparency. Lessons from previous e-Governance initiatives have played an important role in shaping the progressive e-Governance strategy of the country.
Several social sector e-Gov schemes such as UID Aadhaar, CSC/e-Mitra, e-District, Redressal of Public Grievance – Sugam, etc. aim at rural upliftment and provide an improved and accountable system to the masses.
Government is making all possible efforts for maximum reach out of the e-Gov initiatives so that these benefits filter down to the last mile. True challenge lies in the successful implementation of these schemes to the grassroots.
Ensuring IT readiness
Government set up should ensure its IT readiness for building conducive e-Gov environment. IT-readiness implies infrastructural upgradation as well as capacity building at the individual level, which recognizes the need for reforms in processes using modern technology.
Nevertheless, the biggest impediment in effective implementation of e-Governance is change management. Change management is important, not only in terms of cultural change, but also in terms of changing operations and processes workflow that the IT-driven environment will induce. Government scenario is such that there prevails an IT phobia at the back of the minds of the government officers, making them afraid of this transition and also hesitant in adaptation to this change.
If the will to change from the traditional decade-old procedures to automated environment is developed within the government machinery, the digital divide can be reduced to a large extent.There is a need for training and capacity building of the government officials. The success of any well-structured e-governance programme depends on a unified backend infrastructure and sufficient capacities planned at all levels. However, there are specific gaps such as inappropriate institutional and policy framework and guidelines in the area of capacity building that may lead to failure of any e-Gov project.
The e-Governance initiative necessitates the end user i.e. the common man to be an aware citizen. It is important to educate people at all levels about the benefits of technology. The various benefits and advantages of e-enabling the system should be rightly and clearly communicated at the beginning to ensure popular support which will lead to greater chances of success.
Selection of a right service partner: The Government, to a large extent, has been able to convert the above-stated challenges into opportunities. Adopting the public private partnership mode has greatly helped in meeting out the challenges. PPP model like BOT (Buildoperate- transfer), BOOT (Build-operate-owntransfer) in which private players partner with government departments to design, implement and run various flagship programmes, provide attractive propositions for the private sector to work closely with the governments.
It is assumed that the inherent issues faced within the government departments will be  reduced, if not eliminated completely, when involving private players. Where PPP model has been adopted to replicate the private success stories of project implementation  within the government, it has also become challenging to identify and select the right service provider for requisite quality of service delivery, manpower, project implementation experience in a government scenario etc. along with sufficient check on the private partners.
Incentivisation
Shifting government entities from the mechanical application of technology to adoption of e-Governance tools requires incentivizing e-Governance among different entities and individuals. Incentives and rewards can be used as an effective means of increasing motivation and engaging employees in the change process.
Motivating can be effected not only in terms of monetary benefits but also by streamlining of archaic processes. Enabling backup and digitization of official records also eases down the burden. e-Enablement is a liberation from manual record keeping and maintenance of work log.
Today e-Governance is no more an option or something to be experimented with. It is an important tool for transformation, as is evident with the growing number of e-Governance initiatives. The need of the hour is to search for the right blend of technology and management that makes e-governance a success.
Follow and connect with us on Facebook, Twitter, LinkedIn, Elets video