PMIS Implementation for JnNURM
The Government is striving to provide its services to the common man in an efficient, transparent and reliable manner. e-Governance is  one of its major tools deployed for this task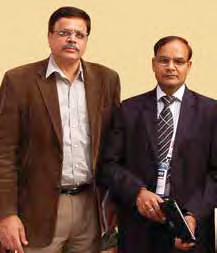 Dr A S Bhal, Economic Advisor, Ministry of Urban Development, Government of India
Prem Narayan, Director (JnNURM), Ministry of Urban Development, Government of India
Among the major e-Governance initiatives being implemented in Ministry of Urban Development (MoUD) and in its various attached  offices are e-Awas in Directorate of Estates, e-sewa in CPWD, e-dharti in Land and Development office and Project Management  Information System (PMIS) for Jawaharlal Nehru National Urban Renewal Mission (JnNURM). MoUD is also ensuring implementation of e-Governance across the country through its mandatory e-Governance reforms to be achieved for claiming funds for urban  infrastructure projects under JnNURM.
Under e-Governance reform, urban local bodies are ensuring online birth and death registration, property tax, accounting, water supply and utilities, citizens grievance redressal, personnel management system, building plan approval as well as procurement and monitoring of projects. This leads to transparency, better information management, improved service delivery and overall improvement in urban governance across departments at all levels. Implementation of PMIS by the Ministry has resulted in providing online and up-to-date information by the States and the Ministry, for management and monitoring of projects approved under JnNURM.
Jawaharlal Nehru National Urban Renewal Mission
The Jawaharlal Nehru National Urban Renewal Mission (JnNURM) was launched by the Government of India on 3rd December 2005, envisaging an investment of more than `1,00,000 crore during a period of seven years from 2005-06 to 2011-12 with a committed Central Government share of `66,000 crore. JnNURM is a reform driven, fast track programme to ensure planned development of identified cities with focus on efficiency in urban infrastructure/ service delivery mechanisms, and through community participation and enhanced accountability of ULBs/parastatal agencies towards citizens. The programme has resulted in facilitating large scale investments in the urban sector and ushered, policy and institutional reforms, leading to sustainable socio-economic growth in the cities.
The programme focuses, higher level of resources and management attention to 65 select cities across the country. 35 cities with million plus population, other State capitals and cities of heritage and tourism importance comprise the 65 Mission cities under Urban Infrastructure & Governance (UIG). The other towns of 31 States/UTs are eligible for funding under the Urban Infrastructure  Development for Small and Medium Towns Scheme (UIDSSMT).
551 projects at a total cost of `61,905 crore have been sanctioned under the UIG for 65 Mission cities across the country. The Additional Central Assistance committed by the GoI towards meeting the central share of the total project cost is `28,590 crore. There are 807 projects sanctioned under UIDSSMT at a total cost of `14,021 crore for 672 small & medium towns. 166 projects under UIG and 269 projects under UIDSSMT have been completed and have resulted in improved service delivery to citizens.
Prior to launch of the JnNURM Scheme in Dec 2005, only four out of 65 Mission cities had implemented e-Governance modules and now 37 Mission cities have implemented e-Governance reform by the end of 2012. The remaining 28 cities are making efforts to complete this reform shortly. The process of e-Governance reform implementation in mission cities has been steady. Cities like, Hyderabad, Bangalore, Pimpri-Chinchwad have successfully implemented more than committed (8) modules.
Some of the metro cities have gone ahead  and adopted innovative approaches in e-Governance. For instance, there is auto SMS to citizens on complaints in Hyderabad, global positioning system device on SWD vehicles in Indore and Biometric attendance system for municipal employees in Hyderabad and Madras.
Process flow of PMIS
The PMIS Website ensures step by step process flow right from detailed project report (DPR) submission, State Level Nodal Agency (SLNA) appraisal, project approval by SLSC and approval by the Ministry. SLNAs are submitting utilisation certificates as well as Quarterly Progress Reports (QPRs) on-line for Ministry to take appropriate action for release of subsequent instalment to the States. SLNA are uploading the completion certificate on the PMIS website once the project is completed.
In the process of PMIS development, the responsibility of State/ ULB includes registration of ULB, submission of Detailed Projects Report (DPRs), appraisal of DPRs, submission of Utilisation Certificate and QPRs and completion certificates. The Ministry of Urban Development is responsible for further appraisal of SLSC approved DPR through its technical wings, disbursement of Additional Central Assistance (ACA) and incentives. On release of instalment, MoUD updates the States on PMIS along with scanned copy of release order issued by Ministry of Finance (MoF), Department of Expenditure so that SLNA may utilise the funds for implementation of projects.
Special features in PMIS
PMIS allows the users i.e. officials from MoUD, TCPO, officials of SLNA to easily access and use the website. Online user guide is available on the home page of the website so that the users may understand the process flow and smooth navigation of the website. The homepage has the facility for user to register on-line by creating his user id and password for further access to the PMIS website. The facilities of forgotten password, transaction history as well as helpdesk are also available on the home page for user friendly application of the website.
A special feature has been created on the home page so that the summary of No. of projects sanctioned under the sector, No. of  projects completed, approved cost, ACA committed and ACA released is displayed in a box once the mouse is brought on that  particular sector. The overall summary of UIDSSMT is automatically displayed once the mouse is brought on the circle in the centre.
Conclusion
PMIS has brought transparency and speed in the urban infrastructure project management and monitoring at the State and Central level. The availability of the documents on funds releases by MoF and completion certificate by the States could be ensured to the  fullest extent. Information could be extracted from the MIS for smooth handling of Parliament Questions/ VIP references, etc. Data   analysis on funds releases, project completion and for the purpose of future line of action relating to approval of new projects, optimum utilisation of funds, etc., is possible with the help of PMIS. Comparison of States based on completion of projects as well as utilisation of funds can also be done with the help of PMIS. This IT enabled tool is thus facilitating smoother and more efficient implementation and monitoring of JnNURM.
Project ID Nomenclature
For the ease of understanding, the facility of online generation of alpha-numeric project ID has been created and project ID is generated once the project is approved online by the Ministry. Project ID contains first two digits for the State code, next two digits for the District code, next two digits represent ULB code of the District, next is the Urban Sector code, next three digits represent running Sl.No. under the particular Urban Sector. For example, project ID UP/10/01/ SWM/018 is for a project in the State of U.P under sold waste management sector.
Uploading of Documents on PMIS
On utilisation of 70 percent funds and completion of urban sector reforms, the utilisation certificate submitted online by the SLNA is processed for release of subsequent installment and sanction letter is sent to the Ministry  of Finance. On release of the installment by the MoF release order is uploaded on the PMIS website for information of the SLNA, which can then withdraw funds from the State exchequer for further implementation of the project.
Management Information System (MIS)
MIS link provided on PMIS website has further links – (i) Project at a Glance (ii) Details of ACA Released and (iii) Registered States and Users. On navigation of project at a glance link, information can be retrieved on State-wise and Sector-wise Status of projects showing number of projects, number of projects completed, approved cost, total ACA and ACA released as well asproject status – completed / in progress. On further drilling down on this page, Summary Sheet of individual project and ULB is retrieved. The facility of retrieving release order of the MoF and completion certificate on clicking on the links instalment date and completion respectively exits. Under the link – Details of ACA Released, financial information for a particular State, particular sector for particular financial year is available. Multiple options for choosing financial year(s), State, Sector, Project Status, etc., can be exercised to have desired information required for dealing with matters relating to Parliament Questions, VIP references, etc.
Online Generation of UC & QPR
QPRs are generated online by the SLNA that shows the extent of funds utilised, Stage-wise project implementation including percentage of progress by end of every quarter. The QPR also provides information on progress of all 23 reforms at ULB level, State level as well as optional level reforms. The reform achievement determines further release of instalment to the State by the Centre.
Project Management Information System (PMIS)
The PMIS system has been implemented to achieve the following objectives:-
• To provide online and up-to-date information for management and monitoring of projects by the JnNURM Directorate, MoUD
• To allow JnNURM Directorate and TCPO:
• To update status of the projects with respect to appraisal and approval.
• To update data in respect of funds sanctioned and released.
• To upload Sanction Orders and Release Orders.
• To allow SLNAs to enter data for projects of all ULBs under their control and monitoring.
• To allow SLNAs to submit DPR, UCs and QPRs online for release of funds and project monitoring
Follow and connect with us on Facebook, Twitter, LinkedIn, Elets video