Defining Micro, Small and Medium Enterprises (MSMEs)

Going by the European Commission's definition Micro, Small and Medium Enterprises (MSMEs) comprise of enterprises that employ less than 10 persons and  have an annual turnover not exceeding two million euros, and/or an annual balance sheet total not exceeding  two million euros. There is no universal definition of SMEs since the sector is diverse and flexible that resists any narrow categorisation. The definition of  Micro, Small and Medium Enterprise (MSME) is based on five main parameters; labour, capital, loan size, fixed asset and annual sales turnover. Organisations  often use one criterion to define MSMEs. The size limit is one of the most common definitions in developing countries. Some countries use one criterion to define this sector while others may have definitions with multiple criteria. Eg, South Korea defines MSME on the basis of 'capital or assets', while Canada defines this term on the basis of  'number of employees' and  'gross sales or taxable income'.
MSMEs market in Africa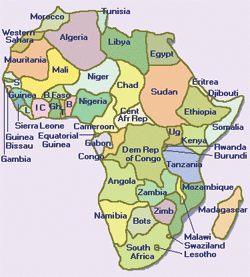 Among developing nations, making the MSME sector viable has become a matter of strategic importance for eradicating poverty which would subsequently lead to the nation's economic development. The sheer size and variety of activities that the sector supports at varying geographical conditions and economic scales makes its success imperative for development that is sustainable and truly democratic. In Africa particularly, MSMEs constitute over 90 per cent of business operations and contribute towards over 50 per cent of the nation's total employment opportunities and Gross Domestic Product (GDP).
The distribution of MSME in some regions of Africa are as follows:
Burkina Faso:
30 per cent of Gross National Product (GNP) is generated by Micro, Small (craft) Enterprises that employs about 900,000 people (or 18% of the labour force) (figures from OECD 2000)1.
Nigeria:
With a GDP of over $40 billion, Nigeria has the second largest economy in Africa. In 2002 and 2001, the GDP of Nigeria was $43.4 billion and $42.5, respectively2. According to estimates from the World Bank3, MSMEs comprise of 87 per cent of all firms operating in Nigeria. Around 75 per cent of the  poor depend on a farm or non-farm MSME for their livelihoods. Around 80 per cent (approximately 6.7 million) of the MSMEs and small business account for 15 per cent of the total (about 1.3 million) and medium enterprise  account for 5 per cent of the total (around  420,000).
Mozambique:
In Mozambique, agriculture, livestock and fisheries sector have a share of 33 per cent of the GNP with 80 per cent of the labour force employed in these sectors. The services sector has the largest share of the GNP at 44 per cent and employs 15 per cent of the officially registered total labour force; the industry sector contributes towards 23 per cent of the GNP and employs 5 per cent of the labour force. Around 50 per cent of Micro Enterprises carry out their business from  private homes and  do not have formal business education1.
Ghana:

The MSME sector in Ghana supports around 30 per cent of the workforce and contributes to  6 per cent of the GDP. Around 70 per cent of enterprises are Micro and Small Enterprises (MSEs). It is estimated that nearly 40 per cent of Ghana's National Income (GNI) is contributed by  micro to informal activities (GOVG, 2003)4. It is believed that these micro and small firms can more easily trigger growth in the economy than the large ones due  to their numbers and the niches they occupy in the national economy (Bussel, 2001)5.
Namibia:

In the Namibian economy, the private sector is dominant in most industries with the exception of transport and the utilities sectors. MSME sector in Namibia accounts for 62 per cent of GNP, in which 65 per cent of all registered enterprises employ less than 10 employees and mainly work for the trade and services sector. Small Enterprises account for only 2 per cent of the total manufacturing turnover1.
ICT usage in African market



In most African countries, MSMEs are challenged by the globalisation of production and the shifts in the importance of  various determinants of competitiveness. The rapid spread of ICT and decreasing prices of communication tools has made the world a smaller place. In 2005, the Research ICT Africa (RIA)6 conducted a research across 13 African countries, to examine ICT readiness in MSEs. The research was conducted in Botswana, Cameroon, Ethiopia, Ghana, Kenya, Mozambique, Namibia, Nigeria, Rwanda, South Africa, Tanzania, Uganda, and Zimbabwe. The research analyses the use of different ICTs tools by MSEs.
Mobile phones:
According to the research, around 76% of the MSEs use mobile phones to stay in touch with their clients and 48% of them  use fixed-line telephones. Out of 76%, 53% utilise mobile phone for their personal use. Comparing fixed lines to mobile phones in terms of desirability, mobile phones are rated as more important than any other category. On an average, 83% of small and micro enterprises use a mobile phone for business purposes. (Table 2)

Fixed Line:

Though Table 1 shows that 60 per cent of MSEs do not have fixed line phones but at the same time they consider it important or very important. Out of 60 per cent, 46 per cent stated that they do not need fixed telephone lines, 31 per cent stated that fixed telephone lines are too much expensive. This shows that mobile phones are clearly fulfilling the role of fixed telephones with the convenience of  flexibility and low incremental payments. (Table 3)

Internet Connectivity:

People who do not have computers are divided into two categories; one who believe that there is no need of computers and second, who believe that computers are too expensive for them. Around 45% of the MSEs believe that a computer with Internet connection is too expensive for them. Out of this 45%, 89 per cent belong to informal and semi-formal sector. Similarly, 45% believe that  there is no need to own a computer. But both categories use cyber cafes for Internet surfing. Around 20% of  micro and small enterprises do not have an Internet connection but they use cyber cafes for their work. Around 72 per cent of MSEs believe that computers are an important tool for their business. Out of this 72%, 52% believe that computers with  Internet connection is very important  for business. (Table 4)

Post Box:

Around 35 per cent of micro and small enterprises continue to use a postal box to communicate with their customers and clients. Most of them use postal service for formal communication (business purposes) as against using mobile phones for the same. And around 20% of MSEs use the postal service to order supplies.
ICT initiatives for MSMEs

African Development Bank (ADB):

The bank has created a dedicated division for 'Micro-Finance and SME Development' to support micro enterprises through microfinance. The bank is engaged in capacity-building of the market to avail appropriate instruments and mechanisms for MSMEs growth and enhance access to finance. The division has following objectives :
Enhancing the financial systems in order to better serve the MSME sector and improving the financial environment for MSMEs

Enhancing the growth and competitiveness of MSMEs in a globalised economy

Promote partnerships with development partners and technical partners as well as towards enterprise development in Africa.
International Finance Corporation (IFC):
The IFC promotes private sector development through its investment,  technical assistance and advisory work. The Division of SME sector supports micro, small and medium-sized enterprises by providing access to finance, linking small and medium enterprise to investments, regional facilities and improving the businesses enabling environment.
In cooperation with Africa's Private Sector Development Department, IFC, Small and Medium Enterprise Department, IFC Africa, and IFC Financial Markets have developed a joint program to bring expertise and resources for MSMEs. The joint programme was  launched to support MSME development in selected  Sub-Saharan  countries. The programme aims to increase the contributions of MSMEs to employment and national growth by supporting three complementary main pillars: (i) access to financial services; (ii) access to business development services, including strengthening inter-firm linkages (both domestic and foreign) and access to information; and (iii) improvements in the business environment for MSMEs.
United Nations Industrial Development Organisation (UNIDO):
UNIDO established a Cluster / Network Development Programme so as to provide access to training, information and advice on business management for SMEs. The projects in UNIDO's programme on clusters and networks development are customized to the requirements of individual countries, their SME sector and local policies and initiatives for private sector development. Broadly speaking, there are three aspects to such projects:
Organisation and development of clusters

Development of networks of SMEs

Development of linkages between SMEs and larger enterprises
UK Commission for Africa:

It advocated the creation of an African Enterprise Challenge Fund, to be backed by US$ 100 million of investment, and is designed to support private sector initiatives targeted at SME development.

Industrial Development Corporation (IDC) of South Africa:

IDC is a self-financing, state owned national development finance institution that provides financing to entrepreneurs and businesses engaged in micro and small industries. In partnership with other organisations, the IDC identifies and promotes investments  in viable new industries, particularly in promotion of SMEs, regional investment diversification and job creation.
Challenges faced by MSMEs
Political and economic instability;

Limitations in absolute market potential;
Informal or non organised (bringing the SMEs into the formal sector is expected to generate increased revenue through taxation and Formalisation can help the SMEs to get protection under legislation.)

Standardisation and benchmarking

Lack of a coherent regulatory frame-work and a legal/policy environment which is conducive to business

Small local markets and undeveloped regional integration

Micro-credit institutions remain fragile and modest in size etc.
Conclusion
The descriptive analysis of the data on MSEs shows that investment in ICT is an important determinant of total  productivity. The use of different levels of ICT tools