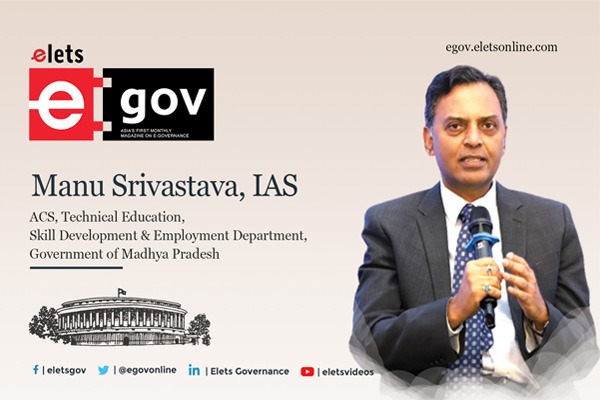 We all agree that solar energy, today, is cheaper than conventional power in life cycle terms and despite the bigger enthusiasm being played by the private sector and the significant support from the banks for this sector, India have not seen greater adoption of solar, shared Manu Srivastava, (IAS), ACS, Technical Education, Skill Development & Employment Department, Government of Madhya Pradesh at the Elets 4th National Energy Summit in Mumbai.
The only reason he believes for the underutilisation of solar in India is the lack of capacity in the government to set up right projects which would enable solar power to flow more readily. So, the role of capacity building is paramount in terms of making energy and utilities smarter.Giving out examples of few successful projects which he had supervised, he said at REWA Madhya Pradesh – first ground-mounted solar plant in India to deliver power below the rate of coal based power, they set up a project with the help of the state's company itself without any active support from the Government of India's companies like NTPC or SECI. At that time, Government of India companies SECI and NTPC were paying viability Gap funding to get power at four and a half rupees per unit. So, even in that scenario, they could set up a project which got a tariff of below three rupees in Madhya Pradesh. Unfortunately, no other state has replicated this initiative and this project and the other projects that RUMSL (Rewa Ultra Mega Solar Power Project) has done remain the only project in India which has been conceptualised and implemented by a state organisation. So, there is definitely a lack of capacity at the state level which forces them to remain dependent on SECI and NTPC. He further said the Government of India's companies like NTPC and SECI, too, have not shown innovation either on their part which highlights their fault lines in capacity building.
"REWA project also supplies power to Delhi Metro as one-fourth of the power of the project goes to Delhi Metro helping DMRC save Rs 100 crore per annum." he added.
He further added that this lack of capacity comes to fore more when we talk of rooftop solar projects projects. "If you compare the two solar projects across the country – the ground- mounted projects and the rooftop solar projects, you will find that out of 60 gigawatt targets for ground- mounted projects, we have done almost 40 GW but out of 40 gigawatt rooftop projects, we have achieved only 8-9 per cent. The reason we could not achieve success in rooftop solar projects is that we largely relied on CapEx (capital expenditure) whereas in ground-mounted, we went for OpEx (operating expenses) which sort of accelerated the pace. As a result, we have abysmally failed to set up good rooftop projects based on the OpEx." he averred.
He went ahead saying that NTPC Vidyut Vyapaar Nigam as well as SECI had tried their bit in roof-top solar projects but were not that successful. But, They in Madhya Pradesh have done very well on this. "We have more than 100 organisations in the state which are getting power under this model. The project has zero investment by state energy companies, and the entire investment comes from private parties. The investor set up the project with their investment and will maintain the project for 25 years. The only thing that we do is to purchase power from them and that too at the lowest rates in the country." he added.
Also Read | Smart technology leading to smarter outcomes
He further said that utilising power from this project, IIM Indore is saving around 4 lakh rupees per month; they have saved 80 lakh rupees till now. They have such projects in seven medical colleges also in the state helping the colleges save Rs 20 lakh rupees per month. The Capacity Building Commission of government of India has identified this as one of the top 15 innovations in the country despite this no other state has been able to replicate the project.
So, the point again here is that there is a lack of capacity to set up good projects at the government level and the problem here is that no one can replace the government in this because when it comes to aggregation of projects, their role remains paramount.
According to him, if one sets up a project for one college, he/she would not get a good rate but if they aggregate all the colleges in the state, it becomes a big project where big players invest leading the rates to come down. Referring to the wonderful role that EESL has played for LED, he said the only thing EESL did was aggregate the demand which helped them get good tender with good tender conditions.
Concluding his speech, he said the government has a huge role in aggregation so that businesses find it investor friendly which would lower the rate and make the project meaningful.