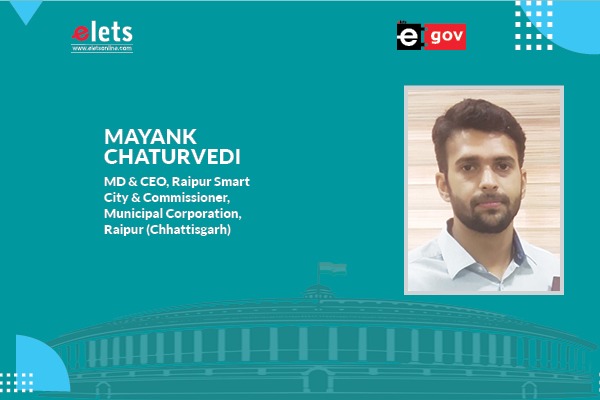 The Smart Cities Mission entails driving economic growth and improving the quality of life of people by enabling local area development and harnessing technology, especially technology that leads to smart outcomes. Mayank Chaturvedi, MD & CEO, Raipur Smart City & Commissioner, Municipal Corporation, Raipur (Chhattisgarh) in talks with Mayank Thakur of Elets New Network (ENN) shares his views on the adoption of digitisation of work in the city and how he foresees its future.
The digitisation of work environments has transformed the way government departments and even the private sectors operate. What transformation has been witnessed in Raipur Smart City's operations?
Raipur Smart City Limited has adopted digitisation of work. The geo-tagging of the trees done and monitored with the help of Tree Census Application is one of the major projects of smart city Raipur under Mor Green- "Tree Plantation" Campaign and development of Tree Census application and integration of attributes of tree data. The goal of this application is to protect, preserve, conserve and boost cultivation of trees in Municipal areas. Identification of trees and documentation of trees is the major task, which has been digitised through Mor Green-Tree Census Application. The major components of the App are mentioned below:
Also Read | Smart Cities Use Technology for Inclusive & Better Quality of Life
• GIS and GPS-based paperless survey and recording of individual trees in the defined area with relevant details such as Unique Id, Lat/Long, Botanical name, Common Name, approx. age, Height, Girth etc
• Web-based GIS software application
• Mobile Application (for latest Android versions) for capturing the location and information of the tree. It will also have MIS and GIS reports and analysis module
• Identification of Road and Footpath with Encroachment area
• Preparation of thematic road encroachment map based on car and two-wheeler parking, encroachment by People, Tree, Lamp post, EB junction; Garbage collection, Street Vendors, Kiosk etc
• Provision of urban amenities and facilities such as parks, gardens, and playgrounds
How are you leveraging emerging technologies like AI, ML, IoT, Cloud, etc. to augment urban development, improve service delivery, and enhance citizen engagement?
We have incorporated three cases such as Case I- Traffic control at major Junctions of the city; Case II- Search of theft vehicle, hit and run vehicle, hot listed vehicle etc. by its make, model & colour; Case III- Intrusion detection, Crowd Gathering identification, Unattended baggage identification, Camera tampering identification and Suspect Search. For Case I: we have the Adaptive Traffic Control System, which is a special type of traffic signal system management strategy where the timing of the traffic signals depends on actual demand time. This system provides centralised control for traffic management. The components of Adaptive Traffic Control System consist of items like Traffic Controller, which is the heart of the traffic control system and is micro-controller based which is used to control the traffic signal system. All the traffic controllers will be centrally connected to the Command Control Room and can be controlled from the Central Traffic Control Room. This will help in reducing congestion and improving traffic flow.
The traffic signal system can be made to run in the following modes like the Vehicle actuated mode. This mode is driven by data received from the detector camera. The traffic signal will execute stage timings as per demand within the constraints of minimum green time and maximum green time. The cycle time may vary for every cycle time. Secondly, we have the Vehicle Detector. Here the camera-based vehicle detection system will be used which will be integrated with the Traffic Controller. The detector camera will detect and analyse the vehicle count at all approaches of intersection and will compute the required demand time for each phase of the signal system. Besides, we have the ATCS Application to minimise the stops and improve traffic flow. The system has the capability to operate in real time and calculate the optimal cycle time, green time, for each junction. This calculation is based on assessments carried out by the ATCS software application running in the command control room. The software will also maintain error logs, database for time plan execution, and performance of the system.
What is the success rate of using these technologies? What has been the overall impact in the city of Raipur?
We have observed many positive changes. Traffic violation cases have dropped. Physical presence of Traffic Police at every junction is reduced. Traffic challan creation process and violence evidence collection have become transparent and simple. Final challans are generated from NIC. Total generated Challans by Raipur Traffic Police is 80890.Total amount collected from generated Challans by Raipur Traffic Police is Rs 2,31,68,700. There are a reduced number of vehicle theft cases. There is better monitoring of suspected vehicles, offenders by Raipur Police. Support in evidence collection over criminal cases has escalated. Raipur Traffic Police have solved nearly 600 cases related to vehicle theft, road accident and crime cases using ICCC traffic enforcement system. There is marked reduction in vehicle theft, criminal cases at public places. Now there are real time alerts to the Police department from ICCC, in case of intrusion detection in VVIP zones, suspicious bags detection, public places, using video analytics software. Also, there is reduced response time of security forces due to real time triggered alerts from ICCC in case of Mob gathering and any law-and-order Issues.
Also Read | Ensuring operational efficiency & smart service delivery with technology: Maharashtra Minister Aslam Shaikh
Recently, Raipur Smart City received Award of Excellence at Elets AatmaNirbhar Bharat Summit for effective implementation of Integrated Traffic Management System (ITMS). Please shed some light on the project. How has this benefitted the people of Raipur?
In order to provide a secure and pleasant experience to road users of Raipur, Raipur Smart City Limited (RSCL) has implemented Intelligent Traffic Management System (ITMS) & City Surveillance system across Raipur City. It addressed the concerns of citizens such as huge traffic jams, crimes, road accidents by providing better services of Traffic Management, Traffic Control, Safety and Security, Traffic Law enforcement and Traffic Information. The system primarily involved the installation, appropriate utilisation and maintenance of critical and vital infrastructure for Surveillance, Traffic Management and Control. It aimed at providing robust infrastructure for solutions like Intelligent Traffic Signals, Surveillance Cameras, law enforcement sensors like Red Light Violation, Speed Violation Detection systems, ANPR cameras, Variable Message Signs, etc and setting up of Integrated Command & Control Centre (ICCC) in Raipur for smooth monitoring and management of ITMS. The ITMS & City Surveillance system aimed at delivering a smooth traffic flow and information to road users in all the major junctions and bottlenecks within the city. This system also has the provision to integrate with the Integrated Command & Control Centre. The system helps in security & safety by reducing vehicle congestion on roads based on optimised signalling and provides efficient red light violation detection and over speeding. It also identifies vehicle registration numbers, increases the travel speed by reducing stoppage time. It reduces the number of road accidents, and also penalises traffic violators with the help of violation tracking system like red light violation, speed violation, wrong way violation, no helmet violation. The system disseminates information to commuters on the move and makes coordination with traffic signals better.
What is the roadmap for further digital transformation in the country? What message would you like to share with our readers on India's transformation?
MeitY's vision is focused on making India a global leader in digital technologies through digital transformation in all domains of governance, economy, and society. We need to ensure that this decade is India's 'Techade'.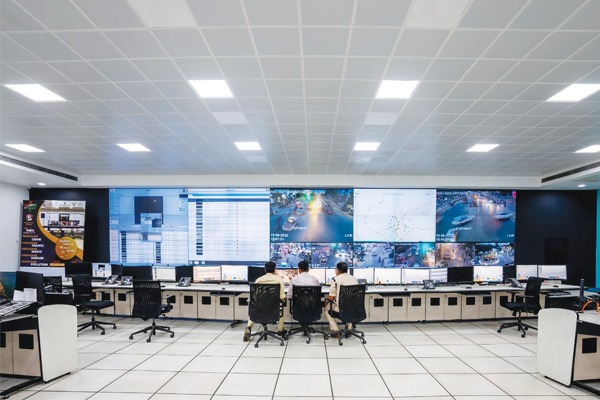 The vision is based on six key pillars. First, we need to ensure a world-class digital infrastructure to connect all citizens, so that every person can avail online services and opportunities and participate fully in the digital economy. Second, we need to provide the most efficient and fully connected digital government that delivers seamless and end-to-end online services to citizens and businesses. There needs to be a relentless focus on improving 'ease of living' for citizens and 'ease of doing business' for the industries. Third, we must strive to achieve the $1 trillion digital economy vision by massively scaling up the digitalisation efforts in the economy and incentivising the growth of the electronics and semiconductor manufacturing industries. We also need to ensure that our rapidly growing startup ecosystem scales to even greater heights in the years to come.
Fourth, we need to ensure cybersecurity and modernise our legal framework for supporting the rapid growth of a data-driven digital economy. Fifth, we need to ensure that we develop advanced capabilities in emerging technologies so that India becomes a global leader in this area of strategic importance. Last, but not the least, we need to ensure that India becomes the talent and skill capital of the world. Our youth must have the best of skilling opportunities so that we can lead the world with our high-quality talent.
Key features of the project
• Enabled real time monitoring of the various facets of Raipur Smart City i.e., Security, Traffic and City Utilities
• Provided capability to respond in a unified manner to situations on ground (both day to day and emergency situations) by creating a common operational picture for the relevant stakeholder
• Provided and managed touch points from all concerned stakeholders during the lifecycle of various incidents
• Defined and managed the Key Performance Indicators (KPIs) for various operational aspects of the City Management
• Provided capability to conduct analysis for continuous improvement of city operations
Deployment of Following Components
• Deployed various sensors (intelligent traffic signals, surveillance cameras, traffic enforcement sensors, emergency call box, PA systems, environment and weather sensors) throughout the city to improve situational awareness
• Developed an integration platform which facilitates exchange and aggregation of data irrespective of underlying technology platform of application
• Developed Integrated Command and Control Centre for improved visualisation of ambient situations in the city and facilitation of
data-driven decision making
• Integrated with the existing ICT systems for smooth operations, monitoring and management.