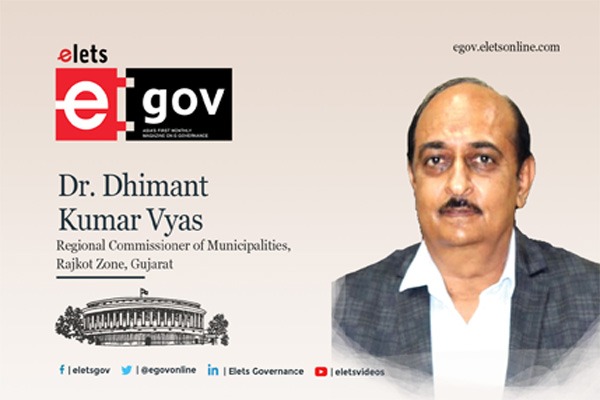 Talking about the state of Gujarat being ahead in IT transformation than the rest of India, Dr. Dhimant Kumar Vyas, Regional Commissioner of Municipalities, Rajkot Zone, Gujarat said, "The IT services started rolling out in Gujarat somewhere in 2007-08. So, maybe we are ahead five years with regards to the jump." He said the demography of our country at this stage, the age group of 20 to 35, has helped us in large scale implementation of various technologies.
Sharing his experience of Rajkot Municipal Corporation, Dr Vyas said last year, the Corporation had issued e-bills for property tax to around 3,56,000 property holders. "To our surprise, out of that 3.56 lakh, around 2.45 lakh property holders returned the tax through e-mode. It was a very good and overwhelming experience we had in Rajkot," he said.
Explaining about a similar kind of experience with the smaller Urban Local Bodies (ULBs), he said, "For example, some policy or some decision has been taken at a certain level. The number of suggestions that we get through emails or social media platforms like WhatsApp, Twitter, Instagram, has helped us in quick review of the decisions, and in deciding whether the decisions which have been taken by the government have to be rolled back or changed accordingly. So this is how the entire scenario has changed."
Also Read | Dehradun Smart City: Encouraging automation and e-governance
Dr Vyas said that due to public involvement, the decision making process of the government has become more sound. Technology has made it easy for the government to connect to citizens directly.
"Robust infrastructure, good quality databases and a strong backend support are the three things which are required for taking the adoption of digital technology to the last mile," he concluded.