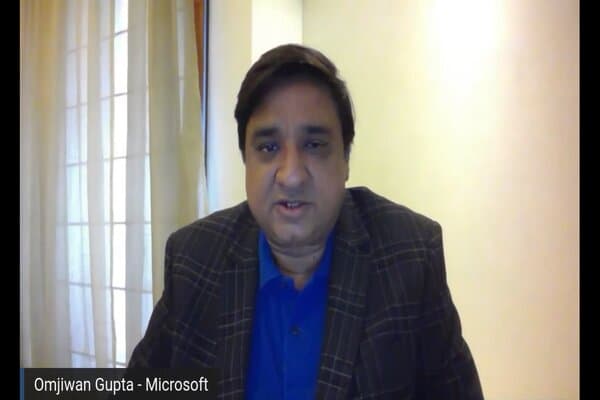 As the Government of India imposed nationwide lockdowns the education system would come to a halt if digital platforms were not leveraged to ensure continuity of education. Microsoft has partnered with the government and provided technology tools ensuring education to all students through digital modes. Highlighting how the Government of Gujarat leveraged Microsoft's technology to shift education to online mode for students, Elets Technomedia in association with Microsoft India and Ernst and Young organised the Education Innovation Summit 2021 – Gujarat Edition.
In a technology presentation on collaboration tools, Microsoft's certified educators, online education, and more, Omjiwan Gupta Director Education, Microsoft India, mentioned about Education Transformation Framework developed by Microsoft. He said, "Microsoft has developed the Education Transformation Framework using the best practices that have successfully transformed many education systems across the globe." With this, he said that Microsoft is committed to working with the Government of India and the Government of Gujarat and "we will devise a methodology for India that is grounded with the latest research, policy leadership, and pedagogical approach."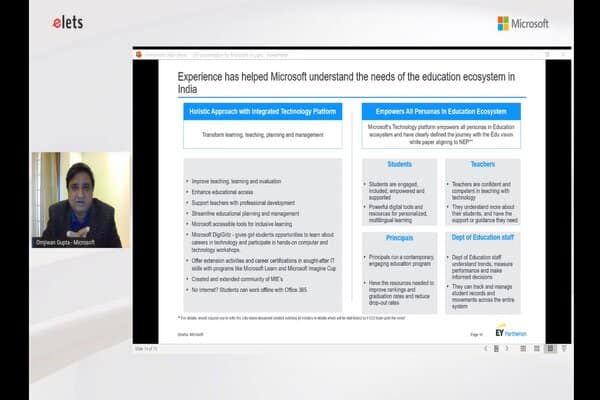 Speaking on improving teachers' skillset for better teaching through online modes, he said, "We can provide free Structured Online Teacher Training." Calling teachers the fulcrum of the education industry he pointed out that many teachers today are not comfortable in teaching through online modes. Microsoft is looking forward to bridging the gap and enhance the skill set of teachers in terms of delivering lectures through online modes. "Microsoft's educator centre offers free training courses, learning paths, live webinars events, and ready to teach lesson plans for the teachers. Hence we can handhold the teachers to male them digitally enabled through our different programmes," Gupta added.
Also Read: A boon in disguise: "Pandemic enabled self-learning among children" Dr TS Joshi
Further, he spoke on other Microsoft products and tools that can play an instrumental role in upgrading India's education systems. Naming Gujarat as one of the biggest users of Microsoft Teams he said, "Gujarat is a case study for us in Microsoft to understand how far we can take this and what more advancements should be introduced."