Integrated, inclusive, and sustainable mobility systems are prerequisites to achieving the development objectives of the United Nation's Sustainable Development Goals (SDGs). The significance of transport has been explicitly emphasised by Target 11.2 of SDG 11 that states, "By 2030, provide access to safe, affordable, accessible and sustainable transport systems for all, improving road safety, notably by expanding public transport, with special attention to the needs of those in vulnerable situations, women, children, persons with disabilities and older persons". In this article, The National Institute of Urban Affairs chart out the road map for achieving SDG Target 11.2 through accessible, safe, and equitable public transport services in urban India.

The transport sector plays a key role in poverty reduction, overcoming income equality, and promoting inclusive and sustainable growth of an urban area. A well-integrated transport system also fosters the human index of a city by facilitating the movement of people as well as their access to opportunities such as jobs, health, education, and other amenities. Mode of transport affects physical and mental health, via the physical activity of travelling and commuting time, facilitates social interactions, and promotes social inclusion.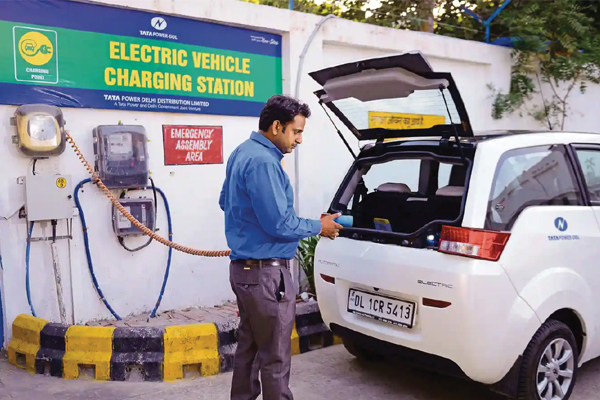 Providing access to safe, affordable, accessible, and sustainable transport systems for all, by improving road safety and expanding public transport (PT), with special attention to vulnerable demographics constituting women, children, persons with disabilities (PwD) and older persons;is Target 11.2 of the SDG 11. This target is tracked by Indicator 11.2.1: "Proportion of population that has convenient access to PT, by sex, age and persons with disabilities", with 'accessibility' being the operative principle. Accessibility of PT systems and their efficiency can be improved by overhauling their existing institutional arrangements, and their spatial and operational integration.
Also Read: SDG 11.1 IN INDIA
Presently, the multiplicity of laws and agencies involved in the sphere of urban transport in India have led to gaps and overlaps in urban transport functioning and a lack of integrated planning and coordinated management of urban transport. Integration of various transport agencies, as recommended by the National Urban Transport Policy (NUTP) 2006, would enable integrated planning and functioning of the various PT modes of the city, help them operate in a complementary manner, provide seamless travel experience to the commuter by multi-modal integration and improve the travel time efficiencies. With the integrated planning efforts of a unified transport agency, equitable access to PT from all parts of the city can be ensured by assessing the PT accessibility levels in terms of network coverage, frequency, quality, etc. Quality of PT services is also important as it would help in achieving the modal shift from personal vehicles to PT resulting in definite environmental benefits, lesser congestion on roads, better quality of urban life, etc.
Spatial interventions such as integrating land use with transit by means of transit-oriented planning improved first and last-mile connectivity, etc., can also improve the access to PT. Research shows that households in Transit-Oriented Developments (TOD) travel 45 per cent less than residents of automobile-dependent neighbourhoods¹, making TODs energy-efficient developments. By the year 2019, only half of the world's urban population had convenient access to PT, defined as living within 500 meters' walking distance from a low-capacity transport system (such as a bus stop) and within 1 km of a high-capacity transport system (such as a railway). In India, various states have set ambitious targets of increasing access to PT by adopting the TOD principles. For example, the Jharkhand TOD Policy (2016-2026) provides a strategic framework to create compact, liveable cities where 80 per cent or more of a city /metropolitan area's population can access housing, employment and amenities within walking distance of high-quality PT. Although achieving such targets would be a tall order for most cities with the need for extensive network expansion of PT, reassignment of densities, propagating mixed-use developments, developing walking and cycling infrastructure, etc. around transit nodes; developing policy frameworks to promote TOD is a step in the right direction.
Along with spatial interventions, accessibility of PT can be improved by providing a safe environment for the commuters while approaching the PT as well as while travelling on it. There is also a nuanced overlay of criminal activities that prevents certain sections of society from using PT. The findings of perception surveys reveal that women, elderly populations and PwD find traveling in PT to be unsafe and inconvenient. Safety of commuters can be achieved through built-to-edge developments with active frontage to enable 'eyes on the street', well-illuminated public pathways/roads, installation of surveillance systems, etc. Application of universal design guidelines in the design of transport fleet/ rolling stock as well as infrastructure will also improve the accessibility of PT.
The use of technology-based interventions such as Integrated Traffic Management System (ITS), Smart Information System, Unified Ticketing System, etc., would serve to operationally integrate the multiple PT modes, convenience the commuters and increase the ridership of PT. Unified ticketing data would also help transit agencies to collate information regarding the travel preferences of commuters, identify areas that are attracting most trips and undertake the planning of demand-responsive transport interventions. Similarly, big data and artificial intelligence should be used to improve resilience, efficiency and coordination amongst transport systems. To increase the usage of PT by students, senior citizens, women and bulk employers (corporate groups, government offices, etc.), transit agencies could adopt fare rationalisation strategies.
Also Read: Smart Cities Mission Brings Together Diverse Government Schemes on Affordable Housing Under One Roof
In addition to increasing the accessibility of PT systems, road safety is another major issue that needs to be addressed in India to achieve its SDGs. It is estimated that in 2019 alone, India reported over 151,000 fatalities due to road accidents² , 21 per cent of these road fatalities were due to truck accidents. To counter this undesirable trend, equitable allocation of road space for all modes (including nonmotorised transport modes as well as pedestrians) is required. Additionally, enforcement of traffic rules and regulations, proper design of road geometries and street sections, installation of traffic calming measures like speed breakers, etc. should be undertaken.
A favourable trend that needs to be promoted is the increase in app-based cab aggregators in the country. A growing population of commuters now prefer 'owning-a-ride' rather than 'own-acar'. This concept of shared mobility should be encouraged as much as possible.
Transport currently accounts for 23 per cent of global CO2 emissions. In India, outdoor air pollution accounts for 29 per cent, which causes premature deaths of 109,000 adults each year. The health cost of air pollution due to vehicular activities was about three per cent of GDP in 2013. Traffic congestion during peak hours in four major cities – Delhi, Mumbai, Bengaluru and Kolkata, costs the economy Rs 1.47 lakh crore annually³. The negative environmental, economic and social impacts of the transport sector can be successfully mitigated through integrated planning, increasing usage of PT and shared modes, facilitating active mobility (walking and cycling), encouraging use of green fuel-dependent vehicles (electricity and other non-fossil fuels), etc. COVID-19 has given a unique opportunity for India to support green mobility programs/initiatives/challenges that promote active travel like FAME (Faster Adoption and Manufacturing of (Hybrid &) Electric Vehicles), Streets for People, Cycles4Change, etc. Such programs/initiatives should be leveraged and upscaled further.
The path to achieving the transport-related SDGs in India would involve adopting sustainable, inclusive, and integrated transport planning measures and solutions. Changes and innovations in mobility are dynamic and therefore, policies/plans/data that provide transport intelligence and guidance also need to be revised and updated regularly. Data-driven integrated planning supported by interventions and solutions that promote lowcarbon mobility and consider the needs of all user groups, would be the way to move forward for the country.
---
1. Linda Bailey (2007), Public Transportation and Petroleum Savings in the U.S.: Reducing Dependence on Oil, ICF International for the American Public Transportation Association (www.apta.com); at https://bit.ly/1tY5S8x.
2. https://www.statista.com/aboutus/our-research-commitment (March, 2021)
3. https://timesofindia.indiatimes.com/india/traffic-congestion-costs-four-major-indian-citiesrs-1-5-lakh-crore-a-year/articleshow/63918040.cms#:~:text=NEW%20DELHI%3A%20 Traffic%20congestion%20during,conducted%20by%20global%20consultancy%20firm
Follow and connect with us on Facebook, Twitter, LinkedIn, Elets video