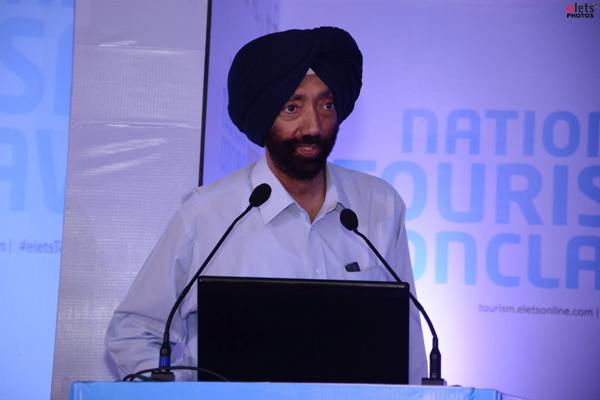 Elets Technomedia organised a three-day India Transformation Summit to bring in light the recent growth & development the country has witnessed. Shivdular Singh Dhillon, Deputy Commissioner, Amritsar, Punjab addressed the summit on 'Local Governance Through Digital Transformation' and highlighted the digital interventions being implemented in Amritsar. Also, he mentioned how Amritsar got over COVID-related challenges.
Mr Dhillon commenced his address by comparing the pre-COVID scenario and the present, during COVID, scenario. He mentioned that in the pre-COVID era, governments at all levels were focussing on bringing in digital transformation, newer initiatives were coming in, but we had the physical space. Whereas, "if I look at the post-COVID era, the near future, I see technology and digital domains taking the centre stage", he added.
Adding on the 'ongoing COVID phase' Mr Dhillon said, "The digital space has become very important today. The one-to-one or physical human interactions are being curtailed. And, in this scenario, it is important that we go to digital space and allow people to access each other." Further, he said, "People have various issues and they have to lodge complaints or raise grievances or protest for something or raise their voices, etc. For this, we have strictly asked people not to accumulate in numbers but use the online domain to show their presence. People'sgreivance and complaints will be answered online." There were 'suvidha centres' running already to help people apply for various government services online. However, now it is being ensured that people only apply online, added Mr Dhillion.
Besides this, at the government offices, today, meetings are being conducted on online video conferencing tools. It can be inferred that though we were heading towards a digital future, the COVID-19 pandemic fast-paced the digital transformation, told Mr Dhillon.
Speaking on digital transformation, he said, "So, we are augmenting our online systems and digital platforms so that when the people apply for services online they receive the service at their doorstep in a streamlined way."
Also Read: Amritsar Suppressing Corona Outbreak, says Shivdular Singh Dhillon
Further, mentioning digital interventions, Mr Dhillon said, "Today we a system for active monitoring and tracking of people in the state of Punjab. Whoever is entering the border of Punjab has to get themselves e-registered prior to entering. This helps us to track people and we know that who has been travelling from where and for how long. Moreover, we are geo-fencing people who are supposed to be home quarantined and anyone breaks that during the quarantine period strict actions will follow. This also allows us to track the compliance of quarantine norms and those who are found to break the norms repeatedly are being taken for institutional quarantine and fines are being imposed on defaulters."
On a positive note, Mr Dhillon pointed out that a behavioural change is being observed among the people. Now the people are moving to the digital space and instead of crowding the government office for their demands, suggestions or complaints are approaching online and the departments are answering online as swiftly as they can as well.
Resting his words, Mr Dhillon highlighted, "The wave of change sweeping the country is inducing an irreversible change. People today are adapting to the remote working environment and even in the government offices, it is taking place. It simply means that once people get their comfort level set in, it will be hard to get back to our traditional ways and hence we are heading to a digital age where the physical interaction will be least and only as per the need."