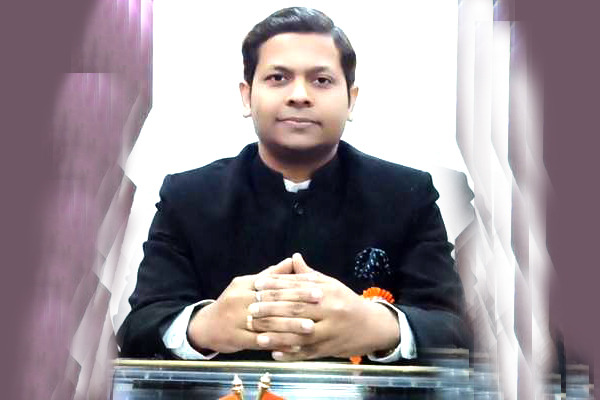 "Where there is a will, there's a way" a popular saying has been realised when Pulkit Khare, District Magistrate of Hardoi transformed Beletali, a nasty, stinking swamp into a freshwater body and a popular picnic spot in Hardoi. It took immense efforts, effective planning, and above all a behavioural change among the people. Arpit Gupta of Elets News Networks (ENN) writes the tale of Belatali – from being a stenchy swamp of unclaimed bodies to a popular freshwater body and a picnic spot.    
People from Hardoi, a district around 100 km from the state capital Lucknow, still recount experiences of days when they had to cover their noses while passing by side of a stagnant putrid water body called Belatali located right in the heart of its city area. Waste and discharge from an industrial area to one side and sewage flow of residential colony to the other found their way to this pool. Even the local municipal body found it convenient to dump a part of their collected garbage on the flanks of this stinking water body. In stark contrast, today, when 10-year-old Guddu gets off the paddle boat, after half an hour of boating in freshwaters of Belatali, no wonder his parents have disbelief and admiration written large on their faces. Belatali has surprisingly emerged as a new and happening picnic spot for one and all in Hardoi.
This incredible turnaround began six months back when the young District Magistrate of Hardoi, Pulkit Khare, decided to visit the spot to assess the condition of the place himself. "The place was stinking. Garbage was spilt all over the edges while the pond was covered entirely with water hyacinth (Jalkumbhi). I found it hard to believe and digest that such a place could exist in the middle of the city. It was clearly a potential breeding ground for diseases and an obvious source for groundwater contamination as well. Transformation plan was charted out immediately," tells Khare.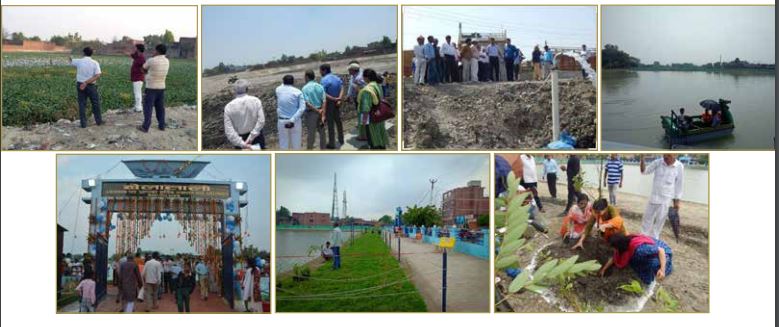 A series of meetings were held subsequently. Demarcation of the plot was carried out. Diversion of sewage trunks was planned. Certain areas which were reasonably far from the pool were identified as new garbage collection points. Since the pool was located within the confines of a Gram Panchayat, albeit near the expanded city limits, Gram Pradhan and the village level functionary were taken on-board the planning and execution team. A convergence initiative was designed whereby MGNREGA and finance commission funds devolved to Panchayat would be utilized for transforming the place.
Also Read: Nam Neer', A Behavioural Change Approach to Sustainable Water Management
"It was tough to find labourers from the village to work on this herculean project. Along with the prospect of withstanding the nauseating stench of the pool and tackling the challenging task of removing hyacinth, the local belief of the pool being a dump-yard of unclaimed bodies, petrified all potential volunteers. A meeting was held to convince the villagers that a transformation was possible," recounts Khare. After carrying out sewage trunk diversion and drying out the sludge, few brave workers set the ball rolling by initiating the hyacinth removal work. Simultaneously, construction of a boundary wall, a side-walk pathway along with the pool and a boatyard also began.
Work soon gained momentum. Electrical poles were shifted as the conceptualization of the picnic spot around a freshwater body gained clarity. A piece of land, flanked by the pathway, was earmarked for plantation. Benches were laid along the walkway. Swings and rides were installed for children. A beautiful entrance gate was built. Donations also started pouring in for different components of the project from various social and commercial organizations interested in being associated with a positive initiative. A ticket counter and a police outpost were also established to prevent nefarious elements from entering the premises and vandalizing the installations. An area of around 1.8 hectares now lay hollow, waiting for the monsoon rains.
It took around 15 days of intermittent rains to fill Belatali with fresh water, a scene which generations of city dwellers had neither witnessed before nor imagined. Belatali was now a giant freshwater body with potential for rainwater harvesting and groundwater recharging. Cut to present, morning walkers have started thronging the place. People can be found in all corners doing yoga and exercises. And finally, paddle-boating has also begun on a regular basis. With a ticketing system in place, money earned from visitor fare is being utilized for several maintenance-related activities. The place is achieving a high footfall on a daily basis and is growing from strength to strength.

Also Read: A Paradigm shift in Water Management Atal Bhujal Yojana : Girraj Goyal
Belatali has emerged as a favourite picnic spot for families which earlier used to rush to Lucknow for spending quality time on weekends. A blot on the face of the city has been transformed into a pleasant attraction thanks to a conviction laden initiative by the District Magistrate. "A leader is only as good as his team. Belatali is a model of effective convergence of government schemes and sets the benchmark for transformative powers of a Gram Panchayat. It defines standards for creating a sustainable revenue model by a Panchayat along with reclaiming spaces for ecology led entertainment," opines Khare. The Panchayati Raj system bestowed tremendous powers and avenues to the Panchayats to bring about good governance. It's about time that more and more Panchayats learn a lesson or two from the transformation of Belatali and unleash their enterprising potential in a similar fashion to become agents of change.