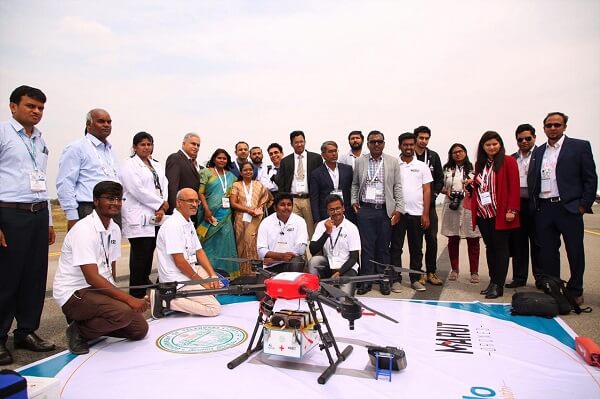 Countries like South Korea, China are using drones to assess and control the situation amid the Coronavirus outbreak across the globe. Government of Telangana, a pioneer in the use of Information Technology and Emerging Technologies, has also taken commendable steps to implement the technology for monitoring the implementation of lockdown announced by the centre, distribution of medical services, sanitising purposes and more.
In the Karimnagar Commissionerate of Police, Telangana, drones are being used for monitoring and surveilling the 'Red Zone' covering three municipal divisions in the town to check any intrusion by any new person into the zone or persons from the zone breaking the security cordon and going out.
Mukarampura and Kashmirgadda areas in the town are marked as 'Red Zone' as 10 Indonesian preachers had stayed there and closely interacted with the residents of the locality. The preachers were tested positive for the virus. The civic administration had barricaded all the roads around the 'Red Zone' and deployed police officials to enforce the isolation of the residents. However, despite police officials being deployed, the residents of the area violated the restrictions and assembled in groups in various localities in the lanes and bylanes.
Hence, to effectively monitor the movement of residents and enforce the lockdown to break the spread of the Coronavirus, the police deployed drone cameras for surveillance in the entire town. Drones are being regarded as a handy technological tool for effective monitoring of the implementation of the lockdown and enforce curfew in parts of the town, especially at this point of time.
The local police had constituted a  'Drone patrolling team', to serve the cause. The newly constituted team is working 24/7 for effective implementation of the lockdown during the day and curfew in the night. The drone team alerts the concerned police if notices a group of people. The police officials then rush to the spot to disperse the mob and if required seize their vehicles and sensitising them on the significance of isolation.
Marut Drones, a Telangana-based drone manufacturing company has taken an initiative to provide drones to the state for various purposes free of cost. Talking on the importance of drone technology for surveillance, especially during this time of the pandemic, Prem Kumar Vislawath, Founder, Marut Drones told Sudheer Goutham of Elets News Network, "At a time when countries across the world are submitting to mass lockdowns owing to the ongoing pandemic, the drone has emerged as a fresh breath of air, by proving to be an alternative and plausible lifeline for stranded populations advised social-distancing, at the time of the COVID-19 crisis. Nations across the world have imposed quarantines in an attempt to control the spread of the novel coronavirus (COVID-19). Drones could be the best solution to spray disinfectants and reduce infections, monitor people movement for crowd control, emergency delivery of medicines to those quarantined and elders. The contactless, fast-paced operations will strengthen anti COVID19 efforts of the government."