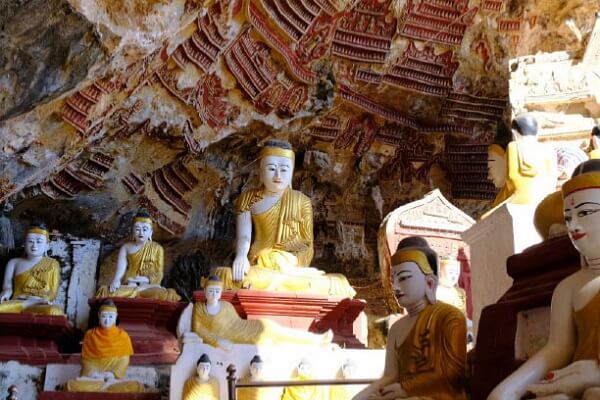 KAYIN STATE
Encircled by karst limestone peaks that soar out of lush green paddy fields, Hpa An, is the picturesque capital of Kayin State (also known as Karen). Most famous for its impressive and very sacred limestone caves, Kayin State also offers many scenic spots comprising of hills and rivers, and farmlands. A popular place to start the ascent of Mount Zwegabin is Lumbini Garden, home to over 1,100 Buddha statues. The picturesque scenery of Kayin State, including over an estimated 300,000 acres of Monsoon rice paddy, benefits from the rainfall of its hot and humid climate. Farming is a big feature of the landscape, with hillside farms a common sight, cultivating crops of groundnut, sesame, beans and pulses, sugarcane, rubber, areca and fruit. Kayin is also an important tea and coffee producing region. Animist festivals often mark successful harvests and local produce can be found at colourful markets where visitors have the chance to sample and purchase fresh foods and traditional crafts as well as to mingle with friendly native people.
TOP ATTRACTIONS
MOUNT ZWEGABIN
For those who tackle the steps to reach Mount Zwegabin's 722m-peak, the monkeys will provide entertainment along the way. The effort is rewarded by fabulous views from Kayin's most famous landmark. Visitors wishing to enjoy the sunset spend the night in the monastery, atop one of Myanmar's most sacred mountains. Down by the river Shwe Yin Myaw Pagoda, located on the bank of Thanlwin, is a favourite spot for tourists to watch the setting sun. Its compound is home to statues of a dragon and a giant frog who, according to legend, created the city.
KYAUK KALAP PAGODA
One of Kayin's most amazing sights is Kyauk Kalap, a pagoda perched on the summit of a sheer rock that rises stunningly out of an artificial lake. It is a unique experience to spend time marvelling at the unspoiled nature surrounding this special pagoda near Hpa An. At certain times the usually still waters of the lake reflect back a mirror image making for the perfect photo opportunity.
KYONE HTAW WATERFALL
Another interesting attraction is Kyone Htaw Waterfall, near the town of Hlaing Bwe. Encircled by a pristine forest it draws fascinated tourists due to its naturally green-coloured water.
THANDAUNG
Developed by the British in Victorian times, to provide respite from the heat, Thandaung is a hill station that is becoming a popular resort town. Located in the north of the state, it is mainly inhabited by Bwe Kayin (Karen) people who are largely Christians and enjoy romantic folklore. Like many of Myanmar's less populated areas, traditions are revered especially locally.
BAYINNYI AND KAWGUN CAVES
Kayin is well known for its caves, the two most famous of which are Bayinnyi and Kawgun. Bayinnyi Cave is in a large complex with hot springs at the base of the hill near Mount Zwegabin whereas Kawgun Cave (also known as Kawgoon) is very close to the state capital. The latter features thousands of tiny clay Buddha images and carvings, some dating back as far as the 7th century. Mounted on the walls and roof of the main cave it is quite an impressive sight.
OTHER CAVES
Some of the other intriguing caves include Sadan Cave, and it takes about 10-15 minutes to walk through and exits onto lovely views of a lake and paddy fields. On the other hand Kaw Ka Taung consists of 3 caves, only 2 of which are open to the public. The first has a tiled floor with numerous Buddha statues, while the second is along a path and is a waterfilled cave that serves as a "swimming hole". For visitors wishing to explore further, Kayin is home to at least 5 other caves which are of interest; namely Phakat, Htaungwi, Yathaepyan, Wepyan & Pathone Khayone.
Also Read: Travellers' guide to fascinating Myanmar